Recipes for Tart Grapes
I bought some grapes recently and they are very tart. Is there anything I can do to them to make them sweeter? Or is there a good recipe that uses tart grapes? I hate to waste them and I know my kids won't eat them this tart. Thanks.
By chriself from Williamstown, NJ
Answers: Recipes for Tart Grapes
Read answers for this question below.
Have you tried rolling them in Jello? I had never seen this until I was eating dinner at a church supper and my cousin's kids were eating them like candy. I don't know if they were rolled in regular Jello or not, but if your worried about calories, the sugar free kind should work. Shouldn't it?
The picture I downloaded from the Internet is almost exactly how they looked at the supper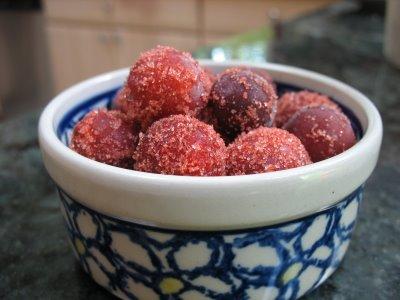 I've had great success making grape pies or grape cobblers. You would add flavorings as you would for any type cobbler and either do a double crust or biscuit topping. Hope you might try this. Enjoy, Wayne
Wash them, shake them free of excess water, roll them in sugar, and freeze them on a jelly roll pan in the freezer. When they're frozen, transfer them to a zip-top bag that you can keep in the freezer. Members of my family reach into the freezer for something cold, grab three or four of those frozen grapes, and pop them in their mouths. They sure are good on hot days like we've been having here lately!
You can boil the grapes in water, double the amount of water. If you have a pint of grapes put 2 pints of water. Boil till they burst then mash them with potato masher or let them cool & use your hands, then strain them. Add enough sugar to taste. You have very good grape juice, good luck.
If you have enough grapes, you could try making a pie using a sour cherry recipe. Or you could try making a batch of jello jam.
3-5 C fruit washed and chopped
2-3 C sugar
Mix well and let stand 12 hours. Bring fruit/sugar to a boil, boil 20 mins, stirring often. Prepare containers by running through dishwasher or pouring boiling water over them to sterilize. Add 1 box grape jello to fruit, mix well, let cool
fill containers and put tops on. Keeps in frig for about 3 weeks, may be frozen for up to 3 months. I use tupperware type containers, but you could use traditional jelly jars.
Yields approximately 5 jars


Answer This Question
Add your voice to the conversation. Click here to answer this question.
Related Guides
Related Posts