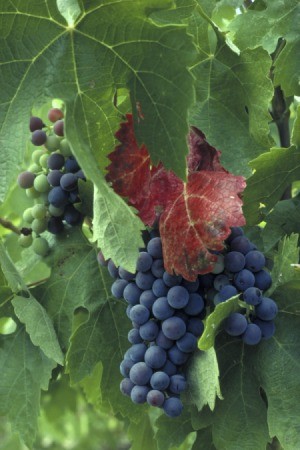 Planning Tips:
With over 100 varieties available, the secret to growing grapes is to choose a problem resistant variety suited to your climate and soil. The classic wine grapes from Europe, for example, prefer sunny, dry summers and are hardy to zone 6, although they will grow as far south as zone 9. American grapes tolerate cold winters and humid summers. They are hardy to zones 4-7. Certain varieties are also bred to thrive in the humid climate of the southeast (zones 7-10). Most grapes are self-pollinating, but check with your supplier to find out which ones are best. You can expect as much as 10 to 20 pounds of grapes per vine after 4 to 5 years of growth and smaller yields as soon as 2 years after planting.
Site Preparation:
Choose a site that has exposure to full sun and well-drained soil with an acidic pH (5.0 to 6.0). Avoid areas where frost and standing water can be problematic or where wild grapes are growing nearby. Prepare the site by working plenty of organic matter into the soil. Because different varieties have different growing habits, it's best to erect the appropriate trellises or wire supports on the site before planting. One popular method is to make a fence by driving sturdy wood or metal poles into the ground at 8 foot intervals and connect them with galvanized wire spaced at 3 foot and 6 foot heights.
Planting:
Root stock should be planted in the early spring or mid-fall. Space European, American and hybrid grapes 8 feet apart with 8 feet between rows. Dig holes deep and wide enough to accommodate the root systems and fill up the hole with replacement dirt mixed with a little bit of peat moss and compost. Finish with a good watering. The area around the vine should be kept free of weeds and grass during the early stages of growth.
Care & Maintenance:
Young grape vines need to be trained (pruned) to establish a physical structure that will eventually support the weight of their grapes. There are a number of ways to do this, and the best method for your cultivars depends on their particular growing habits. Consult with your supplier for specific details. Grapes need less nitrogen than other fruit trees and should not be fertilized unless your soil is poor and foliage is exhibiting nutrient deficiency.
Harvesting & Storage:
Harvest grapes when they are fully ripe-they will not continue to ripen on the vine. Grape's sugar content rises as much as 20% as they ripen, so a taste-test is the best way to tell if they are fully ripe. American and European grapes can be harvested by cutting the fruit off in whole bunches. Other varieties should be spot-picked every few days because they ripen unevenly. Grapes can be stored in you refrigerator for two months or more depending on the variety.