For the past several years we didn't get to enjoy our Scuppernong grapes, except the ones we found as they were beginning to get ripe. Starting in August, before the grapes were fully ripe, the raccoons came at night and had a family reunion in our grapevine. They didn't even clean up after themselves. The next day, the ground was covered with split open grape hulls. Each day I searched for some grapes to eat and also picked up the grape hulls and any grapes that had fallen and kept the ground clean. Before the grapes got ripe they were all gone.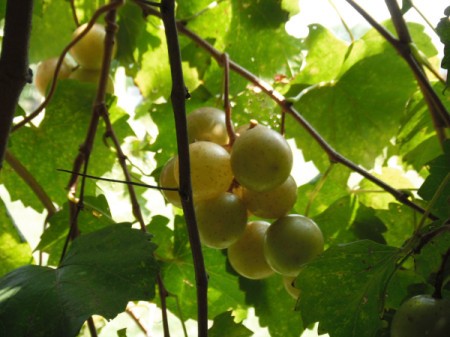 This year, I outsmarted the raccoons by using my old rubber snake and several pieces of black rubber hose that look like snakes. Each day, I picked up any fallen grapes and moved the snake and hoses to different locations. Only one or two grape hulls on the ground that looked like they had been eaten by animals. Keeping the ground clean kept the gnats and ants away as well.
On September 14th, Hurricane Florence made landfall at Wrightsville Beach in North Carolina. I knew, starting that afternoon, we would be getting a lot of wind and rain. Most all the grapes were ripe enough to pick so we quickly gathered all we could reach which was most of them. I had enough grapes to bag 5 quarts to put in the refrigerator and enough left over to share with the neighbors. Right after we finished picking them, it started raining.
We sure are enjoying these grapes, even the ones that haven't turned brown yet.
If you have listened to the news, you have heard about the devastation in North Carolina from hurricane Florence. Many in the low country are without power and are flooded. Please pray for them.
In our area, we are thankful to have not lost power and have had very little wind damage. The storm has moved on and the sun came out today. This morning, I checked the grapevine. I found only 4 grapes left hanging on one branch and there were no grapes or hulls on the ground under the vine. I'm glad we had time to pick them before the storm got here.
When the wind dies down, I'll get out my baby pool and start cleaning up the yard.