I was wondering if anybody knew about grape vines. I have a Concord vine in my back yard. Last year it produced quite a bit of fruit. I am not quite sure if it was just proper conditions or if it is getting more mature. My question is does anyone know how to train it without ruining it?
By Andrea from Canada
Add your voice! Click below to answer. ThriftyFun is powered by your wisdom!

March 11, 2010
0

found this helpful
Pruning grapes is another very important part of growing grapes and is beneficial for grape quality. Without proper pruning the amount of grapes produced and the size of the grapes will decrease. After vines are set using a trellis system they should be pruned to one stem and cut back to only a few buds. Pruning can be done in winter, but not during severe winter weather. Over and under pruning will cause grapes to be not as healthy. One particular expert says on his blog about how to grow grapes, that a grape vine reacts to the way you prune. Which means you will have fruit if you prune for fruit and you will have shoots if you prune for shoots.
Another important part of growing grape vines is air circulation; this prevents disease which can occur if the air is able to stagnant. Air circulation will also keep the vines moisture free and dry so there's less chance for fungus to grow. Don't plant grape vines anywhere that interferes with air circulation or movement. As you may see on t v where grape growers prune them way back to about head high ,for more go to "how to grow grapes"lot of info there, Good luck.
Add your voice! Click below to answer. ThriftyFun is powered by your wisdom!
We have a grape vine that is a left over from the ones that were taken down when we moved into this house. It seems to be thriving, we even have small grapes. Do we need to feed, fertilize, etc? How do we put it on a trellis? It is about three feet high and the bottom branches are drooping on the ground.
Hardiness Zone: 8b

By Marlene from Tonopah, NV

Answers:
Trellising Grape Vines
Here's a picture of our grape vine 2 years ago. It has covered the swing and frame and has lot of grapes on it this year. Yes, you need to put some composted manure around it and water when dry weather. (07/26/2009)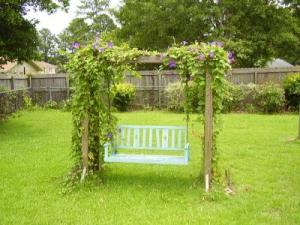 Trellising Grape Vines
You may also put a fence near the vine, or just some lattice or wire as others do. (07/27/2009)

Trellising Grape Vines
Better build a strong trellis! I used 2" x 2" poles after the vines and grapes became too heavy for bamboo poles. Planted 2 vines in 1996 and now they cover the whole front end of our single-wide mobile home. Once they get started you can't ever get rid of them. They have to be cut way back every Fall just like roses. I haven't ever done anything but water ours and it is still almost out of control every year. (08/03/2009)
By DeBushe