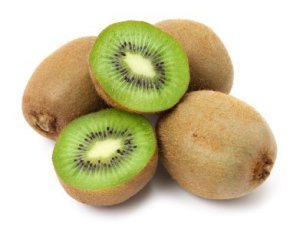 Although often associated with the country of New Zealand, the tropical kiwifruit (Actinidia deliciosa) is a large, woody vine native to the Yangtze Valley of China. Originally known as Chinese gooseberries, the vines grow up to 28 feet long and produce brown, egg-sized fruits covered with a fuzzy skin. Inside the fruit is a soft, juicy green pulp and dozens of small, edible black seeds. Kiwi fruits are rich in vitamin C, E, and potassium, and depending on the variety, taste like a mild combination of peaches, strawberries, and pineapple and melon.
In the U.S., kiwi fruits are hardy to Zones 7-9. Gardeners in cooler zones may opt for Hardy (A. arguta) or Super Hardy Kiwi Fruit (A. kolomikta), which are hardy to -25ºF and -40ºF respectively. These vines produce smaller, smooth-skinned, grape-sized fruits with a sweeter flavor and longer shelf life than fuzzy kiwi.
Planting:
The kiwi fruit Actinidia deliciosa (the fuzzy kiwi) is considered a tropical plant and will not tolerate temperatures much lower than 10ºF. Warm, moist conditions during the growing season are ideal, with a season-long temperature range between 41ºF-78ºF. For fruits to ripen, a frost-free period of around 220 days is needed (if flowers are damaged by frost, the fruits will not develop). The vines also need a 'chilling' period consisting of at least a month of temperatures between 30ºF and 45ºF before vines will resume growth in the spring.
Dormant, nursery-grown plants should be planted in the spring after danger of freezing weather has passed. Plant them in an area receiving full sun, with protection from damaging winds. (Hardy kiwi can be planted in sun or shade). Only the female vines produce fruits.
Kiwi vines prefer deep, fertile, well-aerated soil with a pH of between 5.0- 6.5. Mix in 2 to 4 ounces of slow-release organic fertilizer per plant at the time of planting. Because the vines are susceptible to root-knot nematodes, measure should be taken to control these in the soil prior to planting. Immediately after planting, cut the plant down to one strong shoot that is 12 inches long.
Routine Care:
Frost protection: Young shoots are prone to injury from light frosts. During the spring, protection from late frost is important. When frost threatens, either cover the plants or spray them with water.
Fertilization: Fertilize plants with a balanced organic fertilizer twice per year, once in early spring, and again just after blooming. The roots are shallow and burn easily, so avoid over-fertilizing. Distribute the fertilizer evenly in a circular band at least 12 inches away from the base of the plant.
Irrigation: Lack of water will reduce flower numbers and fruit size, so water regularly, and deeply, particularly during periods of dry weather. Vines should receive at least 1½ inches of water weekly through a combination of rainfall and irrigation.
Weed control: Keep a 4 to 6 foot area around the base of the plants weed-free to reduce competition for moisture and fertilizer.
Pruning & Training:
Kiwi vines need strong supports. Many home growers prefer to grow them on 6 foot tall, T- bar trellises (a post and a cross arm at the top made from a 2 x 4). This type of system supports the weight of fruits (which hang down like table grapes) and allows the vines get plenty of light and air for optimal fruit quality. To create a system of trellises, sink posts 3 feet into the ground every 15-18 feet, assigning one post to each plant. String 4-6 heavy-gauge wires, spaced equidistant apart, from one cross-arm to the next so that the posts are connected like a clothesline.
Train young plants to climb by tying a single shoot up each post (not wrapped around it) and removing any lateral growth. At the top of the trellis, train two main shoots along center wires, continuing to remove any lateral growth. These cordons will form the main structure of your plant. At the end of the second season, allow some lateral shoots to grow across the wires in both directions, keeping them spaced 8-12 inches apart. These will be your fruiting arms.
Pruning: Kiwi fruit vines require pruning similar to grapevines with the goal of maintain a balance between vine growth and fruit production. Because the fruits are produced on one year-old wood and older canes, female vines with shoots that are less than a pencil width in diameter and those that have fruited the previous year, should be cut back during the winter. Production slows down with age, so canes should be pruned off after their 3rd year to allow for new, more vigorous growth.
Regular pruning in summer is necessary to remove excessive growth and allow in maximum light. Kiwi vines start to bear fruit approximately 3 to 4 years after planting. Because the male vines do not produce fruit, they only need pruning in order to control growth.
Pollination & Propagation:
Only female kiwi vines bear fruit, and in most cases, only when pollinated by a male plant. One male vine, spaced no more than 35 feet away, is needed for every 3 to 8 female vines to ensure adequate fertilization. Male and female vines do not need to be of the same species, but they need to have the same bloom time. Honey bees are the vines' primary pollinators. The fruits can be difficult to pollinate, because they are not always favored by bees. Hand pollination can provide some extra insurance if you're only dealing with a few plants. Just pluck off a male flower and rub it lightly on the open blossom of a ½ dozen or so female plants.
Propagation: Both softwood and hardwood cuttings may be rooted successfully. Softwood cuttings should be taken in spring; trim them to 4 to 6 inches in length and insert them into a rooting medium. Hardwood cuttings, 8-12 inches long, are taken in late summer and should be rooted in a light soil mix.
Harvesting & Storage:
Harvest kiwi fruits when their skins turn brown and cut fruits show black seeds. Snap or cut them from the branch, with the calyx attached. If the fruits are still hard, they will soften and sweeten in 5-7 days at room temperature. Fruits have a short shelf life, however if kept in ventilated plastic in a cold, humid room (near 32ºF) they can be stored for several months. Faster ripening occurs when placed in a paper bag with an apple, pear, or banana. Once a kiwi fruit is ripe, however, keep it well away from other fruits to optimize its shelf life.
Recommended Varieties:
'Abbot' F
'Blake' F
'Chico No. 3' M
'Hayward' F
'Issai' (self-fertile)
'Matua' M
'Monty' F
'Saanichton' F
'Top Star' F
F= female
M= male
Hardy and Super Hardy Kiwi:
'Ananasnaya' ('Anna')
'Arctic Beauty'
'Dumbarton Oaks'
'Geneva'
'Issai'
'Meader'