My lab mix puppy just turned a year old and has been out of her crate without any issues for the past 4 months. Beginning yesterday, she has been knocking everything and anything off of my kitchen counters and tearing them to shreds while I'm gone. She's used to being alone for several hours a day so that's not the issue. I don't know what started this, but I hate to drag out her crate again when she used to be soooo good!
She's tearing apart newspapers, my cookbook, tissues and tissue boxes, pens, pencils, you name it. It's not food she's after because that's all put away. Here's a pic of what I came home to today after being gone an hour and a half.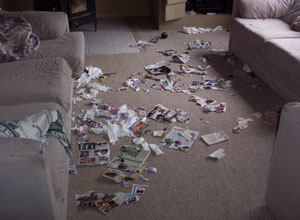 Any help or suggestions you may have are appreciated!
Chima0692 from NJ