There are still cakes and cookies that you can make when eggs are not allowed in your diet. This page contains baking recipes without eggs.
Ad
---
Solutions: Baking Recipes Without Eggs
Read and rate the best solutions below by giving them a "thumbs up".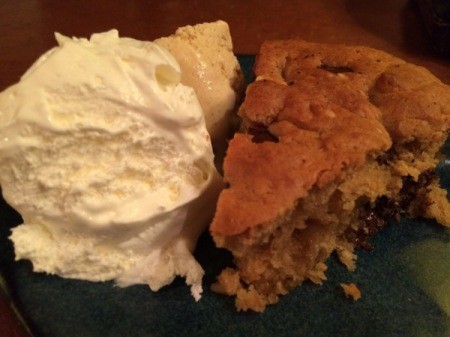 This cookie cake is not only extremely delicious but also pretty nutritious and super easy to make! It's so good, it's hard to believe there are no eggs or oils involved. If you swap out the yogurt for soy yogurt, it becomes completely vegan.

Approximate Time: 45 minutes
Yield: 12
Ingredients:
1 cup vanilla yogurt (use soy for vegan cookie cake)
1/2 cup peanut butter (I prefer chunky for texture)
1 cup brown sugar
1 tsp baking soda
2 cups flour
8 oz chocolate chips
Ad
---
Steps:
Preheat oven to 350 degrees F.
In a bowl, combine yogurt, peanut butter and brown sugar. Mix until well combined.
Add the baking soda and flour. Mix until combined. Batter will be thick.
Fold in the chocolate chips.
Pat the mixture into a pie dish.
Bake for 25-30 minutes, until a toothpick comes out clean.
By attosa [129]
This is a very easy recipe.
Approximate Time: 20 minutes
Yield: 16 cookies
Ingredients:
Ad
---
Steps:
Mash the bananas and oats together. You may add a few chocolate chips, chopped nuts, or raisins, if desired.
Drop by spoonfuls on a greased cookie sheet.
Bake at 350 degrees F. for 15 minutes.
This recipe was from radio station Magic 98 in Madison, WI.
By Sandy G. [1]
This recipe is simple and easy clean up.
Ingredients
1 cup sugar
1 1/2 flour
1/4 cup cocoa
1 tsp vanilla
1/2 tsp salt
1/3 cup oil
1 tsp white vinegar-weird huh
1 tsp baking soda/powder
1 cup cold milk. I usually use 1/2 milk-1/2 water
Directions
Preheat oven. Mix every thing together, I use a wire whisk. Use a 8x8 inch pan. Bake at 350 degrees F about 45 minutes. You can use different flavors, sometimes I use lemon, etc. The recipe is very forgiving. I usually double it.
By Fred from Lincoln Park, MI
Give a "thumbs up" to the solution that worked the best! Do you have a better solution? Click here to share it!
Questions
Here are questions related to Baking Recipes Without Eggs.
The other night I had a boxed spice cake mix but no oil or eggs. My cupboards were pretty bare. The box called for 1/3 cup oil and 3 eggs. I had some mayonnaise and used 1 cup of it, 1/2 tsp of baking powder and about a Tbsp of sugar. I baked it for the same length of time recommended on the box. The cake turned out amazingly well and I'd definitely do this again in a pinch.
By Ellavemia from Bellaire, OH
AnswerWas this interesting? Yes No
---
Most Recent Answer
By Dorothy 2 9 05/23/20090 people found this helpful
Substituting mayo for the oil in a cake works because the main ingredient in mayo IS oil (plus egg, spices and lemon juice &/or vinegar).As long as the flavoring in the cake over-rides the spices in the mayo you should be ok. A little extra flour plus some baking powder could substitute for eggs in a pinch. Good for you for being resourceful!
---
Hi, I am a vegetarian! I don't want to use eggs in baking and other cooking because the chickens are treated horribly. I would like recipes for cakes, cookies, other desserts, scones, breads, and main courses that can be made successfully without eggs. (Of course, no meat or broth from animals either.) I do use cheese. Thanks! :)

Michelle from Bethlehem, PA
AnswerWas this interesting? Yes No
---
Most Recent Answer
By No eggs (Guest Post) 01/22/20090 people found this helpful
I bake without eggs all the time as my son is allergic to them. For most recipes you can simply substitute 1 tablespoon water and 1 tablespoon white vinegar combined with 1 teaspoon baking powder for each egg. I've found it to work in cakes, cupcakes, breads, etc.
---