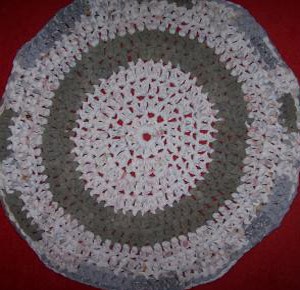 I crocheted this small rag rug out of 2 nighties, 2 tee shirts, and a pair of knit shorts. It measures 28 inches in diameter. I love working with old knit clothing because the edges do not fray.
Approximate Time: 5 hours (estimate)
Supplies:
old clothing
size Q crochet hook
thread
shears
sewing machine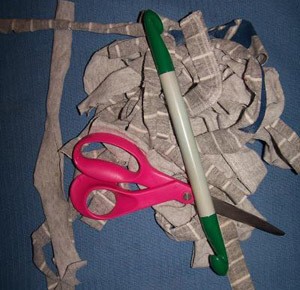 Instructions:
The most time consuming thing is cutting the clothing into 1 1/2 inch strips. Sewing them together. Rolling them up into a ball to use for crocheting. It is all an estimate as to how much you need.
First I cut off the sleeves and any ribbing along the bottom or cuffs.
I cut the strips from the bottom of the tee shirts and went around the shirt trying to keep the strip as one big long strip. That saves on sewing a lot of short strips together.
When I sewed the strips together, I did it as you always do, right sides together. Back stitch in the beginning and at the end before you cut the thread. Open the seam. Fold the top part of strip down and fold the bottom part of strip up. Then I sew a "V" going across from the top to the bottom making it a strong seam and will never tear apart.
Roll into a big ball.
Round 1: Chain 4, sl st to beg. ch to make a circle. Ch 1, 12 DC in circle, sl st in first DC,(ch 2 st is considered a DC st. Count as DC in each row). You now have 12 DC.
Round 2: Ch 2, DC in same space as ch 2 (remember ch 2 is considered a DC st),2 DC in each DC around. Sl st in top of ch 2. You now should have 24 DC.
Round 3:(Remember at the beginning of each row your ch 2 is the first DC st) Ch 2, (DC in the first DC, 2 DC in next DC) continue around, sl st in top of ch 2. You now have 35 DC.
Round 4: Ch 2, (DC in first 2 DC, 2 DC in next DC) continue around, sl st in top of ch 2.
Round 5: Ch 2, (DC in first 3 DC, 2 DC in next DC) continue around, sl st in top of ch 2.
Round 6: Ch 2, (DC in first 4 DC, 2 DC in next DC) continue around, sl st in top of ch 2.
Round 7: Ch 2, (DC in first 5 DC, 2 DC in next DC) continue around, sl st in top of ch 2.
Round 8: Ch 2, (DC in first 6 DC, 2 DC in next DC) continue around, sl st in top of ch 2.
Follow this pattern, increasing at equal intervals for each row until you reach the size you want or run out of material. You can finish it off by SC in each stitch around and joining with a sl st. Fasten off and work the end back into your work. I like to hand stitch it with needle and thread so it does not work out.
If you increased correctly your rug will lay flat.
My rug was about 9 rows. You can make it using double crochets or single crochets.
By Little Suzy from Millbury, OH
By Little Suzy
Ad
---
Feedback Forum
Feedback about this article is posted here. Want to contribute? Click above to post feedback.

By Robyn [346]08/27/2013
This is the most clear instructions I have ever read. Thank you!

By yoopergrannie04/25/2009
Totally Blown Away! This piece is wonderful! How Clever! I don't know how to do much more than sew on a button, darn a sock, or repair a hem! sigh.

By Cyinda [214]04/24/2009
Thank you for posting this. I know from experience that the hardest thing is make the rug lay flat & not wavy or curled under. Yours turned out perfectly! I have a friend who makes rugs out of sheets she buys at the thrift store. I prefer using recycled plastic bags. Thanks again for taking the time to post this!s.

By Diane [3]04/23/2009
I am a quilter and have a ton of fabric left from quilting and other sewing. I decided to make a rug from my old quilting material and other cotton fabrics. My rug is rectangular It's so much furn using old fabric and remembering the people I made the quilt for! and I'm still working on it.

By Marjorie C. Woodworth [82]04/22/2009
You did a very nice job, I compliment you!
Years ago I made a similar rug out of old clothing, but crocheted it into a rectangle.
Post Feedback
Add your voice to the conversation. Click here to share feedback.