I need some help. My aunt just gave me some older yarn and it is really musty smelling. Is there and way to wash/clean it?

Thanks,
Mackenzie from Millgton, TN
Ad
---
By Patricia. (Guest Post) 06/12/2007 Flag
If the yarn is aryclic you can put each skein in a knee high nylon tied off and wash and dry it in the machine. If the yarn is wool I would wound it into a loose skein tie it off so it does not get tangle and hand wash. Here a website that will help http://www.az.com/~andrade/knit/thrifty.html

Patricia
By tracey 16 102 06/12/2007 Flag
I think I read some where to hand wash your yarn with baby shampoo and lay flat to dry. I would check out diynetwork.com. I bet you could find something there about how clean it if nothing else works.
By Mackenzie (Guest Post) 06/12/2007 Flag
Thank you I will try it!!

Mackenzie - Millington TN
By Mary Lou 14 765 06/13/2007 Flag
I had that same problem with some acrylic yarn in skeins. I removed the paper bands, saving one for amounts and content as well as washing instructions for finished knitting. Put a rubber band around each skein and put skeins, a few at a time, in a couple of those nylon bags they sell for washing delicates. I got mine at the dollar store and they are large [11x15"](or use the old nylon idea in the previous post). I washed and dried them in the bags and they came out as good as new.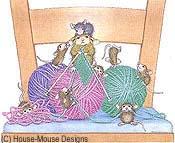 By Donna Bessette (Guest Post) 06/13/2007 Flag
I had some musty smelling yarn, I put it in plastic bags added dryer fabric sheets , tied it up for a few days, came out smelling just fine, have used it for a afghan.
By Janette (Guest Post) 06/13/2007 Flag
Try storing the yarn in an airtight container with some newspaper for a while.
By Barbara 10 22 06/13/2007 Flag
Hi..I put the yarn in the bags you get onions in and tie them ...I wash in regular laundry soap but I add about a 1/4 cup of baking soda to the wash...then I put them in the dryer with a dryer sheet....good as new....I have done this many times.
By Anna from Maine (Guest Post) 06/13/2007 Flag
Put yarn in air tight container (plastic bag, tote, ect.) Place 2 or 3 tablespoons of fresh (dry) coffee grounds (right from can or bag) into 1 or 2 envelopes , seal envelope and put in bag with yarn. I have used this for musty clothing, material and yarn. Coffee absorbs odors.
By mary (Guest Post) 06/14/2007 Flag
plain ole sunshine cannot be underrated, as part of your solution.

look for other feedback to use in conjunction. and good luck!
By Cricket 205 896 04/27/2009 Flag
Ok, here's an idea that combines a few of these. Put each skein into a knee high nylon (you can get them really cheap at the Dollar Store), wash them using baby shampoo (don't see why that can't be done in the washer with just a little shampoo), then clip them each to the clothes line to dry in the sunshine! I have a bunch of yarn too that I've had for years and I think I"ll start doing that today!