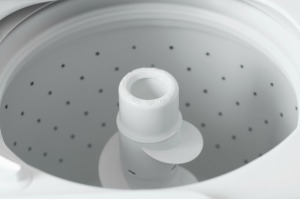 I have a top loader washing machine that I purchased that is a terrible design. It is almost new, but it has this horrible smell of mold. I have tried everything I know to get rid of it. I was hoping someone could help me. I have tried bleach and baking soda. Neither worked and my clothes smell awful. I would appreciate any advice you could give me.
If I didn't think it would be inappropriate I would indicate what brand of washer and dryer and encourage people not to purchase this set. The dryer has a terrible lint screen that is so hard to get the total lint out of it so I have problems with it also. Thanks everyone.
By MLS
Answers

June 25, 2011
2

found this helpful
Best Answer
I got a new top loading HE washer machine in November. It came with a sample of Affresh. It's a big tablet that you put into the empty machine, and you run the washer on a particular setting (mine has a special setting for the cleaner, but the instructions say what setting to use if you don't have the special one). It is supposed to stop odor in washer machines. The packaging recommends using it once a month.
I haven't used it that often, but I haven't noticed any odor, either. I just make sure I empty the washer quickly after the load is finished. I did read somewhere that using too much detergent or any fabric softener in an HE machine will make odors worse. I never use fabric softener (I use vinegar, instead). I don't know if the Affresh would help in your situation, but it might be worth a shot.

June 25, 2011
0

found this helpful
Best Answer
We had a washer with a filter hidden under the softener dispenser in the agitator. It started to make our clothes smell terrible. When I searched for the source I found the filter caked full.
I cleaned it out and kept it clean and we didn't have the problem again. Maybe yours has the same feature, you got to the filter by pulling hard on the dispenser.

OliveOyl
Bronze Feedback Medal for All Time! 138 Feedbacks
June 25, 2011
1

found this helpful
Best Answer
Be sure to leave the lid open on your washer so that it dries out inside. Don't close the lid right after doing laundry--all that moisture won't evaporate and mold can grow.

June 28, 2011
2

found this helpful
Best Answer
My mom used to run a cycle in the washing machine with just vinegar. She said it cleaned everything out.
For the dryer lint, I use an old toothbrush to grab any lint I can't reach. Works great!
Answer

this Question

My top loading washer has a very musty smell. How do I get rid of it?
By Betty from FL

Answers

December 24, 2010
1

found this helpful
Best Answer
Try putting the washer through an entire cycle using the settings for hot water and a small load. Use your regular detergent and add a cup of white vinegar to the water when the rinse begins. When the cycle is complete, leave the lid to the washer up so the inside can air dry.
I always leave the lid up and air dry the inside of my washer when I am finished with a load. Hope this helps.
Answer

this Question