Alternatives to Easter Baskets for Teenagers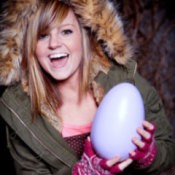 When Easter comes around, everyone gets excited about Easter baskets. At about 12, most kids decide that they are too old for Easter Baskets, but as parents we still want to celebrate this tradition of spring. Here is a list of some alternatives for Easter Baskets for those hard-to-please teenagers.
Backpack: Fill with eggs and maybe a T shirt and some books.
Nice Purse or Pocketbook: Fill with eggs and makeup or nice accessories like scarf and hat
Trapper keeper: Fill with candy and art supplies

Tin: Fill with candy and a puzzle
Square Wicker Basket: Fill with candy and games can be used on a desk after Easter.
Plastic Shoe Box: Fill with Easter grass and nail polish and supplies for doing nails and toe nails.

Tool Box: Fill with candy and some basic tools
Tackle Box: Fill with candy and Easter grass and fishing supplies
Plastic Box: Fill with the materials to make a kite and a book about kite making or directions from the internet.

Old Lunch Box: Filled with candy, Easter grass and origami papers, and a book about origami or directions from the internet. There are lots of origami sites on the internet with directions that could be printed off and put into an old notebook to fit in the lunch box.
Decorated Cigar Box: Fill with Easter grass, some candy some trading cards

Decorated Carboard Box: Fill with Easter grass and a chocolate bunny and a cookbook.
Hope this gives you some great ideas for your teenagers. This does not have to be expensive, look around your house and the things you were going to sell at your next yard sale; you will be able to come up with a lot of great ideas. One last suggestion for that kid that has just discovered coffee, an old basket with a coffee mug and a bag of gourmet coffee.
Happy Easter!
About The Author: Debra Frick is a mother of 5 and a grandmother to 8 grandsons and one granddaughter. She is a published author and poetress. Recycling and saving money are her passions. She also loves crocheting and cooking. She is also a pet rescue volunteer and has many pets of her own.
Feedback
Read feedback for this post below. Click here to post feedback.

By
03/11/2012
My, some of you go in for rather expensive gifts for Easter. I just reused the same Easter basket that the boys had for years. Sometimes I added something that wasn't candy or some small joke item, but I found that my sons were happy with treats up until they moved out! Who doesn't like to eat Easter eggs?

I love the idea of a basket exchange at a family dinner that Kidsmom suggested. Neat idea.

My mom used to hide plastic eggs with little chocolate eggs and jelly beans inside for an Easter egg hunt outside in the yard. This was fun for all ages, but especially when the family ranged in age from toddlers to senior citizens - older ones helped the little ones!

By
03/01/2012
When I was younger (back in the 60's) my parent's gave us baskets for the front of our bikes (that we got for Christmas) as our Easter baskets, another year they made lunchbox purses (remember those?) and used them for baskets, and another year they signed us up to play softball and the new gloves were our baskets - I grew up with this idea instead of the "drugstore basket" and still love it today! The toolbox idea is awesome! Thanx

By
03/23/2011
Instead of the teenagers that are now young adults. We are a family of 20 with relatives, do an Easter basket Exchange. We play the game where after the 3rd time the person that has taken it gets to keep it. This way it is fun and everyone even the 80 some year olds get an Easter basket and who doesn't love an Easter basket? Have been doing it for several years and has become a tradition. Along with that we have an egg hunt, one egg per person with their name on it.

By maureen (Guest Post)
03/25/2008
I found larger plastic eggs and I filled them with SOCKS & lip gloss pods! My daughter loved it and it looked cute too!

By
03/22/2008
Great ideas!
Last year, the Easter rabbit broght my girls new totes that contained flip flops, swimsuits, towels and eggs.
Post Feedback
Add your voice to the conversation.
Related Guides
Related Posts