Craft: Tile Art - Painting Tiles
I received some tiles as a free sample, they were about 2"x2". As you can see they were just plain white. I did a stencil painting on one and on the other I painted then added a pretty butterfly sticker. I had another that I decoupaged on but my mom loved and it's at her house. I bought a little gold easel from Walmart for .58 cents. The tiles were free, I already had paint, stencils, and stickers so all this craft cost me was the .58 cents for the easel.
By Christi from Paducah, KY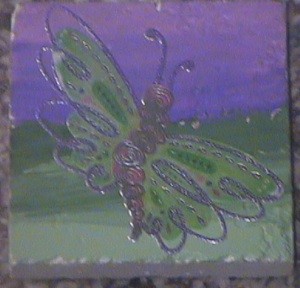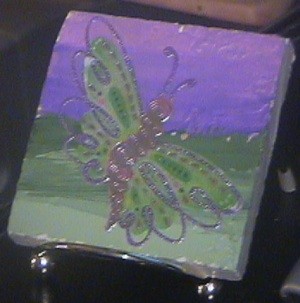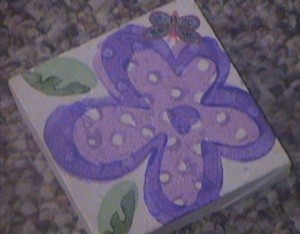 Feedback
Read feedback for this post below. Click here to post feedback.

By
12/07/2009
I love these. They look great, but could either the painting or the decoupage method be used to turn tiles into trivits for hot pans? Do you think they would hold up to the heat?

By
07/29/2008
Thank You! Sounds easy enough. Could even let my DD help with this to decorate some things for her room.

By (Guest Post)
07/25/2008
I used Mod Poge decoupage and then I just used pretty torn peices of paper, stickers. You put Mod Poge on first then whatever paper, sticker you want to use then put more decoupage on top of it. I dries clear and also seals your tile. Not on the ones on here but on the one I made my mom, I just tore pretty paper that was on the front of a magazine, hydrangeas, and decoupaged a strip of it on there, then I used some pretty green scrap booking paper and some stickers.

You can use anything paper or sticker. I had some stools once that weren't looking too hot and I painted the legs colorful colors for kids and the top of the stool, the seat part, I decoupaged with letter stickers, put the kids names on them. I am not particularly talented, just look for pretty stuff you like and glue it to something, lol.

By
07/25/2008
You did a beautiful job. Love these. I wish I was talented enough to do such a thing. How exactly to you decoupage tiles? I am a little (ok, alot) stupid on how to do this. Is there any special paint, stickers, paper, etc that you use?

By Darlene (Guest Post)
07/24/2008
Do you know what else work's on plain tiles, are stencils that rub off. You can paint the tiles if you want to first, then put your stencil on and make sure you varnish or use a clear gloss finish for instance Dresden Clear Glaze. It will protect your art and also it will give it a shiny look. Also you can use tissue paper, scrapbooking paper and wrapping paper and just decoupage them right on to your tiles or walls.
(To continue your pattern). I have bought some vallium paper (scrapbooking paper) and I am going to try to decoupage my light switches and outlet covers with this paper with something that either sprays on or I can paint on plastic to protect the covers. The pattern is almost a perfect match with my cannister set and if you want to buy fancy covers like this each plug or outlet cover will run about $15.00 or more per outlet. That is highway robbery to me! Of course everything these days is highway robbery to me! But your tiles are beautiful and you obviously are talented. I am not, so I will be rubbing away on my stencils. My kids seem to have all the art talent! Good Luck and have fun. Darlene
Variation
Do you have a variation to share for this page?
Painting Tiles with Stencils
I have covered the back of a tile with white duct tape. I made a frame of duct tape too around the tile. I then put stencils on it, with a purple ink pen.
I am going to give it to my daughter with a set of brushes and acrylic paints, so that she can maybe start enjoying painting.
You don't have to use a tile. You can get canvas and trace stencils on it, or you can use watercolor paper and give them watercolors (watercolor is harder than it looks).
I am thinking she would enjoy this. I have put a picture of the gift as she will receive it. Blessings.
By Robyn from Tri-Cities, TN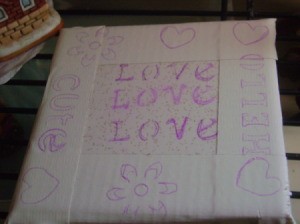 Was this solution helpful?
Questions
Do you have a question related to this page?
Post Feedback
Add your voice to the conversation.