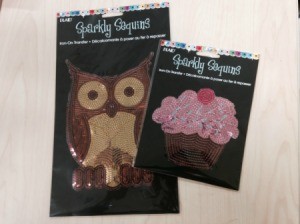 An easy and fun way to decorate clothing and home decor items is to use iron-on transfers. You can use either ones you have created yourself or ones purchased at your local craft store. This is a guide about using an iron-on transfer.
Ad
---
Questions
Here are questions related to Using an Iron-on Transfer.
Is there any way to use a picture colored with crayons as an iron on transfer for say an apron or t-shirt

Belinda from Wingo, KY
Ad
---
---
Best Answers

By Linda (Guest Post)01/16/2008
I have done this lots of times by having the kids draw on fine sandpaper with any crayons-remember that any pic drawn will be reversed when used as a transfer so any words need to be written backwards if you want them to read right. Don't know what the reason for the sandpaper is. Make sure the crayon is drawn thickly, and wash separately the first few times.
---
Best Answers

By Janette [87]01/15/2008
There are crayons that are specifically for making iron on transfer. Just go over the drawing with the crayons. These can be found in the sewing section at JoAnn Fabrics or the craft section at Wal-Mart. They are really easy to use. Hope this helps.
---
Best Answers

By Randa (Guest Post)01/15/2008
I don't know about using a page of something colored. I do know you can use the cheapest crayons you can buy and have perfect fabric crayons at a much lower price. Just color your own design on the apron and iron it with a sheet of plain paper between iron and fabric. if it is going to be washed often iron it with a sheet on cut rite wax paper over it. This can even be bleached. Remember to use cheap wax crayons the crayola crayons do not work.
How do I remove a t-shirt transfer?
By Kim
Ad
---
---
Best Answers

By mary (Guest Post)12/05/2007
I did not find any of these methods to work. I actually found the easiest way to remove the iron on. Clear Packing Tape! I put the sticky side on the iron on and ran my nail over the iron on and peeled it off.
---
Best Answers

By Whitney (Guest Post)11/20/2007
I tried the paper one but I put the transfer facing the ceiling and put the paper on top and it worked. We did it on a black hoodie.
---
Best Answers

By joan pecsek [88]11/06/2007
If your transfer has reached the point that it's starting to crack you can pick it off. It's time consuming but it can be done.
How do you repair iron-on transfers that are peeling off?
By Tracy from Indianapolis, IN
---
Best Answers

By Karen02/15/2010
Consider using a sewing machine set on satin stitch. The satin stitch could be used to create a border around the entire picture. Or use the sewing machine set on a zig-zag stitch. This stitch could also be done by hand. Karen
---
Best Answers

By Elaine [7]10/30/2008
Use fusible webbing....Pellon works the best! This is used to adhere fabric to fabric. The instructions are on the Pellon. Hope this works for you!
Elaine
I have some iron-on transfers or very colorful fake tattoos, I don't know which. I tried applying them to some bare wood trinket boxes first by rubbing them like you would a window transfer, then by ironing. They stuck moderately well, but the backing won't come off. When I tug at it the picture comes up from the wood surface.
I just pulled one off. It's a very detailed Chinese dragon. It is a little tacky, as though there's some sort of gum on the surface and it left a little residue on the box. If it's supposed to be peeled off first and applied that way, I can't seem to start an edge.
There are streaming cloud trails, whiskers, ears and other delicate parts to it that would be easily damaged if I am not careful. Has anyone worked with these things before? How do I get them free of their backing, which is a stiff white cardstock?
By nekocat from OR
---
Best Answers

By Brandi07/24/2009
You have to thoroughly wet the backing for about 30 seconds and then use a damp sponge to smooth out the design after transfer.
---
Best Answers

By Becca25 [11]07/17/2009
You could try wetting it again and lightly rubbing the paper off. It will crumb off. I done this method with a paper to clay image transfer. Be extra careful when the image starts to appear.
How do I keep iron-on transfers from sticking to the protective cover? We used waxed paper and then a cotton tablecloth when they stuck to the waxed paper. Is my iron too hot?

Ann from Lee's Summit, MO
---
Best Answers

By Ann (Guest Post)09/03/2008
Thanks for your response. We did have it facing up, and the transfer did stick to the shirt. Unfortunately, it also stuck to the waxed paper that I tried first and then to the cotton table cloth that I tried the next time.
---
Best Answers

By margaret Tx (Guest Post)09/02/2008
If you are copying them from the Computer to a printer you need to reverse the image so that the backing is facing up and that the transfer is down next to the cloth. I keep forgetting to do that myself and yep it sticks to the iron. What a mess!
I have just done my first iron-on transfer. Some of the paper is stuck to the transfer. What can I do to remove it? Did I try to take it off too soon? I waited until it was just warm to the touch. Or did I wait too long? It was about 3-4 minutes after pressing. It's a small 3x5 inch transfer. I pressed it for about 60 seconds. Thanks for any help.
By Kathy
---
Best Answer

By Vicki [21]10/11/2011
If the paper is still on there, it didn't "take" just right. The best thing to do is do it again. Put the remaining paper back on there and press it again mainly on the area that did not "take".

If you have thrown it away use a sheet of copy paper or otherwise unlined / uncolored paper. The new modern irons don't get that hot, if you have one, in the future press down a longer time. It sounds to me that you did most everything right, by the way.
I ironed a picture on material, but the edges came out with some missing areas. Also, the picture looks like it has lines going through it. How can I fix this? Any ideas will be welcome. Thank you.
By Newfiedove
---
Best Answer

By Mary Lou [14]10/08/2009
Is this a gift or for sale? If the first, depending on what pieces are missing and what the Iron on is of, paint markers for fabric, or fabric paint itself might be used to fill in the missing lines and pieces. They come in sets sometimes of basic colors. I think this would be best for the missing edges, just sort of redraw the areas so they will match up with whats there.

Or perhaps you could add faux jewels etc. over some of the missing parts. It is key to let the transfer cool completely before trying to remove the backing, always remove it slowly and evenly; use even pressure when ironing and follow manufacturer's directions for how long to press and how hot the iron should be. Most of the time, do not use steam, dry iron only.
Is there something I can use to stop iron-ons from peeling and flaking when washed? Last Christmas I made my kiddies some really cool pillow cases and the adults place mats with iron on designs I had made with my Inkjet printer and dang, every one of them flaked and peeled and are ruined. I tried Googling, but no help. Thanks.
By Keeper from Blue Ridge Mts., NC
---
Most Recent Answer

By Denise [9]05/05/2011
You might have found out something by now, but I've done lots of iron ons, and not had that problem. I know you have to iron on exactly as it says on the manufacturer's directions. I wash mine in cold water, permanent press cycle, turned inside out, and hang up to dry. Never had any problems with cracking and peeling, even with pillowcases used on pet beds that were washed frequently. (Cute with your pet's pic on it!)
Good luck!
After I tried ironing on the transfer with the highest heat, I noticed it was not sticking. So I used steam. Now I read NOT to use steam. Can I still use this transfer? It is not totally sticking to my shirt.
By Phyllis T.
---
Most Recent Answer

By Frugal Sunnie [11]02/15/2015
What is the fabric-fibre type of the shirt you're trying to fuse an iron-on transfer to? If it's got too high a synthetic fibre content an iron-on transfer meant for cotton only fabrics won't fuse. Likewise the transfer won't take if the shirt has been stained with oil or grease - you may not be able to see the stain but it's embedded in the fibres which are resisting the transfer.

Also a possible problem is the shirt may still be loaded with mill-sizing and the sizing hasn't been completely washed out of the shirt fabric yet. Run the shirt through the wash without detergent - open the top-load or look through the window during an agitation cycle and you'll likely see suds - that's the excess sizing from the fabric mill! Wash until there is no sudsing on an agitation cycle then try your transfer again.

Textile mills use sizing (sprayed on, it's kind of like starch) to make fabrics hold a shape and look more attractive. Adding to that mill applied sizing, garment factories often put finished garments through yet more sizing sprays to make the garment hold its shape and look attractive. And then they label the garment 'dry clean' only so you don't wash the sizing out and discover you've spent a lot of money on a shapeless blob of cotton or rayon. Happens all too often, and is why more and more people are turning to home garment sewing again.
I just came across a few transfers that I got a few years ago when the Patriots were in the Superbowl. Now that they are headed again I would like to use these, but when I tried to iron one on it didn't take at all. Do these only last so long? They have been in a thick envelope for a few years and look perfect. What am I doing wrong?
By Sue
---
Most Recent Answer

By Frugal Sunnie [11]01/26/2015
The transfer ink on iron-on transfer does indeed evaporate after a few years in storage - even the best storage.

For under a fiver you can restore those transfers by using a fresh new transfer pen, carefully tracing the transfer, then immediately ironing onto the fabric.

Be sure to buy the type of transfer pen that can be used with an iron - some pens disappear with heat application and that's not what you want! Any good hobby or sewing shop will have the right pen, ask a staff member for help so that you go home with the right thing:)
How do I repair cracks and peels in a fabric transfer?
By Laura from TX
---
Most Recent Answer

By cobb11/19/2014
How can I repair a image when it has set awhile?