Work From Home
Here are some ideas for working from home shared by ThriftyFun readers. If you have any legitimate work from home ideas feel free to share them in the feedback forum below. Please do not include any referral links or your contact information, we want only unbiased recommendations.
Selling at Flea Markets
Is there a flea market in your area where you could set up? Are there weekly auctions or estate sales? When I was separated this kept me going. A small investment in box lots that I resold at the flea market was what I sold. It was a hobby at first but I loved it. It helps if you have a van or a pick-up truck. (car with a big trunk) I met lots of nice people plus I met my present hubby. I still love auctions.
By NellieMary
"Shattering the 2-Income Myth."
I just read a great book called "Shattering the 2-Income Myth." It teaches ways for a stay-at-home spouse to "work the home." There are a lot of things you can do from home, working or not, to make up for the lost income. It's really interesting and has hundreds of great tips. Pick it up from the library.
By Jhansen
Selling Baked Goods
Baking can be good money. I do this every once in a while and birthday cakes can sell for as much as $20. It usually costs around $5 to make the cake, but if I catch the decorations and cake mixes on sale or clearance then my profit margin is way higher. Use the dollar store toys for the decorations on top, add candies, etc. Usually you will get tips as a bonus. Dog cookies and people are also good sellers. I can't make enough of these to keep up with the demand when I do get the time.
By Kattankerous
Cleaning For Money
I clean other peoples houses for extra money. I clean a church and do some cleaning for the Pastor. If I need to I can take my grand-baby with me, she is 2 and plays in the nursery or I give her simple little jobs so she feels like she is helping.
By Suitsme
Sewing for Money
How about sewing for the public or do mending for a dry cleaners?
By Belinda
Medical Transcription
My sister in law works from home doing medical transcription and my ex sister in law has decided to do the same. She is taking a four month class while working full time. My sister in law makes about 12 dollars an hour doing this.
By Christi
Find Something You Have a Passion For
You are best off doing something you have a passion for, because that's when you are more likely to stick with it. Most of the work-at-home jobs advertised are scams, whereby you send off $12 for information, and the way you make money is by lying to others about sending them information for $12. Pretty much any job you'll find online is sales oriented - books, Amway, toys, jewelry. make-up etc. and you'll need to do evening parties, but if you have the love for the product, some self-discipline, staying power and some party energy, you can make money.
By Princessgrace
Dog Training
I have a stressful workplace but a great trade and it's too bad that my boss has to be a jerk. I decided to become a dog trainer and I am still in the learning process but once I get my business going, I will quit my present job. Once I graduate I will continue working at my present job and earn extra cash doing in-home training until I feel secure enough to quit my present job.
Training obedience doesn't require much physical effort if you are concerned about that. Mostly it's teaching the dog owners how to handle their dogs. My study course is half online and half in the 'field' and I haven't gotten to that part yet.
If you love dogs, becoming a trainer is a way to make extra cash. There are other options to this as well. You can learn how to train guidance dogs, service dogs like search and rescue or law enforcement.
I realize this isn't for everyone but dogs are my passion and wouldn't it be wonderful if humans didn't put their dogs in shelters because they (humans) didn't know how to train their dogs? That's the main reason dogs are in shelters and rescues and that's the main reason dogs die.
Something to consider.
By Ldyharley
Become an Entrepreneur
There are so many options! My husband and I have been entrepreneurs for years. It's simple - find a need and fill it. Then the hard part comes - you have to keep filling it. It takes work, but what doesn't?
What skills do you have? Typing? Accounting? You can do those online for others. Among other things, I teach music at home. Do you have a skill you can teach others? My brother composes music from his home. Do you write? If not, can you learn? You can be a free-lance writer.
Check out organizations for the small business owner:
We have many friends who run their businesses from home. Some jobs require getting out occasionally. Here are some jobs our friends do from home:
Run a public relations firm
Website design
Talent agent
Temporary Placement agency
Wine wholesaler (Our friend occasionally has to go to Europe. Poor dear.)
Book wholesaler
Caterer (The woman who made our wedding cake did it from her home. Delicious! Certain local laws will apply.) Seamstress
Fashion designer (Our neighbor designed for royalty from his home-seriously!)
Evening baby-sitting service (Think of how many people want to go out at night!)
Realtor
Working from home is GREAT! I love it! Good luck!
By Sally
Ironing Clothing
I read on one of my email newsletters about a gal who posted in her local paper offering to take in ironing and that is how she makes money. she charges like $1 or $2 a piece.
By Lannwashburn
What to avoid...
Here's on article on the FTC's website about what to avoid.
http://www.ftc.gov/bcp/conline/pubs/invest/homewrk.htm
Selling Crafts on eBay
An easy way to make money from home is by selling things on Ebay. Get a post office box, don't give out your home address. And accept money orders or cashier checks only then you don't need Pay Pal. Just remember that the buyer's can post feedback that other's can read, so be sure to package up things very well and charge extra of they want it insured. Ebay offers tips on how to get started. I know a lot of my friends sell crafts on Ebay and others sell fabric and little things, you want light things that don't cost a lot to ship. TIP: At the post office you can pick up or even have them mail free FLAT RATE boxes to your home, no matter how much they weigh, it's one flat price. Nice!
By Diana
---
Work From Home
I would like to stay home with our second child (I work part time right now) and basically need about $500 a month. I do not want a business but I would like something I can do when it fits into my schedule. I've sold lot of ebay but I don't have more to sell. I am open to all your ideas.

Thanks,
Mindy from Oregon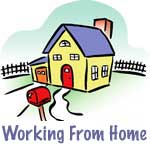 ---
RE: work from home -don't forget
By law, you have to report all the income you earn and pay income tax, social security and medicare taxes; some states also impose state tax, and you may also need to collect sales tax. Best bet - talk to a CPA/tax accountant so you will know is required in your state
I have an tax/accounting business out of my home. I save time and money on travel (considering the price of gas these days), car maintenance, costs of buying work cloth etc etc. I can also take time out during the day to run errands, while everyone else is working and the stores/bank/post office are empty. It is great. (08/11/2006)
By Anna
RE: Work From Home
This may not sound like much but, I make and/or bake all the gifts I give. Considering all the holidays, birthdays, anniversaries, and, especially Christmas, this does save me money and gives the recipients something they can't get from a store. And, I really enjoy doing it. (08/12/2006)
By MamaJude
RE: Work From Home
I am a medical transcriptionist currently working from a hospital. I will be able to go home to work in 8 months at which time the hospital will put the necessary equipment in my home. I first had to go to school for 3 semesters taking classes in transcription, medical terminology, surgical procedures, laboratory procedures, anatomy and physiology, medical ethics, English grammar, human diseases, etc.
I love my job. It is very interesting, and I look forward to working from home. However, it does take training and the classes are difficult. Like my husband has always said, "if it was easy, everybody would be doing it.?" I do recommend it as a way to work at home. Them is a shortage of transcriptionists, and I went to work for the hospital in the middle of my 3rd semester. Be sure the school you select is accredited with a good reputation. Good luck!! (08/19/2006)
By Linda
RE: Work From Home
How about minding someone else's child all day while they work? If u have the extra space for another child they would rather be with a family than in a day center and the money is good. (10/10/2006)
RE: Work From Home
Mary Kay Cosmetics offers a great career that you work at your own schedule. (10/11/2006)
By Kay
RE: Work From Home
Are you an aggressive salesperson? You have to be very aggressive to make money selling MK. First you have to invest a large sum of money for your "kit" and inventory. Your first month or two will go quite well as friends and family will buy "something" and will host parties for you. The well soon runs dry! Then your sales will drop off and you will be stuck with product you can't sell. Most people won't be repeat buyers or buyers of large quantities. I personally know of 5 women who attempted to sell MK and all regret it and ended up losing instead of making money. The rosy future they paint for you does not become a reality for the majority of women who fall for the dream! I'm sure a few do well. Are you the type of person who can and will? I'd do some careful thinking before making this commitment. Check out ebay! There are a lot of people trying to unload their leftover inventory after they have realized it's not going to make money for them. (10/11/2006)
By Grandma Margie
RE: Work From Home
I've heard of folks going to rummage sales, yard sales, tag sales, estate sales and auctions, all looking for new or lightly used items. These could be given as gifts or sold on Ebay. If you live in a city that offers lots of those types of sales, take advantage of it. To make the most of your gasoline, take a few friends or family members with you (let them all pitch in for gas!). (10/24/2006)
By badwater
RE: Work From Home
This may not apply if you don't have this skill, but I was able to make a significant amount of money by teaching piano lessons and playing the piano as an accompanist for schools, weddings, community choirs, etc. If you have the ability to play a piece of sheet music purchased at the music store and you work well with kids you likely have what it takes to teach, at least at a beginner level. The only drawback is that lessons are usually given during after-school hours when your own kids may need your attention most. (This advice could be adapted to other instruments as well.) (10/31/2006)
By Beth
---
Work From Home
I am looking for a no or low startup cost work from home legitimate opportunity. I work full time, but recently purchased a home and the costs are more than I had anticipated. I need an additional $600 + per month. Any suggestions?
Jacqueline B. from Grand Rapids, MI
---
RE: Work From Home
Check out:
thriftyfun.com
- Legitimate Work at Home Jobs
Good luck. (09/19/2008)
By Ace
RE: Work From Home
I do Cha Cha; do a search on them. What happens is someone needs info they call Cha Cha and a clearing house sends the questions to you, at home. You get the answer and send the answer via text back to the person; things like address or phone # of business, or movie times, weather report, etc. You get paid by the call. chacha.com (09/19/2008)
RE: Work From Home
I am an Independent Demonstrator for Gold Canyon. We have candles and candle accessories, body care products, home accessories, all natural cleaning products, room sprays, and much more, in over 100 scents. These products are easy to sell, as they are "the World's Finest". And this is a family business that also donates to the Child Prayer foundation to help families with medical expenses for children. For September only, you can sign up and earn your kit for free. For more info check out my site, and contact me if you have any questions. Hope this helps. www.mygccandle.com/jzsgr8scents (09/20/2008)
By jmz2005
RE: Work From Home
How about taking in a disabled person? A friend took in the most wonderful retarded man every weekend. He was so happy go lucky, everyone loved him. (09/20/2008)
By mulberry204
RE: Work From Home
I have been working from home now for 6 years. I love what I do, because it's very flexible and I get to meet people all over the US and Canada, even though I'm working from home. The Company I work with has been in business for 23 years and also is risk free. If you would like to know more, please check out my website. www.moms4wellness.com (09/21/2008)
By Cyndi
RE: Work From Home
Right now selling anything is pretty tough. If you don't have money to buy extras like Avon or Pampered Chef, chances are that other people won't either. I'm also from Michigan, so I definitely feel the strain of finances around here.
Lately, after being one of the many "downsized" in this state, I decided to take all the skills I accumulated in office life and "sell" them in freelance fashion. Right now I use Guru.com (www.guru.com). It is free to join. You create a profile and then bid on projects that employers post. Some employers are just looking for a one time project, some are looking for long-term help.
I will tell you that there is competition out there, but if you have marketable skills, you can find projects on Guru. You write a proposal, name your price, and you may or may not get picked. It took me several tries writing a good proposal for the right job. Now I work a few hours each week for a small business in another state. I work when it's convenient for me during the day, so you would be able to work around your regular job.
There are other comparable sites like Odesk.com and Elance.com, but Guru has worked best for me. Good luck. (09/21/2008)
By GalFriday08
RE: Work From Home
Would tutoring from your home be of interest? If so these sites might be helpful. www.successfultutor.com and www.becomeareadingtutor.com (09/29/2008)
By Melanie
RE: Work From Home
I did a yard sale this year around the end of September it lasted for 3 days on the weekend. I made over $400.00 on items I didn't even want anymore. I also put clothes in a school PTO only kids clothing consignment sale, they gave me 60% and they pocketed 40% of the sales. They sold the items, I didn't have to do much but, tag the clothes with the prices and put my name on them. I made $73.00 from this.
I also put my son old toys, he wasn't playing with any longer, it was a toy sale, another PTO fundraiser, it was the same as the clothing sale, I made $50.00, all of this extra income around us, ladies. I hope this was helpful, so start being aware of the schools special events posted on their lawns and sometimes sent home by your child from other schools, in your area, I bet this is going on in some of your communities. Good luck, and God bless! (10/19/2008)
By Angie R
RE: Work From Home
I distribute for a company that specializes in weight loss and health products. The business can be done totally online. There are no startup costs. The company provides an online website for you. You simply join an "Autoship" program where you receive as little as one product a month for as little as $30. I can't promise you a set income, however, if you put in 2 hours a day, 5 days a week just talking to friends you have met online you can see a good income develop quickly.
The other benefit is the products. I started taking the weight-loss plus and have lost 12lbs. It is a MLM company and you have to build you business, but there is a lot of support to help you grow. I am building a retirement income that will be more than my regular salary. If you are interested in more information with no obligation whatsoever, please visit my website. The link to it is http://freelhn.info
Steve B. (10/23/2008)
By skybird
RE: Work From Home
I've tried many network marketing opps and yes there are some great legitimate companies in the mix of the popular scams out there, you'll just have to do your "homework". I am no longer with a network marketing company. I also agree with the other poster and can't emphasize enough how important it is to find your passion, especially if you are not great in the "motivation" department.
Finally, I found mine and I'm able to reap 100% of the profit. That is making beaded jewelry, it all started as a hobby and then people really started getting impressed and liking my work. So, I thought why not start selling, especially in "this" economy.
As far as the wide competition, it never frightens me in the least bit. Most people I've encountered seem to first "buy" my attitude or my character before they ever seem to take interest in what I have to show or sell. In other words if one can market themselves the "sky is the limit". (11/05/2008)
By Guest
RE: Work From Home
Be really careful about all of these companies that sell products, and promise you how much you can earn. There was a coworker that was promoting a cleanse/wt loss regime, but he was like the second person that got started in recruiting people to sell, right under the owner/founder. He was bragging about how much he earned every week, the commission checks he was getting. Well he was getting that much because he had over 1000 people under him selling it, and he was making a percentage of what they and their recruits sold. (09/19/2009)
RE: Work From Home
If you are in any way crafty like me, one thing I started doing just as a hobby was making homemade soy candles and oatmeal soaps. Both processes are very simple, using a double boiler. For my candles, I shop yard sales, flea markets to find cheap candle jars, then fill them. For my soaps, I buy, melt, and pour oatmeal base available on eBay and your choice of candy mold which can be found at any craft store.
My initial cost was about $100 including the soy wax, the soap base, and the fragrances, etc. My profit was close to $300. It was a few hours of work and my house smelled wonderful. I am still doing this and I now sell my candles and soaps at several gift shops and I also set up a very small corner in my den as a display for when friends, family, or neighbors stop by and they always buy something. (09/24/2009)
By crownfairy
---
Work From Home
I need a legitimate work from home business. I am afraid of getting ripped off with some of these scams. If anyone knows of any programs or has any ideas to share, please let me know. I am on social security and need more income to be able to make my house payment. Thank you.
By Connie from Vandalia, OH
---
RE: Work From Home
Why do you need to work from home, are you homebound or something? If you are 55 or older, go to an Experience Works! office they find non-profit businesses to train people that meet income guidelines for work. You work for about 20 hours a week and get paid for it and then they try to help you find a job off the program. Also, I have seen people in wheel chairs and elderly people that are in such poor condition they can barely walk as greeter in WalMart. (04/09/2010)
By redhatterb
RE: Work From Home
If you have a digital camera and do crafts you can submit your craft ideas here at ThriftyFun and for every craft you submit with instructions that ThriftyFun accepts to post they will pay you $15.00. And you could also submit photos, tips, and recipes for the weekly contests and if they are accepted for posting in the contest and you receive enough "thumbs up" for that week to win in a category you would receive $25.00.
You could also put the word out that you could pet sit. I have a retired neighbor who pet sits for another neighbor. The pet owner brings cute little Sadie over to the retired neighbor's house each morning and picks Sadie up after each work day. All my retired neighbor has to do is walk Sadie to potty three times during the day, make sure she has water, feed her once (the owner supplies the food) and give and receive lots and lots of cuddles. They even nap together on the sofa ;-)
Being that you mention you have a mortgage to pay perhaps you could rent a room or two out and consider including the extra utility cost when calculating what to charge?
I know Ohio is one of the hardest hit states for employment right now, and the Dayton area is definitely not a very large city so competition is even more difficult and especially with social security age or possible disability to find work outside the home, but maybe you could try calling small offices near your home to see if maybe they need some help answering phones or doing some typing or filing just a couple/few hours a week?
Start with calling your doctor or dentist office and go from there. Even if they don't need help maybe they could help you find something? I know you have to keep the cost of travel/gasoline feasible, and whether you are even able to drive in mind, but if doing just a few hours of work a week outside the home would help you. redhatterb, Experience Works is most likely not available in Connie's area according to this "Experience Works" map:
experienceworks.org (04/12/2010)
By Deeli
RE: Work From Home
There is one work-at-home company I can personally vouch for: Edoc Marketing. I supplement hubby's and my SS with the B2B marketing calls I make. You may never get rich doing what I do, but if you speak well and can get past the rare "bad apple" (extremely rude person) you'll get on the phone. Look us up.
edocmarketing.com
. Be aware, the weekly pay they quote isn't quite realistic, at least in my experience, but this is a highly ethical company overall. There's an online application if you're interested. Hope I've been of some help. (04/15/2010)
By JustPlainJo