I would like to stay home with our second child (I work part time right now) and basically need about $500 a month. I do not want a business but I would like something I can do when it fits into my schedule. I've sold lot of ebay but I don't have more to sell. I am open to all your ideas.
Thanks,
Mindy from Oregon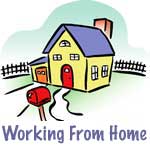 Answers:
work from home -don't forget
By law, you have to report all the income you earn and pay income tax, social security and medicare taxes; some states also impose state tax, and you may also need to collect sales tax. Best bet - talk to a CPA/tax accountant so you will know is required in your state
I have an tax/accounting business out of my home. I save time and money on travel (considering the price of gas these days), car maintenance, costs of buying work cloth etc etc. I can also take time out during the day to run errands, while everyone else is working and the stores/bank/post office are empty. It is great. (08/11/2006)

By Anna
Work From Home
This may not sound like much but, I make and/or bake all the gifts I give. Considering all the holidays, birthdays, anniversaries, and, especially Christmas, this does save me money and gives the recipients something they can't get from a store. And, I really enjoy doing it. (08/12/2006)

By MamaJude
Work From Home
I am a medical transcriptionist currently working from a hospital. I will be able to go home to work in 8 months at which time the hospital will put the necessary equipment in my home.
I first had to go to school for 3 semesters taking classes in transcription, medical terminology, surgical procedures, laboratory procedures, anatomy and physiology, medical ethics, English grammar, human diseases, etc.
I love my job. It is very interesting, and I look forward to working from home.
However, it does take training and the classes are difficult. Like my husband has always said, "if it was easy, everybody would be doing it.?" I do recommend it as a way to work at home. Them is a shortage of transcriptionists, and I went to work for the hospital in the middle of my 3rd semester.
Be sure the school you select is accredited with a good reputation.
Good luck!! (08/19/2006)

By Linda
Work From Home
How about minding someone else's child all day while they work? If u have the extra space for another child they would rather be with a family than in a day center and the money is good. (10/10/2006)
Work From Home
Mary Kay Cosmetics offers a great career that you work at your own schedule. (10/11/2006)

By Kay
Work From Home
Are you an aggressive salesperson? You have to be very aggressive to make money selling MK. First you have to invest a large sum of money for your "kit" and inventory. Your first month or two will go quite well as friends and family will buy "something" and will host parties for you. The well soon runs dry! Then your sales will drop off and you will be stuck with product you can't sell. Most people won't be repeat buyers or buyers of large quantities. I personally know of 5 women who attempted to sell MK and all regret it and ended up losing instead of making money. The rosy future they paint for you does not become a reality for the majority of women who fall for the dream! I'm sure a few do well. Are you the type of person who can and will? I'd do some careful thinking before making this commitment. Check out ebay! There are a lot of people trying to unload their leftover inventory after they have realized it's not going to make money for them. (10/11/2006)

By Grandma Margie
Work From Home
I've heard of folks going to rummage sales, yard sales, tag sales, estate sales and auctions, all looking for new or lightly used items. These could be given as gifts or sold on Ebay. If you live in a city that offers lots of those types of sales, take advantage of it. To make the most of your gasoline, take a few friends or family members with you (let them all pitch in for gas!). (10/24/2006)

By badwater
Work From Home
This may not apply if you don't have this skill, but I was able to make a significant amount of money by teaching piano lessons and playing the piano as an accompanist for schools, weddings, community choirs, etc. If you have the ability to play a piece of sheet music purchased at the music store and you work well with kids you likely have what it takes to teach, at least at a beginner level. The only drawback is that lessons are usually given during after-school hours when your own kids may need your attention most. (This advice could be adapted to other instruments as well.) (10/31/2006)

By Beth