I am restoring an old house (1940) and want to keep the antique theme inside. I am trying to be frugal at this point. I hung some curtains that I had, tan tab style in the breakfast room, they look "blah". Anyone have any idea how I can give them that needed "touch"? I was thinking of trying to make a garland but I am not sure what to use. I do have several old old kitchen utensils. Any ideas would greatly appreciated.

Ramona from Pinckard, Alabama
By Ramona
Ad
---
By Marlene (Guest Post) 07/02/20070 people found this helpful
How about sewing some old fashioned buttons just below the tabs? My daughter did this and I thought it was a neat idea.
By Holly 367 1,264 07/02/20070 people found this helpful
Big, old fashioned buttons - that sounds pretty!
By Mary Lou 14 765 07/03/20070 people found this helpful
Look for miniature kitchen themed utensils etc. for dollhouses or shadowboxes at your local department,craft or dollar store. If possible, put a hole in the item with a small drill. Stitch to curtain, at base of tabs or hem of curtains. You could also do kitchen or antique stencils on the curtains with fabric paint. or sew-on embroidered appliques that go with your kitchen. I also like the idea of pinning on any antique pins or brooches you might have at the base of the tabs, mostly because they could be easily changed.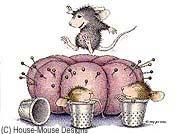 By Gwen (Guest Post) 07/05/20070 people found this helpful
When I need inexpensive curtains (always), I look for cheap fabric, tablecloths, sheets, quilts, throws, or bedspreads.
I have an older home and currently have a queen sized quilt hanging over a rod in my dining room as a valance with several pair of $3 sheers for privacy. I've also used table cloths to cover windows, doorways (try this at the top of the basement steps)
pillows, chair pads, etc. If you like crocheted lace curtains, buy crocheted table runners and the square toppers for those round tables. You can stitch several together or atttach them to other fabric for longer lengths. If your windows arent really wide, you can use tension rods. Quilts and fleece throws are great for drafty widows in the winter. You can either stitch a pocket in the top for the rod or use small straight pins so you can reuse the fabric later.
Pillow shams can also be used for smaller windows or valances.
By shasta (Guest Post) 07/17/20070 people found this helpful
Hi i have an idea for you go online and check out the vintage fabrics (google it ) and you may be able to paint or stencil similar designs on the tab top curtians ... just an idea for you.