I am in the process of looking for a new fridge. My present one is beige, cabinets are a dark oak. The microwave, wall, oven and dishwasher are black. I am thinking about getting a black fridge, but wonder if it would make the room look too dark? The floor is a red brick linoleum pattern. Thanks in advance.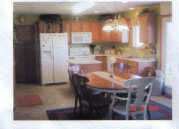 The kitchen we are updating is the standard oak cabinets with cream/neutral counter tops. The floor is neutral tan ceramic tile. We would like to replace the counter tops and appliances. The kitchen is painted a soft light green and opens to the living room which doesn't have a color yet. Any suggestions on colors for counter tops and appliances? It is just so bland with all the neutral in the kitchen.
Kelly from Pittsburgh, PA
---
RE: What color kitchen appliances should I get?
The kitchen table set looks like it's blue or gray. Perhaps appliances could be stainless steel to compliment your table set and paint the walls in a bright cheerful color of blue. Looks like you have plenty of lighting and I'd add a touch of chrome or silver in darker areas like the frame of a clock or picture. Curtains could have a splash of the floor coloring along with the blue to help pull it together if you're planning on keeping the same tile. Also, peach or apricot colors are warm and pleasant and would look nice with the floor and oak cabinets and on counter top. You could stay with white appliances and use some gold or brass highlights in the room. Have you considered a tile mural back splash for a dramatic touch? They vary in sizes and may not cost you very much. (01/22/2008)
By Lorelei
RE: What color kitchen appliances should I get?
Well I re-did my kitchen and bought stainless steel fridge, microwave,glass top stove and dish washer. I will never buy stainless steel appliances again. They scratch very easily and you have to clean them all the time as they show smudges and dirt more so than regular appliances. (01/23/2008)
By dean
I am replacing several appliances in my kitchen. I have just purchased a beautiful cottage style kitchen table in black. I am wanting to incorporate black into the kitchen but not overdo it (with black). Currently, I have a medium shade of oak hard wood flooring, white cabinets and white appliances.
I am not fond of stainless appliances. Would it look best if I used all black appliances amongst the white cabinets or white appliances? I could really use some advice.
Lisa from Chapel Hill, NC
---
RE: What color kitchen appliances should I get?
I'd stick with white. (03/20/2008)
RE: What color kitchen appliances should I get?
Stick with white appliances or stainless. Black is great as an accent color, but unless you plan to go "Ultra Modern" I'd not buy black appliances. They're a bit dated & you may tire of them. Since you want to incorporate black into your decorating scheme, the trick is to spread it around the kitchen in 4 or more places. For example, across from the black table, you could hang several pictures with black frames, a vase or planter of black in another area, maybe a set of black canisters or a utensil holder in black? Just spread the black around.
Now, if you do want an ultra modern look, black would be okay, but instead, I'd go with stainless, as that adds resale to your home & goes with everything. But, with a country table white would be fine, as long as black is spread evenly throughout the room in the way of smaller accent pieces. (03/20/2008)
By Cyinda
RE: What color kitchen appliances should I get?
Having been married a long time and having had to replace appliances a few times in those years, I can tell you to stick with white. I've had almond, and those are even hard to match one to another. And those great colors they have now for washers and dryers are neat, but I can guarantee you that one or the other will die and then you'll never be able to match them. The other problem is that colors date your appliances -- remember harvest gold and olive green in the 60's anyone? Unless money is no object and you can replace appliances on whim because they are dated, stick with basics like white, black or stainless. They are timeless. (03/22/2008)
By Linda
RE: What color kitchen appliances should I get?
I would go with white. Black is easy to overdo and if for some reason you want to sell the appliances later, white is a lot easier to sell. Black tends to show smudges, and stainless steel (from everything I've heard) is really high maintenance. And I'm like you, I don't like steel. I think they make a home kitchen look too institutionalized. (03/24/2008)
By hildalove
RE: What color kitchen appliances should I get?
White, white, white. Perfect with a country or cottage kitchen. Everyone is right on! (03/24/2008)
RE: What color kitchen appliances should I get?
I vote for white appliances too. I think black and stainless are on the downside of the trend, white will stay "in" indefinitely. (03/25/2008)
By painterjayne
RE: What color kitchen appliances should I get?
I vote with the others for white appliances. Black is good and should be in every room of the house, but only as an accent color. With your neutral color scheme you can use any vibrant or soft color and even change colors with seasons as you wish. Look to the adjoining rooms to see what colors are used in them for your accent color in the kitchen for the first time around. If you are the person with the oak cupboards, I suggest you stain (or paint) them a different shade. I saw a TV show over the weekend where the designer said oak is out of style..which is a shame because it is a better quality wood. I wouldn't replace the cupboards since yours should last a lifetime, but the designer I saw stained the ones she was working with a different shade. Also, she tried to disguise the oak wood grain with her paintbrush. You can search for this TV show by going to HGTV.com. I believe it was Designed to Sell. Good luck (03/25/2008)
By Carol in PA
RE: What color kitchen appliances should I get?
Thank you all so much for responding and helping me with my appliance(s) choice. Your advice was much needed and appreciated. White appliances it will be! Gratefully, Lisa. (03/25/2008)
By Lisa from Chapel Hill, NC
RE: What color kitchen appliances should I get?
No white. Actually, if you don't like the stainless look, they are now making a bronze kind of look that is fabulous. It goes well with white cabinets and black accents, and it's very in. (03/31/2008)
By Leah
RE: What color kitchen appliances should I get?
As somebody who has worked in institutional kitchens, and the primary cook and cleaner in my home, I always recommend stainless. Yes, it shows dirt and smudges, but that is a good thing. It is a healthy thing. It makes you clean more often. The newer bronze and copper pieces also blend perfectly with stainless, though they are usually sealed with some form of lacquer or plastic. As for having "Dated Appliances", are you worried more about looks, function, or how your neighbors and in laws see you? My beer fridge in the garage is Olive, with Harvest Gold doors. I love it. (12/11/2008)
By Monkeysinmyhead
RE: What color kitchen appliances should I get?
White, forget stainless, it is a 'trend' and only looks good in high tech modern kitchens. (01/15/2009)
By Suki