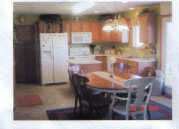 The kitchen we are updating is the standard oak cabinets with cream/neutral counter tops. The floor is neutral tan ceramic tile. We would like to replace the counter tops and appliances. The kitchen is painted a soft light green and opens to the living room which doesn't have a color yet. Any suggestions on colors for counter tops and appliances? It is just so bland with all the neutral in the kitchen.
Kelly from Pittsburgh, PA

Answers:
What color kitchen appliances should I get?
The kitchen table set looks like it's blue or gray. Perhaps appliances could be stainless steel to compliment your table set and paint the walls in a bright cheerful color of blue. Looks like you have plenty of lighting and I'd add a touch of chrome or silver in darker areas like the frame of a clock or picture. Curtains could have a splash of the floor coloring along with the blue to help pull it together if you're planning on keeping the same tile.
Also, peach or apricot colors are warm and pleasant and would look nice with the floor and oak cabinets and on counter top. You could stay with white appliances and use some gold or brass highlights in the room.
Have you considered a tile mural back splash for a dramatic touch? They vary in sizes and may not cost you very much.
(01/22/2008)

By Myrna
What color kitchen appliances should I get?
Well I re-did my kitchen and bought stainless steel fridge, microwave,glass top stove and dish washer. I will never buy stainless steel appliances again. They scratch very easily and you have to clean them all the time as they show smudges and dirt more so than regular appliances. (01/23/2008)

By dean