I have a box of silk scarves I used to wear with suits when I was working. Are there any ideas on how I can "repurpose" them? Perhaps craft usages.
By Geri from Orlando, FL
Ad
---
Recent Answers
Here are the recent answer to this question.

By Betty [104]03/18/2010
I've seen them tied about hardware on nice purses.

By Ann Winberg [282]03/18/2010
You could weave them in large canvas like a rug for a purse. Braid them for a belt or braid enough then sew them together for another bag. Use a braided length for a handle on a bag or fabric bowl. Brighten up a lamp shade by draping several over an existing lamp shade, the light coming through would be wonderful. Good luck. Remember fashion never "dyes" it just takes a rest for a term.

By susan winship [4]03/17/2010
Google fabric flower crafts and see what comes up. I know I've seen satin and silk flowers and cotton quilted flowers. They'd be good on a hat or as headbands or ? I use silk scarves a lot (the long kind of skinny ones) to drape around the neck of a jacket or over shirt to fancy it up and draw attention from my lack of waistline!

By pam munro [447]03/15/2010
You could sew the scarves together to make a large scarf like a shawl. Or you could tie them around the band of a hat to decorate it. But actually scarves are terribly fashionable these days- I wear them to spiff up my t-shirts or sweat shirts! See if you can utilize them in your wardrobe. It's amazing how pulled together you can look wearing a scarf.

By Joan [13]03/15/2010
If some of them have pretty or interesting prints on them you could get a piece of wood the appropriate size and use a piece of quilt batting the appropriate size, then lay the scarf face side down, put the quilt batting on top of that, then place the wood on top of those items. Fold one edge over the wood and use a staple gun to fasten it. Then go to the opposite side, and turn that edge over, making sure you have it pulled really tight, continue doing that until you have all four sides fastened. Then apply a hanger of some kind to the back side and you have a piece of art for your walls.

By Cyinda [214]03/14/2010
Silk scarves can be made in to a wonderful hair ornaments like flowers, hair bows or even a scrunchie or silk "hat" or turban. The flowers are super easy to make. Scarves can also be tied around your waist or made into a halter to tube top. Se below for even more ideas:

Directions to make a Silk Rose:
*these look best when made in a solid color or a tiny pattern

Simply fold the scarf in half (if you like, you can iron a crisp fold line) & cut this folded section off of the scarf so the folded piece now measures about 2 or 3 inches wide. Next, take a needle & thread & along the raw edge sew a simple "in & out" running stitch along the bottom so you can easily pull on the thread to gather -up the fabric... Now pull in the thread to gather the raw edge of the fabric then simply roll up the gathered edge like you would a jelly roll while stitching the bottom (the gathered edge) to itself so it stays put. Now simply sew or glue on a pin back, barrette or small hair clip & you can wear this silk rose in your hair or as a brooch. I like to pin a black rose to a black fabric headband. It looks nice on me (when I'm wearing a simply black outfit) even though I am in my mid 50's.

* You can use the extra fabric left-over from making the flower to make a matching headband by just folding the fabric over so you can't see the the raw edges because they are on the bottom, then tying it behind & under your hair in the back of your neck. Now clip the flower to the head band.

Making Fabric Flowers:
http://www.google.com/#hl=en&so ... bric+flowers&fp=f8bc9ba0718e9555

Some other ideas:
You can also make a fabric basket out of scarves or use them as a fancy way to wrap a special present, or make lavender-filled sachets. You can also use old scarves to wrap around clothes hangers to protect your special garments. You can even cut the scarves into strips then knit or crochet another scarf with the strips! Scarves make wonderful linings for handmade purses. Never throw them away, if you place knots at the ends, they even make great cat or dog toys.

Different Ways to Wear a Head Scarf: (scarves aren't just for your neck)
* click on the photo for directions
http://www.tznius.com/cgi-bin/tying.pl

Square Scarves as trendy Hair Pieces:
http://www.scarvesandshawlsblog.com ... 7/square-scarves-as-trendy-hair.html

--->You Tube:
10 ways to wear scarf:
www.youtube.com/watch?v=6Iunk1gN1h8
5 ways to tie scarf:
www.youtube.com/watch?v=-Xch4ADSlK4

Ssarf gift wrapping how to:
http://weheartthis.com/2009/04/20/how-to-scarf-gift-wrapping/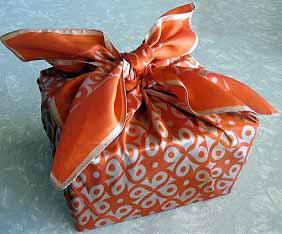 By kathleen williams [23]03/14/2010
I still use some of mine. When it's cold weather, I put one around my neck. It helps keep wind out. I go walking every day, even when it's cold and windy. They really help, you might save some for your grand kids. Time flies so fast! Good luck.

By Sadie Lynn [5]03/14/2010
I'm not sure what your background is, but some people use scarves during praise and worship. I'm not sure exactly how you would go about it (if you were to go this route that is). I think you basically need a hot-glue gun, a wooden circular rod, and you glue the scarf on the rod by placing a line of hot glue and attaching the scarf. You may be able to find better information as to how to do this. I just speculate that this is how to do so. The scarves are then waved in the air during praise and worship. It is really beautiful to see. :)
Archives
Thrifty Fun has been around so long that many of our pages have been reset several times. Archives are older versions of the page and the feedback that was provided then.
My mother left me with about 25 or so silk and like silk square scarves. Any ideas what I should do with them. I can't throw them out.
Thanks,
Kathie from South Portland, ME
---
RE: Uses for Silk Scarves
Sounds like a perfect memory quilt or pillows maybe. I have seen them used as a valance on small windows several overlapping like upside down triangles. Or maybe you could embroider, or have it done, messages or notes of memories on them then give them to friends and family members for Christmas. A nice treasure. Hope this helps. (02/12/2007)
RE: Uses for Silk Scarves
Maybe use as doilies, or along the same lines as the previous post drape around a picture frame of a painting or a print that coordinates with the scarves. (02/12/2007)
By Tamisuemcp
RE: Uses for Silk Scarves
My mom and I made a quilt for my grandma with scarves and handkerchiefs like this. We laid them out on a twin bed sized piece of white flannel in a "crazy quilt" pattern. We overlapped, folded, rearranged to make all the pieces fit, without cutting. We used different zigzag stitches to tack them all down, but you could stitch by hand, too. I made a quilted backing and my mom stitched the two pieces together with a lacy crochet stitch. (02/12/2007)
By thriftyboo
RE: Uses for Silk Scarves
I made a beautiful coverlet for my day bed out of my grandmother "handkerchiefs. also:
you could sew them end to end, and them braid them together to make a belt.
you could use them to line a gift basket or gift bag.
you could "wrap" a small gift in them.
you could donate them to a retirement home.
if you use compact fluorescent light bulbs which do not give off heat, you could drape one over a lampshade for a nice lighting effect.
you could use one to store silver jewelry or silverware in so it doesn't tarnish as quickly.
you could use them as elegant dinner napkins for special occasions.
you could make slipcovers for decorative pillows.
(02/14/2007)
By Debbie from SC
RE: Uses for Silk Scarves
Perhaps you could use them as backing for a memory board, or weave them together for decorating chair backs or adding color to chair seats. (02/14/2007)
By b_bragg
RE: Uses for Silk Scarves
They have not been in fashion for ages, so it is probably time for these scarves to become the very latest new craze. Hang on there, keep them for a little while longer and your daughters and nieces will be begging you for them. (02/15/2007)
By Julia
RE: Uses for Silk Scarves
I know this sounds weird, but it really works. When I put on a turtleneck, I put a silk scarf over my head and face to prevent makeup from getting on it. I do the same thing to take the turtleneck off, but I stuff the ends down inside the neck. The turtleneck slides right on and off with no makeup on it. (01/24/2008)
By Guest
Answer This Question
Add your voice to the conversation. Click here to answer this question.