How do I soften hard bread?

Susan from Falmouth, MA
Ad
---
Recent Answers
Here are the recent answer to this question.

By Hoseph (Guest Post)10/27/2006
The towel worked like a charm. Thanks.

By Cathy (Guest Post)09/22/2006
Also, you could slice the bread, then place a few slices in the microwave along with a cup of water. Depending on how strong your microwave is, try zapping the bread in 30 second bursts until it gets soft enough.

By melody_yesterday [213]08/22/2006
my grandma used to soften cookies with an apple slice - she just placed it in the cookie jar with the cookies - seems the same thing would work for bread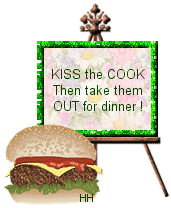 By gator10tx (Guest Post)08/22/2006
What works for me... Place a wet paper or cloth towel atop the dry bread then microwave on half-power or less for about 10-30 seconds. The variable depends on how much bread you want to soften and the wattage of your m.oven.

You can do this in a toaster or regular oven but on a low setting; check on it every minute until you learn how long it takes for the bread to soften in your appliances.
Answer This Question
Add your voice to the conversation. Click here to answer this question.