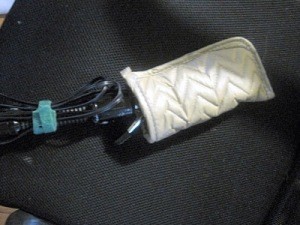 I made a hair curling iron holder that is especially great for travel because when you want to leave a hotel, you can insert your it into the holder while hot without worrying about burning your clothes. Buy a silicone hot pad (I got mine at a $1 store) and fold in half the long way. Sew one short end and the long end using a heavy duty needle. Insert curling iron
Source: A friend
By Elaine from Belle Plaine, IA
Recent Feedback
Feedback about this article is posted here. Want to contribute? Click above to post feedback.

By Winona12/09/2010
Also you can use the potholders for cast iron pans. You can find them at fleamarket/yard sales.

By Carol from Iowa12/09/2010
I have seen the covers to purchase and always thought it would be nice to have one but didn't want to spend the money. Now I can make one simply, easily, and inexpensively thanks to Elaine's idea. Thanks!

By Elizabeth Kent12/08/2010
Great idea. I bought one about 10 years ago and still works great. Everyone with a curling iron should have one.

Elizabeth in Salinas, CA
Post Feedback
Add your voice to the conversation. Click here to post feedback.