Using Garlic to Prevent Fleas
The presence of garlic can repel fleas if used safely. This guide is about using garlic to repel fleas.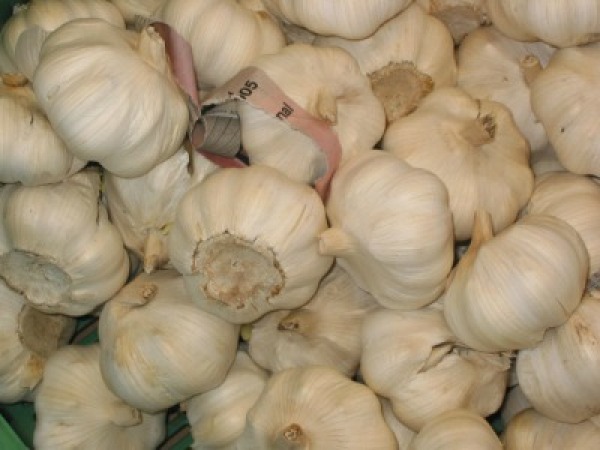 Filter

: All Articles
Sort

: Relevance
I've responded to questions and tips several times regarding giving garlic to pets for flea control or assorted other reasons, but maybe it will be more helpful if posted as a tip that might reach more folk? Please consider reading up about Heinz-Body anemia before you make the decision to give garlic in any form, or anything in the alliums family for that matter, to a pet. Personally, I wouldn't risk the health of my pet when there are other safe alternatives available. Here are two really good links to begin your homework with:
By Deeli from Richland, WA
I buy garlic pills (the gel-caps) and poke a hole in one gel-cap with a needle and squeeze the oil into my dogs food about 5 days a week.
Not only is it good for their coat and health, but it does wonder to deter fleas and ticks. Living in the woods, we have a lot of wild animals running through our yard at night, and I have not seen a flea or a tick on my dog.
By David from Ellsworth, ME
With two cats who come in and out, I worried about flea treatments.
Read More...
Can I give my dog garlic power?
By Margo from wilm dem
October 9, 2013
0

found this helpful
No it may be poison for your dog.
August 2, 2016
0

found this helpful
to my dog to keep flies away
How much and how often do I give raw garlic to my 60-70 pound dog?
By Jan N
July 7, 2016
0

found this helpful
I was going to sprinkle a little bit of garlic powder on my 80 pounds boxer back to rid of fleas we live out in the country and she is tormented by them I have to try something thank you for any advice you may have
August 28, 2016
0

found this helpful
I'm not sure.. Been trying the same thing but found out my trainer always used
elephant garlic and butter. She's never used a flea remedy.. she's never had fleas. I'm going to call her Monday and see how muich i can give my 74 lb Golden.
I'll let you know
Julia
I was wondering how much garlic I can use on my dogs that weigh approximately 10-17 lbs? They have fleas.
By Brenda from Ontario, CA
July 8, 2011
0

found this helpful
I don't buy the advice you should ever use home remedies on yourself or pets. I eat garlic regularly, as did my mother and father. My father passed at age 108 and my mother was in good health until Alzheimer's took her at 83.
I'm 68 years and strong as a bull. You can repel fleas on cats by rubbing garlic and vinegar water into their fur a couple of times a week with no adverse effects. I had two cats which I used this remedy on and one lived to 21 years and the other to 11. It would have lived longer if it had been born with two kidneys instead of one.
Most vets and doctors are honest but they are still in business to make money. They will often have you coming back for mostly un-necessary treatments and test. Unless you or your animal have some apparently serious illness or injury, let time heal it.
May 1, 2012
0

found this helpful
Yes, garlic is safe for dogs, in small amounts over a short period of time. Garlic is widely used as a natural flea and tick repellent and occasionally may even be used as a treatment for heart disease in dogs.
Dogs lack the enzyme needed to break down the chemical thiosulphate in garlic, which can cause gas, vomiting, diarrhea or severe gastrointestinal distress. Large amounts of garlic or garlic given over a prolonged period can result in the formation of Heinz bodies on the surface of red blood cells which are then destroyed by the body.
This results in a severe hemolytic anemia (Yamato, 2005); and there is also an increased risk for the development of blood clotting abnormalities. Always consult with your veterinarian before giving your dog any natural or herbal supplements.
I bought some garlic gel-caps, 1000mg. I was wondering how much to give a 7lb dog?
By Brandice
August 23, 2012
0

found this helpful
Not 1000 mg for a 7 lb dog. That's like a "baby" in size. Find garlic/brewer's yeast tablets at Puritan's Pride (for pets, cats & dogs).
May 12, 2013
0

found this helpful
I had a 5 pound Chihuahua and gave her real garlic raw as well as to my other dogs at the time. She liked raw green peppers too. Anyway, take a thing of garlic, pull off a clove and cut it up and give them about a 5th of the clove at a time. It works as dewormer too, which is why I did it in the first place. She's going on 7 years this year and has never had any major health problems.
If you put garlic in dog food will it keep fleas off your dog?
By Mike H.
April 3, 2013
0

found this helpful
Garlic can cause hemolytic anemia in dogs.
At what age can I give a puppy garlic for flea protection?
By Eliot
March 13, 2013
0

found this helpful
You should never give a dog or cat garlic or onion. It can cause hemolytic anemia, which is a very serious disorder.
Is brewers yeast with garlic tablets good for them?
By Kato from Mobile, AL
June 25, 2013
0

found this helpful
Please NEVER use garlic or anything that contains garlic for any of your dogs or cats! I can be highly toxic & cause illness or even death. Please check ASPCA's website for a listing of "human foods" that pets should not have. http://www.aspca.org/pet-care/poison-control/people-foods.aspx
June 25, 2013
0

found this helpful
Garlic can contribute to hemolytic anemia in dogs and cats.
Related
© 1997-2016 by Cumuli, Inc. All Rights Reserved. Published by
ThriftyFun
.
Page
generated on September 23, 2016 at 11:10:44 PM on 10.0.2.130 in 7 seconds. Use of this web site constitutes acceptance of ThriftyFun's
Disclaimer
and
Privacy Policy
. If you have any problems or suggestions feel free to
Contact Us
.