I've always been frugal, but I guess this one could be called "facing a challenge".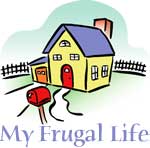 Times were very hard, my husband was out of a job, no money in the bank, no family to assist. It was hard enough trying to feed our family of four, two adults, two children, then I discovered my husband had invited a guest to dinner! I had precisely one dollar to provide a meal for five people!
Okay, this is how it went. I spent the dollar on sausage meat, that was it. I babysat a neighbour's children which, in return, she gave me some pumpkin and potatoes. The sausage meat became a meat loaf which I baked in the oven with the pumpkin and potatoes. There were a couple of wild apple trees growing on a deserted property. So I sent the children to gather the best of the apples, and turned them into an apple pie. There was also some silver beet (spinach) growing wild in that garden, so I picked off the best leaves and that become our 'green'
Admittedly I did have a few store cupboard items: dry stuff, flour, salt, etc. Right at the back, I found a packet of mixed dried fruit. Was it still good? It was, so it became a boiled fruit cake, iced with lemon icing (one of the children found the lemon lying on the grass at the side of the road) Gravy for the meat loaf? Yes, there was also a packet of gravy mix in there.
So there was dinner for five, Baked meat loaf pumpkin and potatoes, a green, apple pie, and a fruit cake. The guest complimented me on the meal, never knowing how frugally it had come about, and my now adult children still laugh about my one dollar meal.
Ellie from Melbourne Australia
Do you have a frugal story to share with the ThriftyFun community? Submit your essay here: http://www.thriftyfun.com/post_myfrugallife.ldml