I am a person who shreds all of my paper with my address on them and here are some hints what I do with it.
I save all zip lock bags after many uses when I want to send a package I fill those bags with shredded paper put a note in the package and ask the recipient to save and use in the same way.
I line the bottom of my kitchen trash bag with shredded paper to absorb any moisture.
Hope these hints will help. Have a wonderful day.
By Letageraldine from Tucson, AZ
Ad
---
By Anne Carter 4 54 03/23/2010 Flag
Both great ideas, thanks. I also use shredded paper on my garden compost heap and in the wormery to absorb excess moisture and to keep the worms from freezing in the winter months.
By Christina 2 3 03/23/2010 Flag
You can shred wrapping paper and use that as filler in a gift bag. It's nice and colorful.
By Gail Vance 16 10 03/23/2010 Flag
I hope you win,what a great idea. I have scrunched up paper when packing parcels but this is so much tidier for the sender and the sendee. LOL Also I put newspaper in the bottom of my recyclable box to soak up any liquid but its just one section of the newspaper and i find it bulky to put in the trash after. so this is the perfect idea. only. I just emptied my shredder yesterday, now I will have to start over. If only I had received this idea yesterday. LOL Good luck,
I make bricks for our woodstove. I collect shredded paper from any sources I can. I put it in a giant tub and cover it with water. I let it absorb the water for about 3 or 4 days. Then I squeeze the paper together either by hand or using a mold made just for this purpose. Let them dry in the sun (in the summer) or on a tray near the woodstove (winter). I make as many any as can during the summer for winter use!
By Danialle 3 248 03/23/2010 Flag
I use my shredded paper to mix in with my potting soil. It helps hold the moisture in for my tomato plants.
By linda 61 78 03/23/2010 Flag
Did not think my cats would take to it, but I tried it out in one of my 3 litter boxes. I have 3 cats, and 1 cat uses it all the time, the other 2 do not, but even so it helps me save some money on cat litter. I attached a photo of Mya, the one who uses it.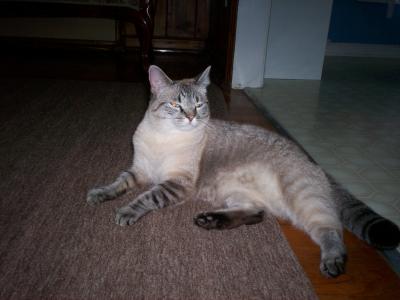 Good idea! But if you are doing this to thwart identity theft & privacy, aren't you defeating the purpose by relying on your friend to only send these baggies of shredded paper to only trusted people. What I mean if someone is trying to steal your identity can maybe put the shredded pieces back together. You never know anymore. Just my humble opinion.
I take my shredded paper to my local humane society, they use it for bedding for the animals. just make sure there aren't any staples.
Archives
Thrifty Fun has been around so long that many of our pages have been reset several times. Archives are older versions of the page and the comments that were provided then.
I bought a paper shredder at Christmas, and it has done wonders in helping me get better organized. The shredder cuts in two directions, so I'm left with lots of 1.5-inch by .25-inch pieces. I save the shredded paper and then stuff it in grocery sacks to use like "shipping peanuts." Also, in the spring I'll be able to use lots of it as mulch when I'm tending my flower and veggie gardens. Still, I wondered what other ways I could use this shredded paper.
Melanie
Answers:
RE: Uses for Shredded Paper?
If you have any friends with mice, rats, rabbits, etc., they might be happy to be offered free bedding material! (01/29/2005)

By snickybun
RE: Uses for Shredded Paper?
Hamster bedding! As long as the paper doesn't have too much ink on, it is fabulous and safe and thrifty! Also you could use it to make some kind of glue, paper stuff for craft. Mixing it with thick wallpaper paste for example. (01/30/2005)

RE: Uses for Shredded Paper?
You can use it for cat litter, or make it into papier mache. I don't have the recipe, but someone out there must. (01/30/2005)

By Bert in Oregon
RE: Uses for Shredded Paper?
Shred colored paper for gift bags instead of buying gift bag shreds. (01/30/2005)

By Cheryl from Missouri
RE: Uses for Shredded Paper?
Check with your local animal shelter - They are happy to take ours! (01/31/2005)

By Linda H
RE: Uses for Shredded Paper?
I like to put it into plastic bags [like grocery bags], tie the bags closed securely and stuff my empty purses & totebags with it to help them keep their shape when not being used. (02/01/2005)

By darween
Bean bag with shredded paper
I took a blanket (with leopard stripes) for a daughter of mine who loved leopards and cut it into 2 strips. I then sewed it together to make a box. Filled it with shredded paper and it made a nice bean bag. (02/02/2005)

By Honey
RE: Uses for Shredded Paper?
For paper mache: equal parts flour and water. (08/16/2006)

By Cathy
RE: Uses for Shredded Paper?
This probably wouldn't work for the small pieces that you get from your shredder, but if you have the kind that makes long thin strips, how about using them for quilling crafts?
(08/16/2006)

By pinkchic
RE: Uses for Shredded Paper?
I use the shredded paper for dog bedding. It is very insilated and keeps them warm on cold nights. It also provides a great comfortable bed to sleep. This material can be used for any type of animal (04/26/2007)

By Dog Lover
I'm looking for ideas on how to recycle shredded paper. My city does not accept it in their recycling program.