I am a person who shreds all of my paper with my address on them and here are some hints what I do with it.
I save all zip lock bags after many uses when I want to send a package I fill those bags with shredded paper put a note in the package and ask the recipient to save and use in the same way.
I line the bottom of my kitchen trash bag with shredded paper to absorb any moisture.
Hope these hints will help. Have a wonderful day.
By Letageraldine from Tucson, AZ
Ad
---
By Anne Carter [4] 03/23/20100 people found this helpful
Both great ideas, thanks. I also use shredded paper on my garden compost heap and in the wormery to absorb excess moisture and to keep the worms from freezing in the winter months.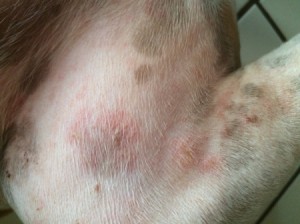 By Christina [2] 03/23/20100 people found this helpful
You can shred wrapping paper and use that as filler in a gift bag. It's nice and colorful.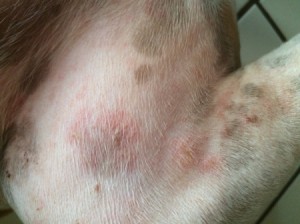 By Gail Vance [16] 03/23/20100 people found this helpful
I hope you win,what a great idea. I have scrunched up paper when packing parcels but this is so much tidier for the sender and the sendee. LOL Also I put newspaper in the bottom of my recyclable box to soak up any liquid but its just one section of the newspaper and i find it bulky to put in the trash after. so this is the perfect idea. only. I just emptied my shredder yesterday, now I will have to start over. If only I had received this idea yesterday. LOL Good luck,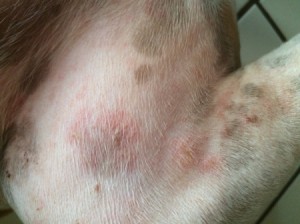 By Cherie 03/23/20100 people found this helpful
I make bricks for our woodstove. I collect shredded paper from any sources I can. I put it in a giant tub and cover it with water. I let it absorb the water for about 3 or 4 days. Then I squeeze the paper together either by hand or using a mold made just for this purpose. Let them dry in the sun (in the summer) or on a tray near the woodstove (winter). I make as many any as can during the summer for winter use!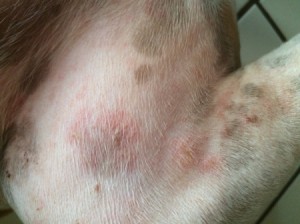 By Danialle [3] 03/23/20100 people found this helpful
I use my shredded paper to mix in with my potting soil. It helps hold the moisture in for my tomato plants.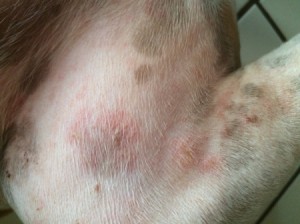 By linda [57] 03/23/20100 people found this helpful
Did not think my cats would take to it, but I tried it out in one of my 3 litter boxes. I have 3 cats, and 1 cat uses it all the time, the other 2 do not, but even so it helps me save some money on cat litter. I attached a photo of Mya, the one who uses it.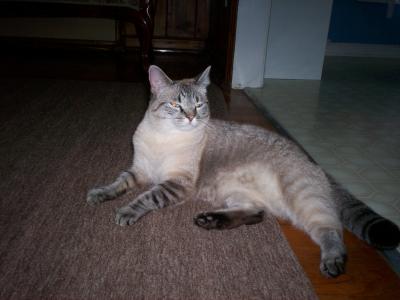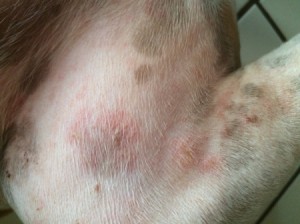 By Poca [1] 03/23/20100 people found this helpful
Good idea! But if you are doing this to thwart identity theft & privacy, aren't you defeating the purpose by relying on your friend to only send these baggies of shredded paper to only trusted people. What I mean if someone is trying to steal your identity can maybe put the shredded pieces back together. You never know anymore. Just my humble opinion.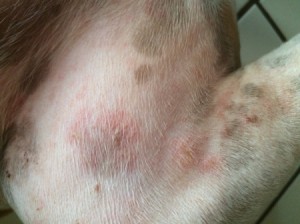 By Tammy [1] 04/07/20100 people found this helpful
I take my shredded paper to my local humane society, they use it for bedding for the animals. just make sure there aren't any staples.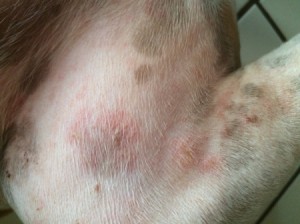 Archives
Thrifty Fun has been around so long that many of our pages have been reset several times. Archives are older versions of the page and the comments that were provided then.
I bought a paper shredder at Christmas, and it has done wonders in helping me get better organized. The shredder cuts in two directions, so I'm left with lots of 1.5-inch by .25-inch pieces. I save the shredded paper and then stuff it in grocery sacks to use like "shipping peanuts." Also, in the spring I'll be able to use lots of it as mulch when I'm tending my flower and veggie gardens. Still, I wondered what other ways I could use this shredded paper.
Melanie
---
RE: Uses for Shredded Paper?
If you have any friends with mice, rats, rabbits, etc., they might be happy to be offered free bedding material! (01/29/2005)
By snickybun
RE: Uses for Shredded Paper?
Hamster bedding! As long as the paper doesn't have too much ink on, it is fabulous and safe and thrifty! Also you could use it to make some kind of glue, paper stuff for craft. Mixing it with thick wallpaper paste for example. (01/30/2005)
RE: Uses for Shredded Paper?
You can use it for cat litter, or make it into papier mache. I don't have the recipe, but someone out there must. (01/30/2005)
By Bert in Oregon
RE: Uses for Shredded Paper?
Shred colored paper for gift bags instead of buying gift bag shreds. (01/30/2005)
By Cheryl from Missouri
RE: Uses for Shredded Paper?
Check with your local animal shelter - They are happy to take ours! (01/31/2005)
By Linda H
RE: Uses for Shredded Paper?
I like to put it into plastic bags [like grocery bags], tie the bags closed securely and stuff my empty purses & totebags with it to help them keep their shape when not being used. (02/01/2005)
By darween
Bean bag with shredded paper
I took a blanket (with leopard stripes) for a daughter of mine who loved leopards and cut it into 2 strips. I then sewed it together to make a box. Filled it with shredded paper and it made a nice bean bag. (02/02/2005)
By Honey
RE: Uses for Shredded Paper?
For paper mache: equal parts flour and water. (08/16/2006)
By Cathy
RE: Uses for Shredded Paper?
This probably wouldn't work for the small pieces that you get from your shredder, but if you have the kind that makes long thin strips, how about using them for quilling crafts? (08/16/2006)
By pinkchic
RE: Uses for Shredded Paper?
I use the shredded paper for dog bedding. It is very insilated and keeps them warm on cold nights. It also provides a great comfortable bed to sleep. This material can be used for any type of animal (04/26/2007)
By Dog Lover
I'm looking for ideas on how to recycle shredded paper. My city does not accept it in their recycling program. I've considered using it for shipping packages, but it would make a big mess for the receiver.
Jean from Taylor, MI
---
RE: Uses for Shredded Paper
You could stuff pillows with them.(05/10/2007)
RE: Uses for Shredded Paper
I am an art teacher and I LOVE to get shredded paper donations to use for stuffed paper art projects. Also good for other collage activities. Call your local elementary school!! (05/11/2007)
By Tracy
RE: Uses for Shredded Paper
Do you compost your soil, makes great compost , Not the shiny paper tho, put the shredded paper around your plants outside for mulch. Do you have a bird in a cage, use it on the bottom of the cage. (05/11/2007)
By rosa
RE: Uses for Shredded Paper
I work for our local Hallmark shop and I don't mind a bit when something is shipped with shredded paper. It is a lot better than the styrofoam peanuts. (05/11/2007)
By Heather
RE: Uses for Shredded Paper
If you have a fireplace it can be used to build and then start a fire ,lay the shredded paper first , then add twigs, then wood. or fill paper bags or empty milk cartons to make fire bags/fire bricks to keep a fire going cheaply
Could be used in birds nesting boxes or for pet bedding p>Could be added to the compost bin or for mulching plants or for insulating plants in cold weather
It really is acceptable for parcels and does a great job
With summer upon us almost, it would be received gratefully by charities /fairs who do outdoor lucky dips in a barrel at events
It can be used to line gift baskets and bags (05/12/2007)
By cazpumpkin
RE: Uses for Shredded Paper
Local animal shelters and animal petstores often use this as bedding / floor coverings. maybe see if any are interested? (05/22/2007)
By Cathy.Hossen
RE: Uses for Shredded Paper
I stuff torn pantyhose and knee highs with shredded paper, spray with Febreze and stuff this into my kids' stinky sneakers! (06/01/2007)
By Sandy
RE: Uses for Shredded Paper
On the down side (sorry) Earwigs, silverfish and many other insects love paper. It absolutely cannot get wet, as it grows mold quickly. Composting is good if you are a disciplined turner, and using it for mulch is also good but the same rules apply. FYI (08/13/2007)
By Mary
RE: Uses for Shredded Paper
People sometimes make mistake when they say they don't accept shredded paper for recycling. Sometimes used paper IS on their list of items they recycle, but they interpret "shredded paper" as something different from plain paper. As paper is recycled by shredding and mixing into a pulp anyway, they should accept it as paper. This is a common misunderstanding -- paper is the most commonly recycled material.
Most standard uses are already explained, so I'll add some details. If used for packaging, the items packaged can be sealed in a plastic bag to keep the paper dust away. Alternatively, shredded paper can be packed into small plastic bags sealed with a thermal sealer, and use these for packaging. Papier mache can be made easily if You own a blender with strong blades (a combo machine, for example). More complex uses involve mixing it with some sort of low-cost glue and some preservative (e.g. salicylate) and pressing it into panels that can be used for construction -- it provides good thermal insulation. Commercial methods involve silicate-based glues, rendering the material fireproof. It can also be pressed into small bricks while adding some molten fatty fuel (longer hydrocarbon chain -- solid at room temperature). The paper acts as a "wick," the fat burns, so the bricks can be used as fuel. (08/25/2007)
By Koolio
RE: Uses for Shredded Paper
I use it in my worm composting bin. They love it and then the castings are great for the garden, house plants, even as a type of fertilizer for your yard. (10/17/2007)
By carrolmick
RE: Uses for Shredded Paper
I love all these ideas, I volunteer at a rescue mission and am trying to see if we could sell shredded paper at our thrift store. Thank You. (11/16/2007)
By Martha
RE: Uses for Shredded Paper
Shredded paper is really useful to make papasan chairs. All you have to do is get a trash bag and fill with shredded paper. Then staple colorful paper on the outside of trash bag. You can even staple on some leather fringe for a fun country western look. (01/08/2008)
By Keel