I have nine cats, the result of some volunteer work with a trap, neuter/spay/vaccinate, and release program. (I had trouble with the release part!) With the price of cat litter soaring, I decided to try to use my daily Chicago newspaper, which is large, in litter boxes.
Starting by switching one box at a time (I have six!), at first I shredded sheets, which turned out to be a big chore and also resulted in tracked shreds. Then I tried laying down whole sheets and just tearing one page in strips, and that worked very well, with all the cats accepting the change. Although now and then a strip gets out of the box, it is nothing compared to the tracking of commercial litters. I completely change the used paper each day, so it is no smellier than my old boxes.
Since I need enough paper to avoid puddling underneath each newspaper section and strips, I bulk it up with all my other paper and light cardboard that I would recycle if I weren't reusing it. This uses up all my junk mail, including catalogs. Along with saving money, I have saved myself a lot of hauling of heavy litter. I still have to haul the used paper, now as garbage, but the bags are much lighter than those with litter.
By Barbara from Burlington, WI
Comments
August 18, 2016
0

found this helpful
Top Comment
I se shredded newspaper for my cat. He was pretty old when I decided to do this so wasn't sure of his acceptance. Never had a problem at all with the litter box. Seemed to help with the smell too!
May 29, 2009
0

found this helpful
Use Shredded Paper For Litter
I have a pet tip. This may or may not work for your pets, but it does mine and maybe worth trying. I recycle my shredded paper. My shredder cuts into tiny squares. I put a litter liner in the pan and fill with shredded paper, both my cats took straight away to it. When it needs cleaning, it's just a matter of lifting out by the liner. You can also lift out the used areas and refill with more.
Linda from Dalton, GA
Answers:
Use Shredded Paper For Cat Litter
Awesome idea! Thanks! (04/30/2008)

By
Use Shredded Paper For Cat Litter
Cats are the great recyclers. Mine uses the newspaper 'as it comes'. I put in two or so inches of paper, a wee bit of litter on top, and only dump once a week. The garbage bag goes over the box and it's all gone. The newspaper is a super drying agent and there is no moist or smelly issues to deal with. Maybe my Minoux is a bit too easy to please but it has been five years and still works. She has never gone elsewhere. (04/30/2008)

By solus
Use Shredded Paper For Cat Litter
Isn't this great!? I've been doing this only a few months. Funny I thought I thunk it up :) My cat is a real pee-er so I do change every morning. No odors no problems. Glad to recycle and very happy to pass by those litters at $7.45 every month (05/07/2008)

By Dianne Upstate NY
Use Shredded Paper For Cat Litter
I work at a vet, and that is the only litter we use (besides the kind that catches urine for testing). I have never seen any cat turn down the paper litter. It works great, saves money, the environment, and your pet's health. The dust particles and chemicals found in conventional clay litter can be harmful to your cat. If you still think it's too much work to tear up the newspaper yourself, they sell a prepared version at the store. It is a responsible and green solution! (05/13/2008)
By x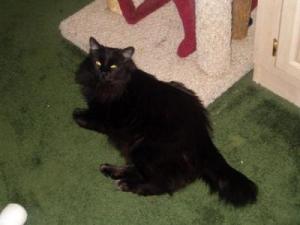 Use Shredded Paper For Cat Litter
The shredded paper litter is a WONDERFUL idea... After all the paper is already going into the landfill anyway (unless you use it as a kindling starter in your woodstove)... So I think it's a truly great idea!

I myself have decided to use organic Wheat Grass Cat Litter. I like the wheat-grass litter for 2 reasons: The first reason is why I bought it in the first place, because I can compost it for later use in my flower garden (Obviously, it's not for use in Veggie gardens!) I just rake the litter into an area behind my back yard and make sure to rake it in with the some dirt and grass clippings. Then in several years if I choose to, I can use it as mulch. And the second reason is, I absolutely LOVE the way the wheat grass litter blocks all the odor. It's simply amazing! ... The odor blocking properties of wheat grass is far superior to any other litter I've tried! All that and it won't hurt the environment.
Here's a Tip I posted about the many kinds of Natural Cat litters and using them as mulch:
Thank you for posting this idea about shredded paper for cat litter... I never would have thought of it... Hey? Is your paper shredded into those tiny "diamonds" or is it shredded into sthin trips or does this matter? (07/18/2008)

By Cyinda