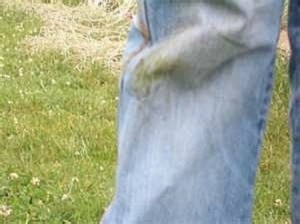 For a cheap grass stain remover that truly works, combine equal portions of white vinegar, liquid dish washing soap, and water. Shake well and work the solution into the spot. Let stand a few minutes and then launder as usual.
Also works on fruit or beverage stains.
This got all of the grass stains out of my son's light colored pants. I will never buy expensive stain removers again!
Source: The Queen of Clean by Linda Cobb
By windchime from Maple Falls, WA
Ad
---
Feedback Forum
Feedback about this article is posted here. Want to contribute? Click above to post feedback.

By LaurieS [10]04/14/2011
Wow, good recipe for stains. Do you have a homemade recipe for grease or butter stains?

I'm always dribbling butter on myself when I'm eating.
Post Feedback
Add your voice to the conversation. Click here to share feedback.