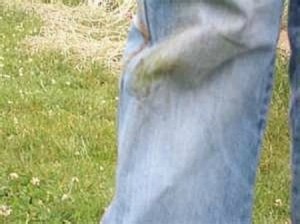 For a cheap grass stain remover that truly works, combine equal portions of white vinegar, liquid dish washing soap, and water. Shake well and work the solution into the spot. Let stand a few minutes and then launder as usual.
Also works on fruit or beverage stains.
This got all of the grass stains out of my son's light colored pants. I will never buy expensive stain removers again!
Source: The Queen of Clean by Linda Cobb
By Patricia Mabel from Maple Falls, WA
How do I remove grass stains from denim?

Cathy
Answers
By Denised (Guest Post)
May 8, 2007
0

found this helpful
I love Oxy Clean spray. I spray it on, wait a few minutes then scrub it with a small fingernail brush.
Depending on the stain, I may spray and scrub a couple of times.
By Cheryl from Missouri (Guest Post)
May 8, 2007
0

found this helpful
I just removed grass stains from my daughter's jeans presoaking the spots with Zout (available at Walmart).
May 8, 2007
0

found this helpful
There is a soap called ASTONISH that we can get in Canada that is fantastic on grass stains. In the UK it is called VANISH. Also, Oxyclean is great, as well as SUNLIGHT dishwasher detergent. With the Sunlight you have to apply it to the stained area, let it soak for an hour or so, then GENTLEY rub the area. You may have to repeat depending upon the degree of staining. Launder as normal. Good Luck.
May 9, 2007
0

found this helpful
Spray a little window cleaner on the spot and rub. (I use a toothbrush and scrub.) Wash as usual. hard to believe, but it really works.
By Glinda (Guest Post)
May 9, 2007
0

found this helpful
This works on denim, and khaki also, I have a backyard football player. And I got this recipe from a friend.
In a spray bottle, put a mixture of 1/2 ammonia, and 1/2 "Era" detergent. (mix well) Spray this on the grass stain, (works on many different kinds of stains), and scrub with an old fashion scrub brush, (the kind with bristles, but, not metal bristles, mine is plastic bristles)... Then throw in a wash, and wash with "Era" wash detergent, soak for about 15 minutes after it has agitated well... (note, you don't have to scrub the stain until it is completely gone with the brush, but, the stain should be "fading", and that means it's on it's way out) I've had some pretty bad grass and red clay dirt stains on my son's jeans and khaki's and if I scrub and soak a little in the washer, then wash, it works every time....
happy washing from Glinda in KY.
Answer

this Question

...
May 8, 2005
0

found this helpful
Tips for removing grass stains from clothing. Post your ideas.
Answers
July 26, 2005
0

found this helpful
I had this problem when my son played baseball. I used it on his nylon white and striped pants. I was told by other mothers to try it..Never used it on solid COLORS. ....Put stain stick on grass stain. Then put in washer in hot water. When it starts aggitating add DISHWASHER soap like Cascade with the detergent. Any brand of dishwasher soap will do. I found the powder brands of dishwasher soap work better than the liquid.
Hope this helps
Answer

this Question

...