Removing Stains from Colored Clothing?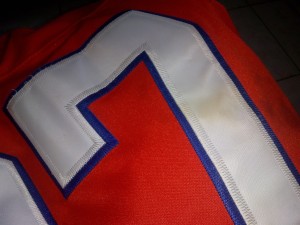 Notice the yellow stain on the jersey at 3 o'clock. There is not actual glue, just its color. How do I get the yellow fly-paper glue stain off the number on my jersey?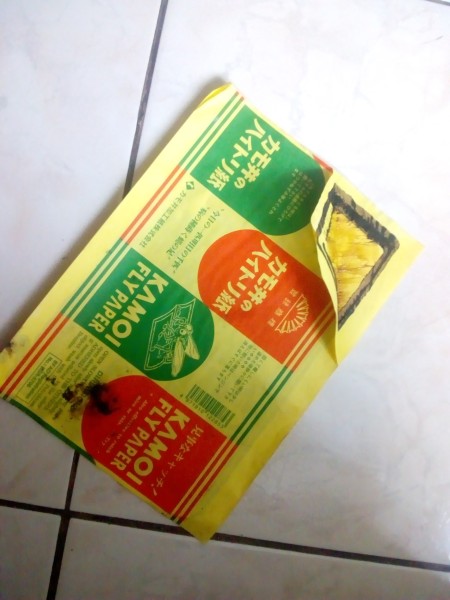 Answers
December 5, 2020
0

found this helpful
Best Answer
You can try a paste of hydrogen peroxide--whatever strength you have--and baking soda (pour peroxide into the baking soda and stir until it becomes the consistency of cake icing). Put a thick towel between the layers so the stain doesn't bleed through to the other side and with your fingers or a spoon or a toothbrush gently message the icing like mix into the stain and let it sit for 15-20 minutes. Rinse in cold and repeat until the stain comes out.
December 6, 2020
0

found this helpful
Best Answer
Hopefully, this jersey has not been in the dryer but if it has, it may just take more than one cleaning to completely remove the stain.
Not everybody does this but you should lay your jersey out flat on something that water will not harm such as a kitchen counter top or the top of your washing machine or dryer.
Then take a towel and and open the bottom of your jersey and slip the towel inside the jersey so there is only one layer of material on top of the towel. This towel will absorb some of the liquid that you will be using on your stain as it goes through the top layer of your jersey as this material is not usually very thick.
I like PGHgirl's formula but I like to add a little blue Dawn to mine
50% Baking Soda - 25% Hydrogen Peroxide - 25% blue Dawn Dish Soap
Mix these together in a small bowl until well combined.
Using a wash cloth or a soft toothbrush, scrub the stained area with the mixture. Use as much mixture as needed but try to stay within the white area.
Depending on the severity of the stain, scrub anywhere from 1-5 minutes (not real hard or fast - medium gently). Once all areas of the stains are scrubbed, leave the jersey set for for 1-2 hours, or until the mixture has completely dried onto the jersey.
Rinse the jersey in a sink several times until there are no more suds.
You can now hang the jersey up and allow it to dry or you can launder it. Be sure to look at the stain when the jersey has air dried as the stain will not show up as much while the jersey is wet.
You may have to go through this a couple of times, especially if the jersey has been dried in a hot dryer.
Be sure the stain is gone before you place it in the dryer.
December 19, 2020
0

found this helpful
Best Answer
There is a product from Canada, EZ Strip All purpose stain remover. In the US it is now called MAX all purpose stain remover. I am an artist and get paint on everything. I had a pair of shorts that for 7 years had a half dollar size of white acrylic paint on them. I would wear them anyway so for all those years they were washed and dried and I tried the EZ Strip product with little hope. I worked the product in with a pop I left stick and repeated a couple times. The paint is gone. Its worked on other stains as well. Amazon sells in under the Max all purpose cleaner name. Home Fepot also. Cost around $7.00
Answer

this Question
6 More Questions
Ask a QuestionHere are the questions asked by community members. Read on to see the answers provided by the ThriftyFun community or ask a new question.
I have a red and pink striped cotton blouse. It has been packed away for many years. There are what look like rust spots (?) on several areas of the blouse. I would never have stored a spotted piece of clothing without removing the stain. I have tried various methods to remove it and have refrained from putting it in the clothes dryer. Rather I hung it on my clothesline after trying different methods to remove the stains.
I have used spot cleaners, lemon juice, various detergents, and cold water only, but nothing has made a dent in the stains. Can anyone suggest another method as I dearly love this blouse? I forgot I had it until I was cleaning out a container with clothes that I forgot about. Thanks in advance for any help you can offer me.
Answers
December 6, 2019
0

found this helpful
Try a bit of hydrogen peroxide on a q-tip. Only place on the rusted spot.
December 7, 2019
0

found this helpful
There is a product that you can get and it is in the laundry aisle, called, Calgon. You put a cap full in with your regular wash and it takes out stains like that. If you can't wash it in your washer, try using a solution of peroxide and white vinegar and dab the stain with a sponge or cloth and then let it sit for a few minutes then dab with a damp cloth to rinse.
December 7, 2019
0

found this helpful
I have always had really good luck with hydrogen peroxide. Place some on the stain and allow it to sit. You can repeat this several times. You can try rubbing the stain also to get it worked into the material.
December 27, 2019
0

found this helpful
Well, I bit the bullet & used bleach on the pink & red blouse. I figured, what the heck, I can't wear it w/the rust spots on it so give it a try & if it doesn't work out too bad. My, oh my, was I surprised as all of the spots came out. I lightly touched the spots w/the hydrogen peroxide, as suggested & viola...like magic they disappeared. Thank you so very much as now I can wear this blouse that I so dearly love.
Answer

this Question
I work security outside at a shipping warehouse, checking tractor trailers in and out. We have to wear yellow or orange safety vests, shirts, or coats. Even with regular washing, the yellow and orange uniforms accumulate black marks which just won't come off. I assume it's from the layers of exhaust fume residue on everything I come in contact with.
Any tips on how to remove or reduce these would be appreciated. I do not have a garage or well-ventilated space in my home to use anything with severe fumes, so please keep that in mind.
Answers
December 30, 2018
0

found this helpful
The company I previous worked for actually does laundry services complimentary and if the uniform deteriorate from regular usage - it'll be replaced for the safety of the employees, etc. Not sure if your company offers those services.
I would also try to wash only work clothes together on delicate wash and air dry. Sometimes even hand wash with mild soap in the tub.
December 31, 2018
0

found this helpful
Lestoil works on those stains.
December 31, 2018
0

found this helpful
I agree with Judy - Lestoil sounds like the heavy duty cleaner you should try. I have had good success using this to remove bad stains as well as greasy stains.
I have not tried it on delicate things but your work clothes sounds like what this was made for. Try it in your laundry first but maybe let it soak 15-30 minutes before starting the washer.
Lestoil can be found in most big stores or on line.
Answer

this Question
I bought a pair of jeans about 2 months ago. I wore them at a previous job I had that required handling dirty boxes all day. I cannot get the stain from the boxes out. It's like a blotchy dirt stain with a yellowish tint. Any suggestions? Please help me. These are my favorite jeans.
FormulaChic
Answers
August 27, 2004
0

found this helpful
you could try using OxyClean (just follow the laundry directions).
By Patsy Johnson (Guest Post)
August 29, 2004
0

found this helpful
Try 1 cup white vinegar and 1 cup baking soda along with your detergent. Or try Spray n' Wash action ball. It works great on anything I have tried so far.
Answer

this Question
I have a lovely bright teal blouse that has got an oily stain on it which shows up very dark and noticeable. The material is rather stretchy. I think it is polyester. Can you help please. Thank you.
By Jane
Answer

this Question
I have blue stains on orange, rust, and dark pink clothes only. I never get anything on white clothes. I am getting really frustrated! I've read your problems and Tide seems to be the connecting factor in all of them. Could that be the problem? I get so upset not knowing when this bluing will occur. I have tried vinegar and Oxiclean to no avail. I can't get the stains out. I have a new washing machine without the traditional agitator. Help!
By Donna
Answer

this Question
Categories
Pages
More
Categories
Published by ThriftyFun.
© 1997-2021 by Cumuli, Inc. All Rights Reserved.
https://www.thriftyfun.com/Removing-Stains-from-Colored-Clothing.html