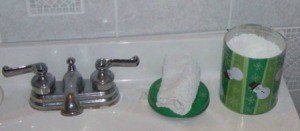 If baking soda can subdue the odor of a cat litter box, imagine what it can do under your arms. Yep. All by itself, or if you want, you can add talc or other powder to it at a ratio or half and half. Put it in a tin and keep it in the bathroom.
After you shower, pat dry your underarms and apply the powder with a dry washcloth or piece of a dishrag. The only time this is not a good plan is when you are wearing something sleeveless.
By Susan from WV
Ad
---
Feedback Forum
Feedback about this article is posted here. Want to contribute? Click above to post feedback.

By aprilcornwall04/23/2013
Hey guys, the reason the bicarb.soda feels and looks like its burning, is because it is. It has a PH of around 8.3, our skin is much lower around 7. It is literally causing alkaline burns. You could try using a buffer and a lot less, but some people are just really sensitive. It's worth knowing sensitive deodorants tent to be PH 5-6.

Recipe:

3 Tbsp. coconut oil/vegetable fat
3 Tbsp. arrowroot (or cornstarch if your not allergic)
1 tsp. of bicarbonate of soda (baking soda)
essential oils and/or aloe vera gel

You basically need a lot of buffering so your skin doesn't get wrecked! :)

By nathanielomore02/27/2013
I would imagine that the eventual problems with the lack of effectiveness is if you keep the area at a certain ph different yeast and bacteria will grow. To solve cleanse with vinegar "weekly". The "burning" is most likely do to over application.

09/19/2012
I've been using baking soda as an underarm and foot deodorant for 2 years now. I do get darkening and dry skin under one armpit (weird, I know), but that's only occasionally. I can actually go for 3 days between re-using, but I usually shower every other day. I keep an old spice container filled with baking soda, sprinkle a little on my hands, add a couple drops of water, mix the paste with both hands and apply under arms. For feet I just add a dusting of baking soda to my shoes.

By Phil Cooper07/18/2010
You can use baking soda as an underarm deodorant with or without sleeves. Very little is needed, and it forms an invisible layer in the amounts needed for effectiveness.

I haven't bought spray, stick or roll-on deodorant in over a dozen years now since I switched to just plain baking soda (bicarbonate of soda). The way I do it is fill a discarded plastic spice shaker jar (no glass containers in the bathroom, please!) with baking soda and leave it in the medicine cabinet. When I step out of the shower or the tub, before I start dressing I moisten my hands and shake a little baking soda on one hand, then rub my fingertips together lightly to spread the baking soda paste. Using my bare fingers, I apply a thin film of this paste to both armpits, then rinse the excess from my hands. It dries quickly in the armpits and leaves an alkaline environment that inhibits the growth of odor-causing bacteria. If I'm on a mostly-vegetable diet, I can go two to three days between baths and reapplication of the baking soda with little or no armpit odor. Amazing, cheap and it works far, far better than any commercial stick, spray or roll-on deodorant I've ever tried. It has also eliminated the problem of insoluble, rock-like deposits forming in my tee-shirts, which was caused by the ingredients in commercial deodorants. Baking soda comes out 100% in the wash.

I've rarely gotten a skin rash since I switched, and that's typically been when I was very active during warm weather, so it's more likely that the rash was caused by the salt in my perspiration, not the baking soda. On those occasions I'll thoroughly wash my armpits with plain water, pat them dry, and go baking soda free for a day, or so, until the rash subsides. A medicated powder, such as Gold Bond, or talcum body powder can also be used. Commercial deodorants can't claim a better track record in this regard.

I typically use a deodorant soap (Dial, Irish Spring, etc.) in the shower, but baking soda seems to work just as effectively with non-deodorant soaps.

My girlfriend copied my technique several years ago and she's had similar results, so on that basis I can say it works well for both men and women.

By missy [3]11/23/2009
Please do not use talc! If you mean baby powder, most is made by using cornstarch--check labels. Old fashioned formulas, even Johnsons' contain talc. Talc is breathed into the lungs and very harmful.

Straight baking soda will burn your underarms. You need to use a ratio of 1 part baking soda to 1 part cornstarch. The cornstarch also absorbs wetness and odor.

My reipce, which my son and I have used fo rdays and are in total astonishment--no odor whatsoever. A simple formula was revealed when i did a google search. I added a couple extras.

Basic Deodorant Powder

1/2 cup baking soda (arm and hammer or generic are USP and great)
1/2 cup cornstarch
few drops tea tree oil (use this!)
a couple whole bay leaves

Combine in airtight shaker. I have seen some recommend applying to wet washcloth and then to underarm, which would only clump and makes no sense. Instead, I apply to a cream base (below) or you may apply to clean, moist underarms with a simple cotton ball or makeup kabuki brush. Press, don't BRUSH on, so underarms look powdery.
That's it. You shouldn't have to reapply.

I use a cream base with the above for best results. My husband does not.

Cream Base
3 T coconut oil (I use Spectrum organic)
2 drops tea tree oil
2 T rosewater (optional)
1 Vit E capsule (broken before use, dont 'use capsule itself!)

MIcro above to melt. Stir to combine. Will harden upon use. Store in jar. Body heat melts this. Smooth some on wet or dry underarms. Should feel nice. Then apply above powder by pressing on with dry kabuki or dry cotton ball.

We are astonished by results. For the first time , ever, we have no breakthrough odor 24 hours after application. Why did we not discover this deodorant that our ancestors probably used earlier?

Pennies to make. No odor whatsoever. May reapply if necessary (going out?) but 24 hours after applying, next morning, we can detect a whiff of any odor whatsoever--just fresh clean underarms. Try it!

By Wendy [3]04/16/2009
A deodorant crystal from the health food store is another option for natural deodorant. I have one and it works pretty well, unless you sweat a lot.

By angeli (Guest Post)02/18/2009
I tried using baking soda as an underarm deodorant but recently I discovered my armpits were dry and have some burns. What should I do?

By vics (Guest Post)02/06/2009
Thanks all. I am going to tryout these as I have psoriasis and need to get it under control naturally. I am allergic to pintarsol.

By JenJen (Guest Post)01/19/2009
Okay, like I've been using this baking soda stuff as a deodorant now for a WHOLE month and I'm quitting! I've had it with the odor. At first it worked great, that was the first week, and I liked how I didn't have all that grimy deodorant-like stuff stuck in my pits as I tried to shave, but there has got to be something better than this! Isn't there? Enter the second week and the odor appeared and the third week, I was throwing in the towel, but I kept at it.

I also kept taking sneak sniffs to see how bad it was and see if I needed to reapply. I did that quite often, to no avail. It seems to work best on fresh, showered skin, but by the end of the day...peeeeuw! Where's the skunk? Oh, that's me! I even tried it as a hair wash, or rinse, really, and I didn't like that any better either. I find it works great as a toothpaste with a bit of peroxide.

By KE (Guest Post)01/14/2009
FYI if you have white marks; Body sweat contains an acid called propionic acid which is similar to vinegar, which is also why sometimes sweat may smell vinegary. Baking soda is a base. And when you combine an acid and a base, you get salt. So those white marks are most likely salt.


By myriam ferrara (Guest Post)09/30/2008
People, I was desperate and I tried baking soda for about two weeks. I accidently discovered marks on my armpits that looked like burn marks. I used a rash medicine, it went away, but it came back a few days later. The second time around, I examined it closer and realized that it was more like an infection. I just tried tonight, baby diaper rash medicine. If it goes away and comes back, I am seeing a dermatologist. I have to admit, I am worried. Think about it, if baking soda is good for polishing silver, cleaning toilets, imagine what it could do to skin? I will keep you posted on my condition. Please don't try BP as deodorant - even if you do not have sensitive skin like me.

By s smith (Guest Post)08/24/2008
Don't forget ladies, you need to change the box and purchase a new box at least every month or two then it will not lose it's effect.

By Marie [27]07/15/2008
I am going to try this. I have also read on a site to use hydrogen peroxide first. I also had a friend who kept pretty cool with cornstarch.

By thrifty girl - (Guest Post)06/30/2008
I was very happy when I found baking soda eliminates underarm odor-- I've been using it for about 5 months now. I've noticed though, that it isn't lasting throughout the day anymore - under my arms are becoming odorous again. I've applied more and more and now I have burn marks around my armpit from too much, I guess.

Are there any safe ratios for the amount of baking soda to use? I want a good recipe that won't burn and will last me all day. Can cornstarch be used alone for deodorant? Has anyone else noticed that baking soda stopped working for their body?

I've been wondering: if baking soda is a salt and I'm applying it to my pits (pores) is there any risk of having higher sodium/salt in my body? Should people who have to watch their salt intake not use baking soda on their bodies?

I've used alcohol to neutralize the odor before applying store bought deodorant. Can alcohol be used as an all day deodorant? Do you have to reapply throughout the day? What about for vinegar? Can it last all day?

I'd love a good option for deodorant for the days I want to be sleeveless--these white pits are drawing too much attention!

I really need help/answers to these questions. I need to smell as sweet as I look! It's summer time now and it's hot out here (at long last, I'm in Seattle)!

Thanks, Thrifty Girl

By Kim [2]06/05/2008
Can anyone tell me how you would apply this to underarms



By santiagomarlene3 (Guest Post)06/02/2008
I also have heard of using baking soda as a natural underarm deodorizer. People with kidney disease need to be careful of the products they use under their arms.

By Gina Jackson06/01/2008
I have sensitive skin, and ALL commercial brand deodorants, including organic and all natural ones give me huge sores and in some cases burns under my arms. I have been using vinegar, alcohol and various combinations of baking soda and cornstarch for years! I was glad to see so many people had also been using such a healthy alternative to underarm deodorant! The lavendar oil was a great idea I plan on trying out immediately!
Post Feedback
Add your voice to the conversation. Click here to share feedback.
Archives
Thrifty Fun has been around so long that many of our pages have been reset several times. Archives are older versions of the page and the feedback that was provided then.
My favorite way to use baking soda for reasons both healthy and frugal is as an underarm deodorant. I have tried various natural deodorants and all have fallen short in controlling odor. Because baking soda balances ph levels and neutralizes acid, it works and I find the effects of it work all day long.

To make your own inexpensive and natural deodorant, combine equal amounts of baking soda and cornstarch. I add a few drops of pure lavender essential oil for fragrance (plus this works as a bacteria inhibitor) and place in a tightly sealed bowl, add a powder puff and voila!, you';ll have the most effective, simple and money saving natural deodorant one might find.

By earth heart from Polk, Ohio
---
RE: Natural Baking Soda As Underarm Deodorant
Another deodorant can be rubbing alcohol. Just put it in a spray bottle and spritz underarms. It is a disinfectant as well as deodorant. You can also use it as a hand sanitizer. (01/23/2008)
By suzin
RE: Natural Baking Soda As Underarm Deodorant
This is EXACTLY what I have been using as deodorant for almost 20 years now. I like to spray alcohol under my arms (a squirt bottle works too) and when it's almost dry I dust on some of my deodorant with the powder puff. In summer, or when I'm working outside in the heat, I prefer to use white vinegar first. Make sure it is completely dry and then dust with the powder. It works better than anything else I've ever tried. Just be sure the vinegar is dry or you will get that famous "volcano" reaction as the dry baking soda comes into contact with the vinegar. Don't want a volcano under your arms! (01/23/2008)
By Patti
RE: Natural Baking Soda As Underarm Deodorant
I have a friend (an RN) whose husband (auto mechanic) has used this for decades, not because of health or environmental reasons, but because it works. (01/24/2008)
By susanmajp