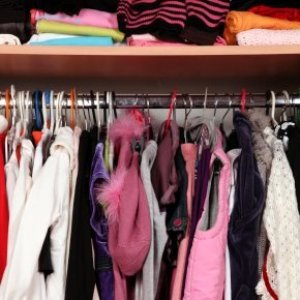 You can never have too much space in your closet! If you're looking for ways to organize your bedroom closet to get the most use out of a small space then keep reading. The following suggestions might just help you find the room that you need.
Suitcases
If you have any clothing or shoes that are out of season then use suitcases to store them. Vintage suitcases with interesting designs or patterns can also function as decorative pieces throughout the home and can even be stacked to create small end tables.
Belts
If you have a lot of belts then there are two good options to keep them organized: roll them up and place them in a drawer or hang them from a hanger and place them in your closet.
Sweaters
Sweaters fold better than hang. They take up a lot of room on a hanger and they can get out shape. Instead, try to use shelves in your closet and stack sweaters, starting with the bulkiest and heaviest on the bottom.
Purses
You've probably seen those cup racks that you can buy for your kitchen and hang your coffee mugs or tea cups on. Well, they also work for purses. Nail one inside your closet and hang your purses from it to get them off the floor. You can also do this in your garage or anywhere else you have the room.
Length
Try to hang the longer items on the sides of your closet and your shorter items in the middle (you still hang like with like). By doing this, you can also place things on the floor of your closet in the middle without long items covering them.
Outfits
For the sake of space, try to keep outfits together. If you have a particular shirt that goes with a specific pair of pants then try not to separate them in your closet. Hanging items together takes up less room and makes it easier to find what you need.
Hangers With Clips
As far as pants are concerned, it's generally better to hang them straight with a clip than to fold them over a hanger. Some hangers aren't strong enough to support folded pants and you also run the risk of having a crease.
About The Author: Rebecca Patrick-Howard is ThriftyFun's organizing expert. Click here to ask an organizing question.