I would like instructions for making nylon net scrubbies.
By Madelyn
Ad
---
By Vicki 24 428 10/08/20100 people found this helpful
Type in "free crochet patterns" on the internet and see what you come up with. I used to be a member of a site that had free patterns, but I don't remember what it was called.
By Lovely Linda 1 09/23/20110 people found this helpful
Try:
www.allfreecrochet.com
www.bestfreecrochet.com
www.crochetnmore.com
www.favecrafts.com
www.crochetmemories.com

Also, any of the web sites for the yarn companies (Lion Brand; Red Heart; Caron; etc.) usually have free patterns. And as "thriftyvicki" stated, just type in "free crochet patterns". You'll be surprised at what you get.

Good luck on your adventure! Linda.
By tasana 3 20 10/10/20110 people found this helpful
Here is an easy pattern with pics and video.
http://noelwright.blogspot.com/2011 ... attern-for-crochet-pot-scrubber.html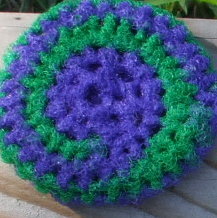 Archives
Thrifty Fun has been around so long that many of our pages have been reset several times. Archives are older versions of the page and the comments that were provided then.
Does anyone have a pattern for knitting kitchen "scrubbies" from tulle? These are awesome for removing bugs from your car bumper without scratching!
Pam from Wisconsin
---
RE: Tulle Scrubbies
Here's a website I found. Hope this helps!
http://www.bevscountrycottage.com/scrubbie.html
(07/28/2005)
By carolb
RE: Tulle Scrubbies
Creative Knitting e-letter with Bobbie Matela has them. Vol. 2, No. 9, July 8, 2005. (07/29/2005)
By gardenway
Crocheting a Pot Scrubber
Someone asked for instructions on how to make a pot scrubber. The website at
http://www.knitting-crochet.com/crochet/nylpot.html
will teach you how. They also have instructions on how to make baby blankets, pony tail scrunchies, perky snood. It's a very useful site. By jean (08/08/2005)
By ThriftyFun
I would like the pattern for crocheted nylon net pot scrubbies, starting out with a chain five.
***
Crocheted Pot Scrubber
***

I crochet my own pot scrubbers but to keep them handy and dry, I have added a band on the one side. Just chain a loop from one side to the other and add a couple rows of single or half double crochet.
To do the actual pot scrubber, I purchase 16 meters of the heaviest netting. Cutting it in 3 3/4 inch strips is the challenge. I lay a large flat cardboard across my bed or table with the chalk lines on it. I fold the netting back and forth like folding a large fan (accordion style) and pin each fold every time to keep it straight and flat. This will save you a lot of grief in the end by keeping the strips straight and even. Take a ruler and draw the chalk lines across. Cut and roll each strip into individual balls ready to make one scrubber. To roll the ball quickly, just wrap the netting around a cracker box into loops, slide the loops off of the box, squeeze the loops together like the figure eight and wind a few wraps in the center to keep it from unraveling. These long balls are now ready to take in your car to fill idle time as a passenger or just keep handy to crochet while watching TV or talking on the phone.
Using a 5mm crochet hook, I crochet one circle beginning at one end of the ball and the other circle beginning at the other end, leaving enough (two or so meters) to join them together. The circles consist of 6 chains, join, then two double crochet in the back of every stitch (sometimes one). Just lay flat and adjust to keep it flat. Keep going in a pinwheel fashion until it is about 3 to 4 inches across. Make them both about the same size and single crochet together with the right sides out. It will resemble a flat hamburger patty. Weave the ends into the scrubber for added strength and scrubbing power. Crochet the handle and you are done! Keep your scrubber handy and dry by hanging it on your drinking tap out of the way. I also have a small flowerpot with drain holes to keep them in. These scrubbers are non-scratching and Teflon safe.
By Joyce from Regina, Sask.
---
RE: Crocheted Pot Scrubber
I am adding a photo of the folded, pinned, cut and rolled netting. Joyce (01/02/2008)
By Joycer
RE: Crocheted Pot Scrubber
To keep my hands from getting sore, I use a large enough hook so that the netting does not pull too tight and rub as I crochet. My finger only gets one sore spot after making three or four scrubbers, by then I have had enough. I also rub a lotion, usually Alfred's Bees Wax Skin Cream into my hands to protect them. To have variety, I like to alternate between braiding hangers and crocheting scrubbers. It is also impossible to wear my wedding rings as they keep snagging the netting. I have one other thing that I do to get an easy grip on the crochet hook and that is to take the rubber gripper off of a pen and slide it onto the hook. This makes crocheting almost effortless. (01/02/2008)
By Joycer
RE: Crocheted Pot Scrubber
I purchase the netting at Fabricland. Most fabric stores should sell this. It is the heavier netting of two kinds sold. It looks similar to the tulle that they use for weddings so don't get the tulle. The tulle is too fine and rips apart if you try to crochet with it. Thanks for your interest. (01/08/2008)
By Joycer
RE: Crocheted Pot Scrubber
I have a pattern for crochet pot scrubbers that takes 3 yards of net and it makes 8. I cut the strips 2 inches wide. You tie the 4 pieces together from each strip. Chain 5, join. sc to first knot, 2 in each hole. Then sc in every hole until you get to the last knot. Then sc in every other hole until you are about to close. Stuff anything extra you have in now, it makes it fuller and stronger, then close and knot. Whatever tail you have left, stuff in it. I use the rotary cutter to cut the net. It is so much easier. I usually buy 48 to 100 plus yards at a time. I sell them for 1.00 like hot cakes. Lots of shows sell them for 1.50. (04/06/2008)
By Eenie48
I crochet my own pot scrubbers but to keep them handy and dry, I have added a band on the one side.
I would like to have the instructions on how to make knitted or crocheted pot scrubbers. What material is used to make them? Thanks.
How do I make pot scrubbers using netting?
I bought a pot scrubber that was made from yarn and maybe nylon net. It is small, just right to hold in your hand. Does anyone have instructions as to how to make these pot scrubbers?