How do I control fleas using borax?
By Missy from Jax, FL
Ad
---
By idouble001 1 03/28/20110 people found this helpful
One of the best ways to rid your home of fleas is by using borax, so it's a good thing you're on the right track! There is a full guide on how to safely use borax to kill fleas on http://www.boraxfleas.com/

Good luck!
By Betsy 1 04/14/20110 people found this helpful
You don't have to pay money for a guide... there's a good one here for free:
http://www.9and3quarters.com/tips.php
It really works, btw!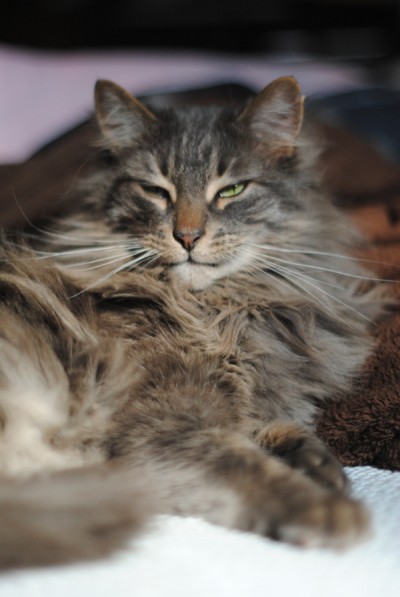 Solutions: Borax for Fleas
Read and rate the best solutions below by giving them a "thumbs up".
Having lost an entire litter of kittens due to fleas, I had to find a cheap way to rid my house of them. Just after my cat had a litter of 2 kittens, they too had fleas. A friend came to my rescue. She said to sprinkle borax over all carpeted area. Though I was skeptical, I was willing to try anything. I purchased the borax from fishing supplies. They use it to cure salmon eggs for fishing lures. And, it is very inexpensive, cost just $6.00 for a 5 lb. bag. That was enough for a large living room and 2 bedrooms with some left over.
You do have to wear a mask as you do this, since the dust is bad. Sprinkle it over all carpet areas pretty heavily. Don't miss areas under furniture. Then sweep or drag your feet over the powder until you work it into the carpet (This causes the dust). If animals cannot get under furniture you don't need to work it in. That is all you need to do. Within the month my house was not only free of flees, but it lasted for years.
Animals might still bring in fleas when they go outside, but when it jumps onto the carpet it still kills the fleas and their eggs. I was flea free since 2000. This year I did have to redo it. And no fleas again. I just couldn't afford the higher prices sprays or professional treatments.
Source: A friend who's brother is into homeopathics
By Bev from Longview, WA
Give a "thumbs up" to the solution that worked the best! Do you have a better solution? Click here to share it!
Questions
Here are questions related to Borax for Fleas.
What do you do with your pets when using the borax? I have three cats with fleas.
By Kathy C
AnswerWas this interesting? Yes No
---
Most Recent Answer
By gbk 45 368 09/07/20110 people found this helpful
I just got rid of the fleas on my indoor only cats and did not use borax, this took a little longer but my cats were ok. I got 3 boxes of iodized salt or the cheapest salt available and poured it in my hand and broadcast it everywhere including under the bed couch etc. left it and also threw baking soda out the same way. I buy it in the big bag in the pool section. and leave till next time I vacuum (there are only 2 of us and I vacuum 2 times a week) after vacuuming I redo the salt and then after vacuuming the next time I do the baking soda. At the end of the first month the fleas were gone. Oh by the way i did have to treat for fleas my 2 small dogs that went in and out and were the carriers for the indoor fleas. Now no fleas.
---
Archives
Thrifty Fun has been around so long that many of our pages have been reset several times. Archives are older versions of the page and the comments that were provided then.
I have had my boxers on Frontline PLUS but it doesn't seem to be working. My female boxer just had 2 pups which are two weeks old.
Fleas--Now is the time to rid your house with natural products. Save a bundle. Mostly, be kind to your animals. Spread dry 20 Mule team Borax, about 1 and a half to 2 cups per average size carpeted room. That is where the fleas live and breed in your house.
Leave for 2 weeks without vacuuming so the cycle covers eggs, larvae and adults. You will have eliminated your household fleas for at least a year and a half. If you get a few freezes, your yard should be pretty well rid of them as well.
Be careful in warmer weather what pets may bring in from a drop in. Your yard could become reinfested. Visitors arrive with a dog with fleas? Keep your yard flea free by asking them to contain their dog (safely, not in hot car).
Treat your animals flea allergy with Willards water xxx and watch the quick healing. Also a natural product that does some amazing things. Check on internet about Willard's water. Your pets will be so much better off and comfortable.
Source: Tried and true for years. Personal observation after using professional Flea Busters
By muttmom from roseburg,or
---
RE: Borax for Fleas
This is very dangerous advice - Borax is poisonous - it can irritate and cause serious damage to eyes, and can be lethal if ingested! (11/13/2009)
By merry50
RE: Borax for Fleas
I used Borax for my petting zoo located in Florida. If applied safely, there are no side effects or danger as some people believe. I had great success managing a huge flea outbreak and kept it under control using Borax. We dusted the entire zoo with Borax and reapplied treatment as needed due to weather. All animals were treated with spot-on. I also treated indoor areas with Borax. After two weeks, the fleas were gone. For people who are concerned about Borax, I totally understand.
However, I made a personal choice to use Borax because the fleas were a health risk to the animals that far out weighted the exposure to Borax. Using Borax alone does not make the fleas disappear. You need to treat the animals with 'spot on' and Program. (I say 'spot on' because there are several choices like Frontline Plus, however, that's another subject) The fact you are researching for answers is a good sign and with the correct information make the right choice for your pet. I'm not a professional. I'm just an animal owner sharing my experience with Borax. After using Borax, my animals are happy, healthy and I'm sleeping better at night. (11/21/2009)
By n2dy2k
RE: Borax for Fleas
Has anybody tried using borax in the steam cleaner? We are fighting the little demons and I think we might be gaining ground! I had read that dteaming can help but wasn't sure if I could skip a step by adding the borax to the cleaner, I was also thinking of adding salt to the rinse tank but I have read that the salt can actually attract moisture and thus mold./mildew.
We used the dishsoap to bathe the cat and dog last night, even though it didn't kill all the fleas on them right then I only found 3-4 fleas on each and they were moving slowly. But boy are their coats shiny and soft.
Any ideas are helpful I am trying to not use anymore flea powders or sprays since we a son with asthma and not need any help with flares. (12/04/2009)
By katrinka772
RE: Borax for Fleas
We live in Florida and we have a bad infestation in our apt. We have 2 cats and a bird. Needless to say, after much research and this very helpful site, my husband went and bought the 20Mule Borax. I sprinkled it all over the apt, closets, etc.
Tomorrow the cats are going to get a bath at the vet and see what that can do to them, the poor things are highly infested. The rug cleaner expert is also coming tomorrow so I'm going to let that borax sit there for at least 24 hrs and then sprinkle it again behind furniture and balcony. Thanks for all your tips and information. What I am concerned with now is what would be the best for the cats? The vets will tell you anything that sells. Thanks! Payret (01/03/2010)
By Payret
I had fleas that continually got more widespread. I sprinkled 20 Mule Team borax powder all over my porch (where the fleas were) very liberally. It looked like snow. I could see a small difference that afternoon. I left the "snow" on my porch for a few weeks or until there were no more fleas.
By Liz from Dodson Prairie, TX
---
RE: Borax for Fleas
While living in an apartment building we put a line of Borax all along the outer top of the kitchen and bathroom cabinets and all along the floor where it meets the wall. The cockroaches walked in it and when they go back to their nest to try and clean it off they are killed. (06/11/2010)
By srainey
How do I use borax to get rid of fleas in the house?
By tlvincer from Canada
---
How do you apply borax to carpet to kill fleas?
By Charlia from Natchitoches, LA
---
RE: Borax for Fleas
Be very careful. I treated my home with borax 14 days ago and my 16 week old kitten was just diagnosed with kidney failure. It seems borax can cause renal failure in kittens. I wish someone would have warned me. (09/14/2010)
By Auntylfe
RE: Borax for Fleas
I had a problem with fleas a few years ago. Even though they say bs safe for animals, it concerned me with 2 elder cats and a dog, plus 4 people in the house tracking it around. So this is what I did; first, I put the borax in a clean Pringles can with holes punched in the top. Before I went to bed, I flipped the furniture over and sprinkled borax under everything and along the baseboards, then put the furniture back over it. Then I sprinkled the borax all over the floor, sort of swept it into the carpet a little with a broom, then covered the floor with bed sheets and the hallway with newspaper, to keep the animals from walking on it. After the kids left for school the next day, I vacuumed the floor really well and washed the sheets. (09/17/2010)
By lyonpridej