I have hemmed plenty of jeans in my time and broken a lot of needles. The following are tips to do it and save your needles. First of all, look for needles that are made specifically for hemming jeans. If your sewing machine has a jeans foot, use that too it allows several thicknesses of fabric underneath it.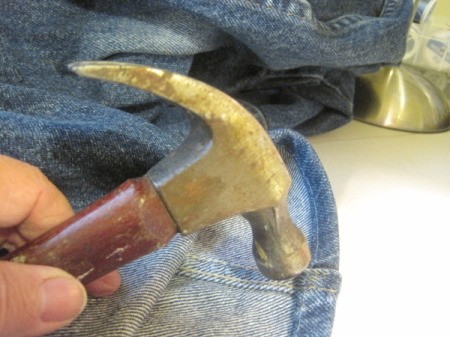 Secondly after you have pressed your double hem up, before you sew, take a hammer and pound the seam that is so thick (it is called a flat felled seam). I know this step sounds funny, but it works. As you are sewing along, when you come to a thick place and your presser foot won't allow you to go over it, insert a piece of cardboard about the thickness of two credit cards under the presser foot from the back. This allows you to "climb" the seam with ease. Lastly, sew very slowly and do not reverse. You are most likely to save needles using these hints.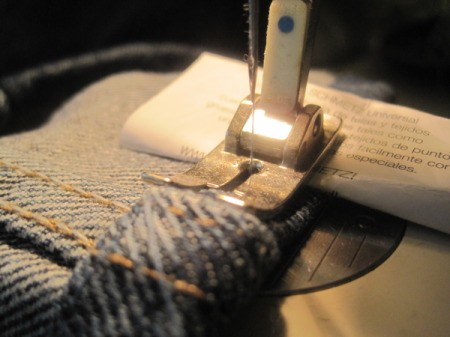 By Elaine S. from Near Cedar Rapids, IA
September 23, 2011
1

found this helpful
Top Comment
When I hem heavy fabrics like that, I don't bother turning it under. Just zig zag the raw edge in place. No one will know the difference and it sure does save on needles when you only have to go through 2 layers.
September 26, 2012
0

found this helpful
Top Comment
You can buy the foot for the sewing machine, called the jumper foot.
When hemming jeans, I cut the pants along the current finished hem, using hem lace, finish the edge and continue to fold so pants is the length, match up the jean color with thread color and finish straight stitch sewing at stitch length a bit longer than normal sewing but not gathering length.
This eliminates the thickness problem.
Another suggestion is to wash the jeans, let them soak in some fabric softner a bit (shut the washer off during the rinse cycle) and the softner softens up the denim as well.
I shorten/hem dress pants as well this way.
September 27, 2012
0

found this helpful
Top Comment
You can also cut off the existing bottom hem, leaving about a half inch of single fabric, and then sew it back on at the desired length after cutting the legs to where you want them, plus one half inch for seam allowance. Sew the original bottom hem back on, and this makes it look like the original stitching.
December 12, 2014
0

found this helpful
Top Comment
I sew using the older sewing machines and I just unscrew the tension at the top of the sewing machine that controls the pressure on the fabric and it works great! Now On the newer machines I don't know if they have the tension knob at the top of the sewing machine.
September 21, 2011
0

found this helpful
Thank you, thank you! I have been sewing for years and always had a problem hemming jeans. Great advice.
September 27, 2011
0

found this helpful
I smush my seams with pliers. I found a little trinket at a Singer store several years ago. It's called a Jean- a- ma- jig. It is a foot which will enable the needle to climb over all the thicknesses of denim. I have 4 boys so I have hemmed more than my share of jeans.
September 26, 2012
0

found this helpful
I really appreciate you sending in this hint-I am always interested in learning new techniques.
September 26, 2012
0

found this helpful
I've hammered on the hems myself but here is another alternative you can do that I do now for jeans. I only fold over once and hem with a zigzag stitch aprox. 1/8 wide. This works for me and I haven't had any come loose and no more broken needles.
Another tip you can do when a belt loop comes loose is to undo the original stitch (open it up) which also is doubled and resew it further down approximately 3/8 of an inch, this way your not trying to sew in a damaged area. They have held for me. I was at times very frustrated but both of these worked for me and glad to pass it on.
February 16, 2014
0

found this helpful
Thank you for these great hints.
January 30, 2017
0

found this helpful
Sounds like a great idea. Never thought of "pounding" it down. Am
going to try it. Thank you.