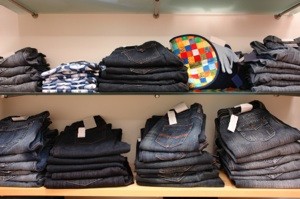 Blue Jeans
Tips for saving money on jeans as suggested by the ThriftyFun community. Post your own idea here.
Check the Thrift Store for Jeans
Check the jeans rack at your local thrift store, there are some great deals to be had! Name brand stuff, too!
By Valerie
Garage Sales And Wearing Guidelines
We've found nice jeans at garage sales for 25 cents and up. Divide your jeans into "nice," "almost nice," and "ratty." I can wear a pair of "nice" jeans for a week without washing them. No, they are not filthy. Be careful not to wipe your hands on them, and hang them up to air when you take them off. At home, you can change into ratty jeans.
Depending on the amount of wear, you can demote them from nice to the other categories. Since you are not washing them every time you wear them, they will last much longer.
Local Thrift Stores Have Great Deals
Go to your local thrift store. Their jeans are $2.99 and lower for adults and no more than $1.99 for kids!
By Anna
Clearance And Thrift Stores
I shop the clearance racks at stores and thrift stores for jeans. My ones that get worn out, I use to do housework and work in the yard. My nice jeans get hung up and I can go awhile without washing them, until a little kid with sticky hands or snotty nose hugs my legs! Oh well, worth the laundry! The ones I get at the thrift store, I use for daily wear, and the store ones I use for "dressy".
By Kelly
Buy On Sale and Other Tips
I have gotten good deals on jeans on sale. I got $30 jeans knocked down to $7 and I bought 3 pairs, which have lasted me a year so far. I agree about having a pair of dressy jeans, which you wear less frequently and don't wash all the time. Dark denim jeans look nicer longer if you don't wash them too often. (You can freshen them up with Fabreeze in a pinch.) I know kids want designer labels, but you really do pay through the nose for the name, so stay away from that.
By pam munro
Make Them Last As Long As Possible
When my kids were little, I used to make their jeans last longer by reinforcing the knees inside with the iron on patches. Also, when they became too tight in the waist, but fit otherwise, I would use a rubber band looped through the button hole and then over the button to fasten them.
Also, when pregnant, if the jeans fit over my rear and hips, I would sew a 3-4 inch strip of wide elastic to either side of the waistband, leave the zipper open, and wear a long top over them. These lasted me through 2 babies, and I removed the elastic and went back to wearing them normally afterward.
By jean
Look For $10 Jeans
I have gotten several pairs of heavy winter jeans on sale at Kohl's for $10 each which I have been wearing for several years. I also have gotten jeans at thrift shops, I have several pairs of light summer jeans. I also used to go to Suzy's Deals when there was one around me for deals on jeans, I like to pay $10 or so. Another tip, if they fit you, maternity jeans at thrift shops are usually are in great shape, as they haven't been worn much.
The ones I like have a short rise (great for me, I am short waisted, and the wide elastic top. They fit great.) Watch sizes on thrift shop jeans, they are often there becaz they are the wrong size.
I have funkier/older jeans I wear at home (for ex.; one very loose pair great for lounging) and others I save for "better." Jeans are a staple so keep your eyes out for deals on them whenever you are shopping!
By pam munro
Buy Ebay Lots
Buy them on ebay but put in the key search word "LOT" in with your size or even the brand name you like. A lot of sellers sell them in lots of the same size and either same brands or mixed at great prices too.
By Julie
Make Your Own Name Brand Styles
I will buy only one name brand jeans for school clothes. They take extra care of that one. All summer, we check out the thrift shops for the rest of their jeans wardrobe. We go into the "better" shops to see the latest fashion in jeans and then try to copy by hand sewing designs on our thrift finds or adjust the pant legs, etc. For example for the spring of 2008, purple is "in."
By happydee
Clothing Swap
Little kids often outgrow their clothes before they outwear them. Arrange a clothing swap with neighbors or church members.
By joan pecsek
$6 Jeans At the Goodwill
Go to the Goodwill, $6. I just bought my husband a pair of Levi's yesterday, he loves them. My last pair were Land End for $6. They are BRAND NEW.
By puglover
Change Short Jeans To Capris Or Shorts
Sometimes you can find a pair of jeans dirt cheap but they are way too short. If they are, cut a little more off and make capris from them or shorts. No sense in passing up a good deal if they are a little short but fit otherwise.
By Elaine
Read More Comments
I used to buy my husband 33 x 38 Dickies, but I can't find them anymore. I found some 33 x 38 Levi's, but haven't found any in a while, plus they were too expensive just to work in. Does anyone know where I can buy any 33 x 38 jeans for a reasonable price?
By Yvonne
Answers
August 3, 2011
0

found this helpful
I know that feeling. I have a 25 year old grandson who is 6'8" and needs a 34" waist with a 38-40" inseam. The only jeans we have ever been able to find where we live are Wranglers and regular stores don't handle that size.
Occasionally one or the other of the two Western Wear stores in town will have them, but they only ever seem to have from 1-3 pairs at any one time, and you almost have to be at the store the night before they stock them or miss out on them. They run $35.00-$40.00 a pair in those stores, Occasionally we have to order them right from the Wrangler company and then with shipping they are closer to $50.00 a pair. When you are on a limited income both prices are exorbitant.
August 3, 2011
0

found this helpful
My husband used to wear 31 x 36 and I shopped online and catalog at sheplers.com and drysdales.com i think they were about 15.99 or 19.99
August 4, 2011
0

found this helpful
I found several that size in Wal-Mart this past spring. The price was pretty good too, if you're not looking for anything too fancy-I think they're called Rustlers, and they cost around $9. LOL, I was looking for 33x30s, and kept finding those 33x38s, took me forever to dig through the disorganized piles!
August 4, 2011
0

found this helpful
I buy hubby's Wrangler jeans once a year during our tax free weekend at either Academy or Cavenders when they are on sale for $17.99 a pair and Wrangler offers a rebate on them. Last year I paid $12.99 a pair after rebate and no tax. I do take them to cleaners at the beginning I find they wash better after going to the cleaners. He wears them to church a few times and then they are washed & become work jeans. I buy enough to last all year and if they don't have enough on hand I pay for them and they will order them to come in. He wears a 36 length I think the 38's are a dollar or two more per pair. I am already watching for the sale and rebate here this month as it happens right before school starts!
August 4, 2011
0

found this helpful
Wal-mart does sell a few off brand name jeans. Like frugalsunnie said if you aren't looking for anything to fancy. Also if you have a farm and ranch store in your area you can find jeans there on sale for around $10 pair. We have an Atwoods where I live ( OK ) that's where I used to buy my husband's jeans before he passed away last year. Usually they will order in the size you need if they don't have it in stock.
August 5, 2011
0

found this helpful
I get my husband Wranglers at Wal-Mart for between $11 and $13 just for working in. He has nicer jeans for everything else. Levi's are definitely too expensive for the rough jobs.
Answer

this Question

...