Making a Jeans Purse
Solutions
Share on ThriftyFunThis guide contains the following solutions. Have something to add? Please share your solution!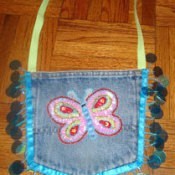 This is a purse I made for my 7 year old daughter and her friend. I used an old pocket from my husband's old jeans. Carefully cut right along the edge of the pocket. You can use "Fray-Check" on the sides to keep it from raveling later. I purchased the decorative items for about $3 from my local craft store. My daughter gave one of the purses to her friend for a birthday gift. The purse isn't big, but some cute ideas for putting inside of it include: a gift card, small notebook and pen, lip gloss, small candies, etc. I picked up quite a few things at the dollar store. The girls love their purses.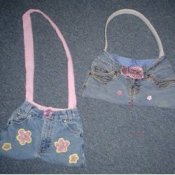 Purse made from teen blue jeans and belt.
Approximate Time: 1 - 2 hours depending on details
Supplies:
pair of jeans
belt
material for lining
large button (optional)
usual sewing supplies (scissors, thread to match, needles)
optional accessories ( buttons, bows, appliques, etc)
Instructions:
Cut the top of the pants off at crotch seam, rounding sides or squaring whichever is desired.
Turn inside out and sew along the bottom, zig zag or serge seam for extra sturdy purse. Turn right side out.
Place pants top (purse) onto the lining material. Cut around leaving 1/2 " for seam allowance. Sew around allowing 1/2" seam. Turn down top edge 1/2" and sew. Do not turn.
Take desired belt and cut off buckle and ends with holes. Pin on the sides of the purse.
Pin lining inside the purse. Hand sew or machine sew being careful at the thick spots (belt loops, front flap, etc.)
Add a large button to the front and a loop in the back for closure, velcro closed, or use the belt buckle removed from belt.
Embellish as desired. Some ideas include: gluing on flower cut outs, iron on appliques, sew on buttons, the ideas are endless.
By Beth from Bloomfield, IN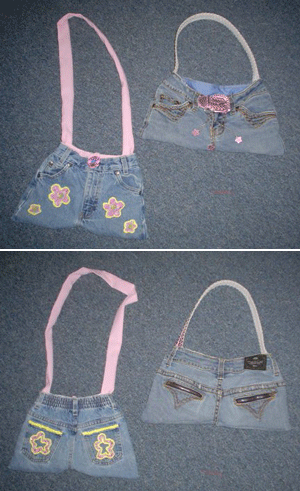 Shauna Smith Duty
0

found this helpful

Ever wonder what you can do with blue jeans that have seen better days? Favorite blue jeans may not be suitable for reuse because of all the wear and tear. But they've been a faithful friend, not complaining when you dripped chili on them at that picnic, and keeping quiet after Christmas dinner when you gave their waistband a workout. Don't ditch them, recycle them! A hole in the knee or bleach spot on the leg will only add personality to a denim pocket purse made from recycled blue jeans.
What you'll need:
one leg of blue jeans
sewing machine and thread
3' of material suitable for straps: trim, fabric, ribbon, leather, etc.
embellishments: trim, lace, patches, embroidered fabric, beads, or charms
Directions:
Fold one leg of blue jeans in on itself. The inside will form the purse lining. Pull the hemmed end of the jeans over the top edge of the outer layer and fold it over. This creates a lip that makes a nice finished edge for the opening of the purse. Pin the lip in place, then turn the tube inside out.
Double stitch the bottom ends of the tube to create a reinforced pocket. This is the body of the purse. Turn it right side out and sew the top opening of the purse all the way around, then remove the pins.
Cut two 18" lengths or one 30" length from the strap material. Attach the strap(s) to the purse with reinforced stitches. The photo shows a very basic style, and at this point in the project, yours should look similar. Give your purse 'purse-onality' by adding trim, patches, lace, embroidery, charms, or beads. You may also sew on the cut out pocket from the original blue jeans, or the zipper, or label, for embellishment. Whatever you use, you can be certain that your denim pocket purse will be an original.
May 14, 2008
0

found this helpful
A lot of fun. First, paint your heart. I painted the wood heart to match with acrylic paint. While it dries you, can cut out your pocket.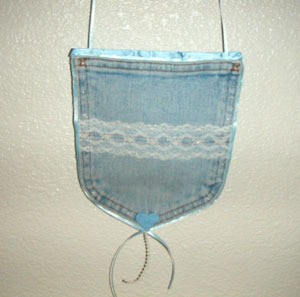 Read More...
Recycled Girls Skort and Wool Sweater Purse. I found these cute girl's skort at the thrift store. I cut the shorts out of the inside, hand stitched the bottom with a coordinating embroidery floss.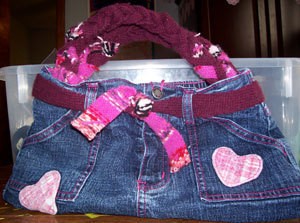 Read More...
January 21, 2008
0

found this helpful
Make a statement, flower-child style, with this boho bag made from recycled denim. The fun of making these purses is that there are no rules - anything goes It's a great way to recycle favorite costume jewelry, use up bits and pieces of ribbon and trim and put creative juices to work for a truly one-of-a-kind result.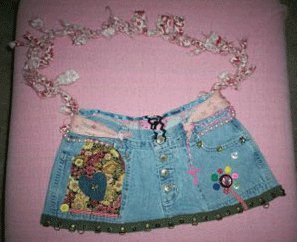 Read More...
Recycle those old jeans into a Valentine's Day denim heart purse. Here is the link to the free pattern information.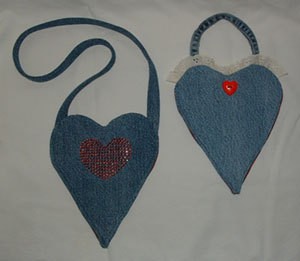 Read More...
Get a pair of old jeans worn by your friend's children. Cut off legs and sew cut bottom under pockets closed.
Gather it a little before sewing. Use legs fabric to form a sturdy strap and sew on.
Read More...
Take an old pair of bluejeans and lay them flat on a table, using some heavy scissors cut both legs off right at the crotch area. Now turn jeans wrong side out and then take them to your sewing machine and sew across the legs closing the cut off area.
Read More...
Questions
Ask a QuestionHere are the questions asked by community members. Read on to see the answers provided by the ThriftyFun community or ask a new question.
I am looking for directions on how to make a purse out of decorated old jeans. I've seen a few around and they are really cute. They are made out of children's outgrown jeans.
Valerie from Huntington, WV
Answers
September 20, 2006
0

found this helpful
All I can say is I know what you are talking about I have seen them too. They look simple enough to make just go to a store where you say them last a copy the pattern from pictures taken with your camera of the purse and experiment with your own design.
If you are too shy to take pictures ask the store clerk for the person's name and number that makes the purses. If that fails I am sorry, but you are on your own as I am still trying to figure out how to make them too. I hope I was of some help.
Tanya
September 21, 2006
0

found this helpful
I had one I hauled around for years, and it was from my jeans. Just cut off the legs, leaving about half an inch. Turn the hip part inside out and stitch across the leg openings. Cut a long strip for the shoulder strap. It should be the length you want plus two inches, and about 4 inches wide (or adjust depending on how you like your shoulder strap). Stitch it tightly to the sides of the waistband. I like to make a big "x" with my sewing machine and then sew a box around that for a really tight attachment. Then decorate it the way you want it. Mine had bits of an old off-white doily, some rhinestones and a charm. I got a lot of compliments on it, and it was big enough to put in a book and my lunch if I wanted to. These days you'd probably want some iron-on daisies and swirls and some pastel buttons. Good luck!
September 21, 2006
0

found this helpful
See feedback from coreenhart - she had great ideas. You could also cut further down the legs (like shorts) and just sew up the bottom of the legs (rather than the hips) and you'd have two ready made compartments! :)
February 2, 2007
0

found this helpful
Hi I'm new to this site but if you guys want to learn how to make a baby booite bag just buy the instructions on ebay like I did I'ts very easy check my baby bootie bag at ebay superroxycruz. I bought the instructions from bootie bag diva her instruction are how to make a bigger bag but I just down sized it to a baby bootie bag good luck to all of you that one to make one.
Answer

this Question

...
Related Content