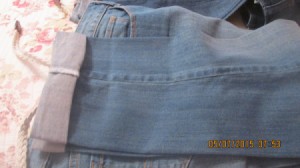 I recently got out an old bag of jeans I thought I would never fit into and also thought that they would be way out of style. #1. They fit. "Yeah!" And #2. The styles are all back in.
I never thought I would imagine people wearing flared bottom jeans, we called them "Bell-bottoms" Ha, ha, ha. After losing some weight to an unfortunate health problem, all these jeans fit great. I am looking like the most styling grandmother of 11 grandchildren. They think I am the coolest. It takes their minds off the fact that I am sick, which is working well for all of us.
I was ironing my jeans. Back in my day, we always had a crease in our jeans. After starting the crease, I sprayed lightly with a pump bottle of hairspray. It gave the jeans a really sharp crease and a softer touch. And those jeans never lost their look.
At least I will be going out in style. :) There are many uses for hairspray! Be creative!