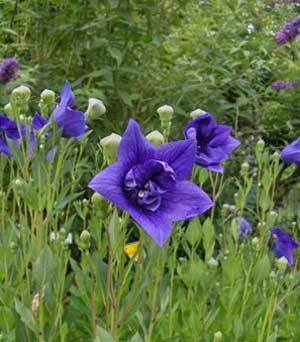 Botanical Name:
Platycodon grandiflorus
Life Cycle:
perennial
Planting Time:
spring or fall
Height:
1' to 3'
Exposure:
full sun or light shade (afternoon shade in hot climates)
Soil:
average, well-drained soil
Hardiness:
zones
3 to 8
Bloom Time:
mid to late summer
Flower:
bell-shaped purple-blue, pink or white upward facing blossoms
Foliage:
green, fine-textured
Propagation:
seeds or cuttings, plants are difficult to divide
Suggested Use:
containers, edging, cut flowers and borders
Growing Hints:
In the spring, sow seeds directly into ground where you want them to grow. Keep sowing seeds up to 2 months before fall frost date. Seeds can be started indoors 6-8 weeks before transplanting. Seeds require light to germinate so don't cover them; just press them lightly into the soil. Expect flowers the second season. Mark planted areas. Balloon flowers are notoriously slow to wake up in the spring. Cuttings (2" to 4") can be taken in the late spring.
Interesting Facts:
Balloon flowers get their name from they way their flower buds swell before the petals unveil themselves.
March 7, 2012
0

found this helpful
This is a great flower for beginner gardeners or anyone. It is easy to grow and very sturdy to grow. The problem I had was that every year it reseeds in different spots and since I used it as a border to my patio, it didn't work well. It is very reproductive and got bushier every year.