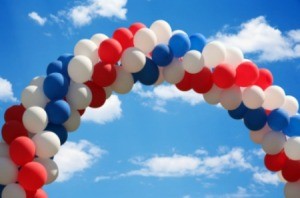 All you need is fishing line, paper clips, balloons (1 or 2 colors), helium, weights for each end. This is easiest done with about 2-3 people. Take the fishing line and stretch it between 2 folding chairs tying to the backs of the chairs.
Have 1-2 people filling and tying the helium balloons. The other person takes 3 helium balloons and inserts the necks into the paper clip. You need to be careful not to put a hole in your balloon. The idea is the paper clip will hold the 3 balloons together.
Then simply take the attached balloons and wrap 1 balloon around the fishing line 2 times keeping the other 2 balloons still. Keep doing this until the fishing line is full of the balloons.
If you are using different colors for your balloons just twist them on the fishing line to create that spiral pattern. As soon as you move the chairs closer together the helium balloons will float and create the arch. Now cut the end of the fishing line from the chairs and attach to what ever kind of weight you want. You can use something pretty simple for this because this is not the focus of the decoration. We used foil wrapped bags of sand tied with a ribbon.
You can also create a light up heart shaped balloon to hang on your wall in much the same way. The difference is you use a string of lights instead of fishing line and you don't need helium balloons. Once you have attached all of the balloons to the lights simply form into a circle. If you hang from the ceiling in 2 places it is fairly easy to form the heart shape.
These are both really impressive to look at and can be done very reasonable on your own with out hiring someone to do it for you.
By Pattie from Warrens, WI
Read More

Comments
I need to make a balloon arch across/over a gym and do not know how many balloons I will need. I do not have specific dimensions, can you help?
Thanks,
Kathy from New Jersey
Answers
September 15, 2006
0

found this helpful
A lot will depend on what kind of balloon arch you are making, what size balloons you are using and of course what size the arch will end up being. I would make sure you purchase extra ballons as whenever we make one we always pop some while making it. You can always return any unopened bags to the store. I made a post a while ago on how to make a balloon arch if you need directions.
Answer

this Question