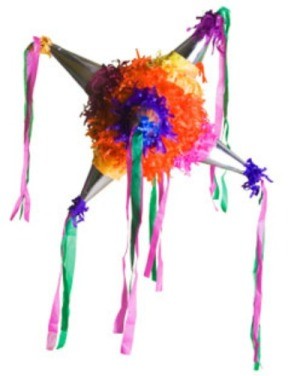 How do you make a piñata? Suggestions from the ThriftyFun community.
Piñata Directions
Materials
2 cups flour
3 cups water
1 balloon
newspaper
paint, crayons, or markers
colored crepe paper
string
Instructions
Blow up a large balloon and tie the end. Mix the flour and water together until it makes a smooth paste. Cut the newspaper into long 1 inch thick strips and dip into the flour/water mixture. Carefully place the strips on the balloon until it is covered, leaving a hole at the top. Set aside and let the balloon dry. Place another layer of newspaper dipped in the mixture over the balloon and let dry. Repeat with one more layer, making sure you leave the hole at the top
When dry, pop and remove the balloon. Paint your pinata with different designs and colors. If desired, hang colored crepe paper from the sides and bottom. Punch 2 small holes in the top near the opening and string a large piece of string through the two holes. Fill your pinata (through the hole you left at the top) with candy, toys, or any other fun surprises. You should also fill with strips of newspaper so the surprises are not all in one location
Tie your pinata in the air with the string and have fun!
By Sharon
Balloon Humpty Dumpty
Try blowing up a balloon and covering it in papier mache. Cut a bit out of the side to put in the goodies. Thread strong string through the top to hang it by. Paint it like Humpty Dumpty and attach concertina arms and legs.
By Carline, Mersea Island, UK
Post your own tips below!