Clothes Pin Rocking Chair Instructions
Best Answers: Clothes Pin Rocking Chair Instructions
These are the best answers for this question.
Here's how to make a peg rocking chair:

http://www.santaspostbag.co.uk/peg-art-rockingchair.html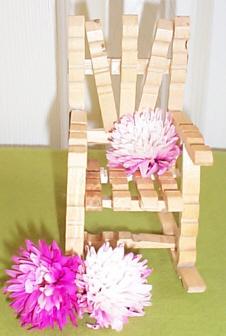 More Answers
Where can i find the instructions to this craft? My husband use to do this with his grandmother when he was little and now he wants to pass on the craft to our children, but he does not remember every detail....
Please email me any directions you may have for clothes pin rocking chairs.
Thank you,
Denise
robinspal (at) fwi (dot) com
Since I read your post, I too, have been searching for instructions on how to make a Clothespin Rocking Chair. It is now approx 3 hours later and using all the search engines I know of, I have had no luck.
I did come across this link, that has pictures, but no instructions. I suppose we will have to figure out how to make one ourselves, from the pics that are provided.
http://www.handfamily.org/eclect01.htm
During my search, i came across a mention of a Clothespin Wishing Well, which sounded very interesting, but alas the link was dead. If anyone comes across a link or a picture of one i would like to know.
Answer This Question
Add your voice to the conversation. Click here to answer this question.
Related Guides
Related Posts