Repairing a Rocking Chair
Questions
Ask a QuestionHere are the questions asked by community members. Read on to see the answers provided by the ThriftyFun community or ask a new question.
Has anyone ever used fabric and a glue gun to recover an old rocking chair. I read it somewhere that it works. I would like to hear your thoughts on this.
By Connie
Answers
November 16, 2011
0

found this helpful
Unless you have a cordless glue gun, the cords on the other ones only reach so far, which means you would have to work quite close to an outlet. Another thing if you use the hot glue, anytime you have to press the fabric onto the hot glue you are apt to get burned fingers. In my experience the cold glue doesn't stick real well.
November 17, 2011
0

found this helpful
Hot glue won't bond with the wood and will peel and the glue in the material will gum it up and make it stiff where you put it. Work with no seams if you don't sew and staple the material to the chair with a staple gun or decorative tacks. You didn't show a picture of the chair so I don't know what you are trying to do. It is not impossible but I wouldn't want to ruin my chair and material with the hot glue.
Answer

this Question

...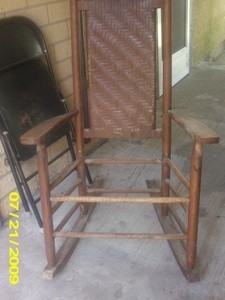 My grandmother passed away in February of this year and I have her old rocking chair, which was actually her mother's. I had to take off the cane bottom because it was all broken up. I would like to know how to put a seat bottom on it. As you can see by the pictures the back rung and front rung sits lower than the side rungs. I want to put a solid bottom in it. Thanks for any information that is given.
By Robin from Bonham, TX
Answers
July 27, 2009
0

found this helpful
If the rungs are sturdy enough, decide which rungs area the best height for the seat.Then just cut a piece of plywood and inch bigger than the rungs on the front and back OR the sides. Cover it with a piece of foam, then a thin piece of batting and finally a piece of upholstery fabric. Staple the fabric on the bottom sides. Once the seat is made set it on the chair, center it the rungs, then from underneath make a mark on the inside of the rungs. Cut two strips of plywood about an inch wide and screw these strips on the line that you made. The seat will be held in place by these strips. Make sure that when you put the strips on that when you put it on the chair it fits snuggly, so it won't slip.
July 27, 2009
0

found this helpful
I don't know if this is what your looking for but I found it by Googling 'Instructions for Weaving a Chair Seat'. There are other various instructions out there to choose from. http://www.ehow -chair-seat.html
I was given a chair out of my father in law's barn that needed a seat wolven. I bought a roll of SeaGrass and wove the seat and it turned out beautiful! Hard on the hands and a bit of a challenge but what a thrill to see the finished product :) Good Luck and enjoy your heirloom.
Answer

this Question

...
How do I tighten a loose arm on my rocking chair?

Yvonne from Central MA
Answers
By DearWebby (Guest Post)
February 9, 2009
0

found this helpful
Look for some concealed holes where the arms are attached. Usually the holes are on the chair side, not the arm side.
In those holes you will see Allen bolts that look like
miniature socket wrenches. Get one of those Allen wrench sets that have 10 different wrenches on a key ring or like on a Swiss Army knife. ONE of the 10 will fit. Simply tighten the two bolts or screws that hold the arm.
With upholstered rockers you have to remove the back panel to get at those two bolts.
Have FUN!
DearWebby
http://webby.com/humor
June 10, 2009
0

found this helpful
Hello Yvonne from Central MA,
Like the earlier post implies, you want to see where and how the arm is attached and try to tighten everything up from there. However, if you have already tried to do this and it doesn't work, or hasn't lasted. The places where the arm is attached may actually need to be repaired. If the joint is cracked or the screw hole is stripped (ie the screw just keeps turning and doesn't actually tighten the joint) you may be able to repair the joint with some high quality wood glue and a clamp. However, if the joint(s) are compromised more than that you will need to make/add support for the joint (which doesn't have to be a big deal either:-). Try the above first though.
Answer

this Question

...
I replaced the seat on my rocking chair with a piece of material purchased from a craft supply store. It's available in various shapes with many designs to choose from on the exposed side.
With clear varnish applied it looks like tanned leather. It's been 15yrs and now I need some more and can't remember what it's called. Can you help please?
Answers
May 27, 2016
0

found this helpful
A little more info please, Mike? Was it wood? Paper? Fabric?
Answer

this Question

...
Related Content
Categories
Guides
More
Categories