The screws in my 30+ year-old glider (used daily) are getting loose again. I have tightened/replaced them several times over the years, so now the wood has been reamed by the screws. I thought I'd drill holes all the way through and fasten with nuts and bolts. I bought wing nuts and lock washers to use with the bolts, figuring it would be easier to get my small hands in the tight spaces than to use conventional nuts and a wrench. Has anyone tried replacing screws with nuts/bolts?
Also, a couple of the seat springs have broken loose, so as a quick-fix, I placed a piece of extra thick foam-core board under the cushion. I bought some chair webbing and plan to weave it to make a new seat support, using glue and a staple gun to secure the ends (after wrapping around the frame). Has anyone tried this?
I haven't found another chair as small as mine; it fits me perfectly and I'd like to keep it!
Answers

Ana
Bronze Post Medal for All Time! 140 Posts
March 11, 2021
0

found this helpful
Best Answer
It sounds like you have done the best that you could on making the piece stronger. A suggestion to making your bolts and nuts stronger, you could try adding washers to give the bolts a more tighter fit. This will also help with those bolts , that may enlarged the holes over time.

gggd
Silver Answer Medal for All Time! 425 Answers
March 11, 2021
1

found this helpful
Best Answer
You can glue in wood dowels of the same size as the screw holes. Once completely dry, drill the correct size new holes, screw the screws into the dowels and it should hold like brand new.
Answer

this Question

Hi there. I have bought a glider recliner second hand and it appears to be rubbing on one side, and then not getting a smooth glide and a lot of noise because of this. I've looked online and there are plenty of articles on if the bearings have gone but nothing about if one side is rubbing against another.
Any ideas on how to fix this issue as the clicking noise is not helping baby settle.
Thank you.
Answers

CDC
Bronze Tip Medal for All Time! 59 Tips
June 9, 2021
0

found this helpful
Best Answer
Have you tried a lubricant like silicone spray to the parts that seem to be squeaking?
Here's some more info on repairing the chair:
www.youtube.com/watch?v=7GIAIujw8WU
www.google.com/search?q=glider+recliner+second+hand...
homeguides.sfgate.com/fix-glider-chair-35123.html
Also a lot of info right here @ T/F:
www.thriftyfun.com/tf93217780.tip.html

gggd
Silver Answer Medal for All Time! 425 Answers
June 15, 2021
0

found this helpful
Best Answer
In addition to soap, you could try paraffin wax or beeswax rubbed on the squeaking and rubbing areas. If the rubbing is at a point of a hardware connection, you might need to put a plastic/silicone washer between the rub together pieces, to space them just enough to keep them from making contact. Good luck.
Answer

this Question

I was given a rather old wooden glider. It has been in my family for many years and recently a part broke. How can I find this part or fix this chair?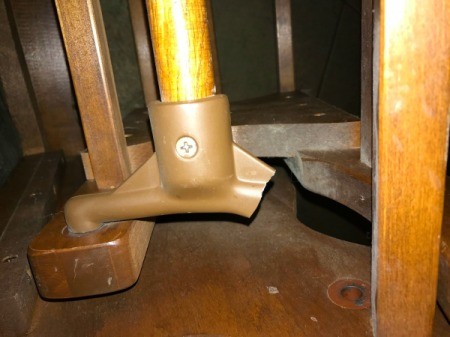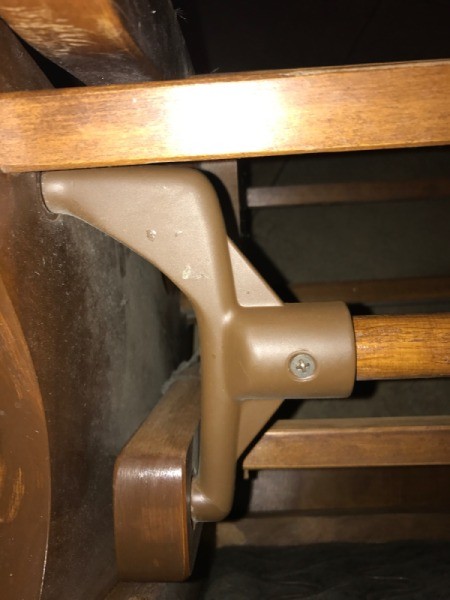 Answers

Judy
Gold Post Medal for All Time! 677 Posts
February 26, 2017
0

found this helpful
Go to a furniture repair shop that specializes in restoring antiques. They can order the part for you. You could then have them fix it, or do the repair yourself.

Hello
Bronze Post Medal for All Time! 107 Posts
February 26, 2017
0

found this helpful
to me it looks fairly straightfoward. You look for that particular piece, either at a furniture repair shop or woodworking shop, unscrew it and then screw the new one back in.
here's an eBay search that could have the parts www.ebay.com/.../glider-bearings
and here's one from home depot: www.homedepot.com/.../N-5yc1vZc7ns

February 26, 2017
0

found this helpful
Check with a furniture store, or see if someone has a 3D printer that could make a new one. Or, have a metal one made by an iron or welding shop or if you have an iron forge. We have a blacksmith who comes to our antique club who makes replacement parts for various things, you may have one in your area who will do the same.
Read More

Answers
We have 2 oak Best Chairs, Inc. glider rockers. As we are living at the beach and opening our sliding glass doors frequently, the snake coils under the glider rocker seat have rusted and one of the coils is broken. They need to be replaced. Does any one know where I could purchase these or have them replaced?
Thanks for any suggestions.
By Joyce from Holden Beach, NC
Answers

May 4, 2013
0

found this helpful
The chair maker's website may sell parts, that would be my first place to check if this is something you feel you can do yourself. Also a check of the Yellow Pages or an online search for upholstery supplies should yield several potential parts sources.
You could try your local adult education centre to see if the current upholstery class would take on the repair job if you feel you need a low-cost repair solution. They will likely only charge you the cost of parts in exchange for using your chair as a teaching moment.
And there are loads of local craftsmen who do upholstery and repair in your community. Try the off or online community bulletin board to find one reasonably priced with a good reputation for trustworthy work and service times.
No matter who does the work, make sure the part is coated with something like Rust-Oleum to prevent this repeating. Rust weakens metal but if coated with a protectant, you can expect years of service from the repair even in your coastal situation.

August 13, 2014
0

found this helpful

September 25, 2016
0

found this helpful
I need to replace the 12" X 12" fabric under the glider seat cushion and hardware which is 4 short springs and 4 bolts to hold fabric at back of glider
Read More

Answers