Repairing Cane Chairs

Ron
Bronze Post Medal for All Time! 181 Posts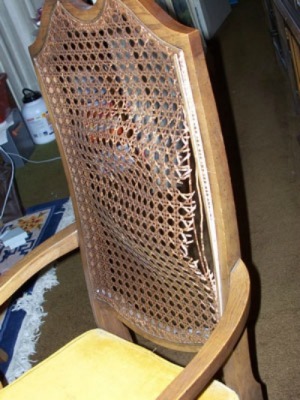 Cane chair seats that have sagged may be rejuvenated by sponging them with a hot solution of half vinegar / half water and then placing the chairs in the summer sun to dry.
By Ron from Cortez, CO
Read More

Comments
10 Questions
Ask a QuestionHere are the questions asked by community members. Read on to see the answers provided by the ThriftyFun community or ask a new question.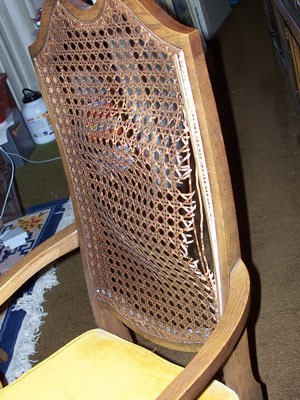 I have some dining room chairs that are probably over 40 years old.. The backing on the chairs is mostly caning with a wooden frame. It needs replacing in almost every chair. I am thinking it would be smarter to just buy new dining room chairs. Two of them have already separated within their wooden frames.
The dining room table is still very sturdy. Although, the wood in the chairs and the table match in color, the style isn't an exact duplicate. It simply 'goes together' and was purchased as a set years ago. Suggestions? Comments?
Are you going to tell me that the quality available now is not comparable to this set and that the chairs should repaired at any price? Right now, they are probably not safe to sit in and will require re-caning and re-gluing. Maybe even some dowel repairing. I'll have the repair person take apart the two that are still holding up, because they are now unsafe. I am thinking this is going to run hundreds of dollars no matter what I do.
Holly from Richardson, TX
Answers

November 27, 2006
0

found this helpful
Best Answer
Hi Holly,
I can understand your dilemma about your dining chairs. I had a set that my grandmother had given me that was about 40 years old. I stripped and refinished the table and the hutch but I didn't bother with the chairs. They were very wobbly and I sat on one, it broke, and I ended up on the floor! I think that the cost of professional repair would be too high, and you could buy new chairs for the price of the repairs. I do think, though, if you were going to do the repairs yourself it would be worth keeping the old set. Instead of re-caning the backs of the chairs maybe you could cut wood to fit and upholster over it and re-upholster the seats to match? I certainly think that you should get a quote from a professional refinisher about your chairs and then with that price in mind go to the furniture store to see what new chairs would cost you.

November 28, 2006
0

found this helpful
Best Answer
We used some old oak chairs of my grandparents for many years. They were part of a kitchen set from the late 30's. I also had the table but one day it just split in two. My grandmother had kept laundry detergent and other "junk" on it in her basement for too many years. Well anyway, my husband refinished the chairs and I recovered the seats and those chairs were put with a unfinished round pedastal table my husband finished off. We used those same chairs for roughly 25 years. My hubby had done repairs to them over the years, tightened them up and such till they could be tightened no more. I recovered the seats more than once too. I then bought a new kitchen table and chairs and donated the old ones to charity.
My advice would be to go buy a new set if you can afford it or look in the paper or thrift shops for a new set. If you can't repair the chairs yourself, it will be very costly to hire it done. If the chairs do not have sentimental value to you, you may as well replace them. I'd replace the table too. Get a whole set that matches...you only live once.
I used those old chairs of my grandparents so many years when I'd probably rather have had something nicer....we could have afforded it but just didn't get around to it and kept using what we had.
Life's too short not to have something nicer, something safe to sit on and eat at....something you can be proud of when you have company.
Just my humble opinion :-)

January 12, 2009
0

found this helpful
Best Answer
Holly,
You can find directions on the internet for repairing caning yourself there are kits etc out there that can help you. If your chairs are from the 20s they may be worth more than you think they are. Where yours is in the shape that it is in though I would probably go with cutting a piece of thin plywood to fit the wood and upholstering it. As to replacement cost versus repair cost you need to realize somethings and decide what is important to you. Finding good furniture that is actually solid wood and well made these days is very difficult to do if you are buying new. There is no longer really a good quality economy version it's either expensive solid wood or cheap particle board covered with veneer. Repairing chairs really isn't that hard you don't have to hire someone to do it unless you have an ornate and extremely valuable antique. Anybody can take a chair apart sand all the joints and put it back together with dowels etc. and glue and clamp it its not as difficult as it seems.
There is also a glue that you used to only be able to get in Canada that you put in the joints that actually causes them to swell and fit again I don't remember exactly what its called something like Yancy's. Learning simple furniture repair is really just a matter of a little internet and Library research. If you really don't like the chairs though why not just give them to charity and seek out a good used set, or check the Penny's catalogue they often have good sales on medium quality furniture but for a decent set for six you going to pay at least 900 dollars also check eBay sometimes even with shipping it can be worth it if the quality is really good. However in the spirit of thriftiness and self sufficiency I would see about learning how to repair chairs myself. As it sounds to me like all they need is to be taken apart the joints sanded and a swelling wood glue used along with dowels to make the joints tight. Good luck!
Answer

this Question

I have been given some dining chairs that have cane inserts in the seats original to the chair. I want to change the cane to leather since the caning is somewhat stretched from use. How would I do this?
By Fran from Punta Gorda, FL
Answers

January 20, 2010
0

found this helpful
Best Answer
I replaced cane with fabric seats on dining room chairs by having a piece of wood cut larger than the opening and putting some padding (foam) and stretching canvas over the foam and stretching and stapling on the back of the wood piece. Nail head trim could be added for trim. I added wood blocks in the corner of the new seat replacement to secure them from sliding or turning.
They could be glued or nailed down, but I wanted to be able to restore the cane if desired in the future. Also wet the cane and let it dry and it may remove the sag in the cane.
Answer

this Question

I have 4 ladder-backed chairs that need recaning, however, I do not have the time. I was thinking of replacing the caning with some kind of wood and then using a fabric over the wood. I will paint these chairs to look primitive and distressed. Any other suggestions and if the wood works what kind of wood? Home Depot is close by. Thanks.
Kelly from Sutton, Mass.
Answers

Cyinda
Bronze Post Medal for All Time! 213 Posts
January 20, 2009
0

found this helpful
Best Answer
You can buy a several large rolls of natural colored raffia at any craft store & use this easy-to-work-with & very pliable natural raffia to "weave" back & forth across your chair. The raffia can be either left natural or spray-painted or even stained. If it were me I'd leave it natural if the chair is natural or stain or paint it to match the color the chair already is. Also, Raffia is really inexpensive so that's a bonus!
To make the seat sturdier you can cut a piece of 1/4 inch or thicker masonite with a jig saw (make a pattern out of old Christmas wrap or cardboard). This masonite will need to fit in-between (or under) the woven raffia & you don't want to see it when the chair is done, so first paint it a color that will match the finished piece because after the raffia is woven over it you won't be able to get to it to paint it! Then just tack the masonite down with braids & weave the raffia back over it... The trick is to try to keep the raffia as tight as you can when you weave it. Most basket weavers like to first soak their weaving supplies in water for a bit before using them to weave with. It may help you to put your raffia in a the sink or in a dishpan of warm water for 5 or 10 minutes then it may be easier to weave with but if you don't want to hassle with the whole wet mess, it won't matter much if you are using raffia because it's so easy to weave with even when dry anyway! But if it were me, I'd first soak the raffia because I think you'll end up with a nicer look. Also, when you tie knots, make sure you totally wet the knots THEN tie them, that way they'll stay tied! (you can also add a bit of Elmers glue mixed with water to make sure any knots stay tied & that your raffia stays where you want it to go. Use 1 part white glue to about 3 parts water. But where ever the glue is, stain might not soak in, but paint will still work).
Remember, your weaving doesn't have to look perfect. Just try to get the chairs looking as similar as you can to each other. You could do something like 5 or 6 rows up, then 5 or 6 rows of raffia down then up & down and do this vertically then copy the same design horizontally. Also have a few flat thumb tacks or upholstery tacks around. You may need them to use underneath the chairs to hold the raffia in place.
* Make sure you buy REAL raffia & not PAPER raffia because the paper raffia just won't hold up.
** If you want a totally different look, you could go with upholstery tacks holding up strips of leather. You can either by leather from a place like Tandy Leather Company or buy several old coats or old belts at the thrift store. You can even buy fake leather at a fabric store & this stuff looks pretty nice put isn't as durable. If you use real leather be sure to first wet it before applying it to the chair. This way it will shrink up a bit when it dries.
---> DO YOURSELF A FAVOR: Before you start taking these chairs apart & painting them, make sure they aren't antiques or collectibles because some of the cained & woven chairs are worth a pretty penny & you'd kick yourself in the rear if you later found out you ruined something that was worth a small fortune!
Answer

this Question

I have dining room chairs that have a woven cane material on them. They need to be repaired. I would like to find an alternative to repairing them, perhaps a fabric. However, the seats don't come off and are part of the chair. Any suggestions on how to do this and make it look nice?
By Tami F.
Answers

October 13, 2011
0

found this helpful
Best Answer
I have revamped my dining room caned chairs and like what I got! I cut the cane out and cleaned that area up. I measured for plywood pieces that would be a little larger than the hole where the cane was. I had the plywood cut, then I padded with upholstery foam. Cut fabric large enough to cover the wood and foam with 3 inches extra on all sides. I turned the wood/padding over on wrong side of fabric and stretched and stapled the fabric to the wood bottom.
I started in the corners and pulled it tight did all 4 corners first. Then I stretched the sides and stapled that tight and smooth, opposite sides both then the other 2 opposite sides, pulling tight and smooth as you go. I put scrap wood squares in all four corners to hold the seats in place while in use. It is really simple and straight forward if done step by step.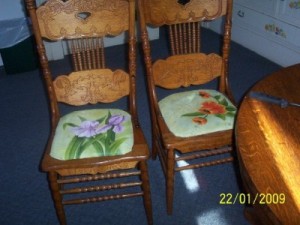 Answer

this Question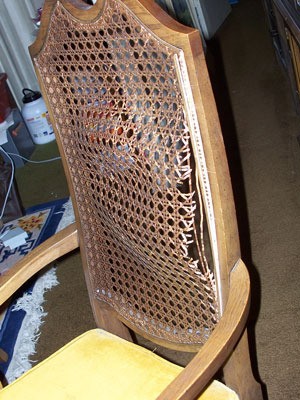 I received some great ideas from a question posted about the broken caning on all of my dining room chairs. I've been shopping for six replacement chairs as the caning repair is going to run $200 ish per chair and that doesn't include the broken frames.
Replacement chairs are $225 each or more because of a size restriction. Spouse says he can fix the frames, but can't do the caning. This caning extends from the top to the bottom of the chair back and keeps one's back from falling through.
I was contemplating having a padded board cut to fit the hole, braced in with metal brackets and having a throw pillowcase type slipcover slipped over the back of the chair.
The picture is the one from the original posting. Any suggestions? The chairs were nicely made, not the most expensive, but good quality from some 40 years ago.
Holly from Richardson, TX
Answers

January 6, 2007
0

found this helpful
Hi, Holly!
I think that it is a wonderful idea to re-do your chairs yourself. I think that recycling and re-using is a great idea; it not only saves money but keeps things out of the landfills. Your idea to attach a padded board to the front is wonderful, but go one step further and cover the pad with a piece of fabric. Then, on the back, cut to the shape of the chair, a piece of thin cardboard and cover that with fabric too. You can attach it to the chair with glue or upholstery tacks all around the edge. I just re-upholstered a 1950's chair that had the cardboard on the back, I figure, if it has lasted for 57 years on this chair it wouldn't be a bad idea for you to use it on your chair. I would also recover the seats of the chairs with the same fabric that you re-do the backs with. I used a bed sheet for my re-upholstery project, you get a lot of fabric for the price. I only wish that I had taken before and after pictures to share with everyone...so, you make sure to take pictures, ok?

January 6, 2007
0

found this helpful
Persnickety Paula - Could you post some after the fact pictures of your re-covered chairs?
Holly

January 7, 2007
0

found this helpful
Hi Holly,
I must have mislead you, not intentionally of course. My chair is not a dining chair, but an upholstered side chair. The picture is not the greatest, sorry. I have re-upholstered kitchen chairs that only needed the seat material changed out, and that was very easy. It gave me the confidence to try other chairs. I re-upholstered some chairs that had metal arms and legs and the seat and back cushions were vinyl, they were easy too, they only had to be unscrewed from the metal frame and I used a stapler to attach the material. This last chair I removed all the bright orange fabric, used a seam ripper to take it apart, and used it as a pattern to cut my new pieces. The biggest thing about trying to redo chairs is to get over your fear, you can do it! At least give one a try and if it doesn't work out you don't have to do anymore. Good luck to you!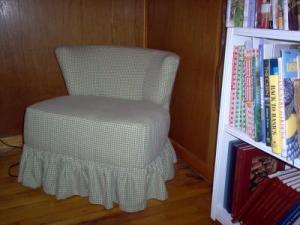 January 7, 2007
0

found this helpful
To Persnickety Paula,
You did a lovely job on that re-upholstered chair. I bet your talents run toward sewing clothing and other arts and crafts.
By (Guest Post)
January 8, 2007
0

found this helpful
I understand that replacement caning is available - But you might also consider something like replacing the caning with filigreed wood/ or metal mesh - which you could spray with metallic paint.... You could also weave leather strips to form a backing for the chair - (see the post about making a chair seat out of belts!) OR get a piece of leather, cut it to shape and nail it to the chairs.....
Answer

this Question

I have a beautiful cane backed chair from the 50s or 60s. it has a lovely curved back, with caning in 3 sections. The middle section has broken. It had been in California since purchased by the original owner (beach side).
I purchased it from her estate and after about a year moved it to Las Vegas. My husband sat in it and leaned back kind of hard. The caning had dried and tore apart and not in a way it could be glued back. I can't find any place to repair it. The chair has a cushion seat and I had it redone in a retro fabric. It looks great, but now back is broken. Help please.
Read More

Answers
How do I stop a cane chair from squeaking?

By Lynne Mc

Answers
January 27, 2012
0

found this helpful
WD40 would probably help.
Answer

this Question
I have an antique, hand-made chair that was caned in leather 1/4 inch strips of leather. The pattern is horizontal, totally horizontal from side to side, but the back to front strips criss-cross diagonally. Not only have I never caned before, but I don't know where to find this pattern. Can someone help?
By Barbara G. from Greenwich, CT
Answer

this Question

I inherited a dining room table and chairs. The chairs have cane backs that are starting to fall apart. I took one of the pieces of caning off and want to replace the caning with fabric and padding. Has anyone done this before and have any advice?
By Vickie from Aurora, CO
Answer

this Question
Published by ThriftyFun.
© 1997-2023 by Cumuli, Inc. All Rights Reserved.
https://www.thriftyfun.com/Repairing-Cane-Chairs.html