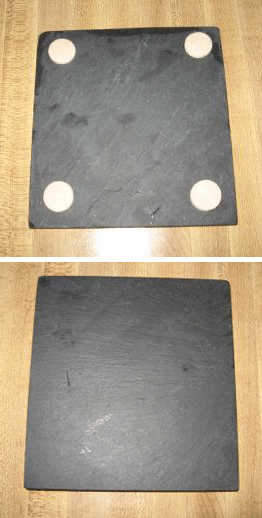 Trivets or small hot pads made from tiles.
Approximate Time: 5 minutes
Supplies:
tiles
cork, or rubber pads
Instructions:
Purchase tiles of any shape or size to fit your decor. Purchase packs of cork, or rubber self sticking pads. Put the pads on the bottom of the tile and you have instant trivets/hotpads.
There are so many tiles out there now you can match any decor. This is also usually much cheaper than buying trivets or hotpads.
The first picture is my hotpad made out of a slate tile. This is the underside of the slate tile that has the pads glued on them. The second is the top side.
By Susan from Mulberry, FL
By Susan Capps
Ad
---
Feedback Forum
Feedback about this article is posted here. Want to contribute? Click above to post feedback.

By Andy06/10/2009
You can also use Faux Cork contact paper for this project. It is self-adhesive and looks like real cork!

Here is the link: http://www.interiorplace.com/Specia ... t-Paper/Faux-Cork-Contact-Paper.html

By tracey [16]05/06/2008
great idea!
Post Feedback
Add your voice to the conversation. Click here to share feedback.