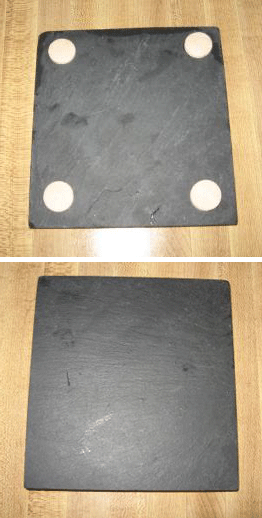 Trivets or small hot pads made from tiles.
Approximate Time: 5 minutes
Supplies:
tiles
cork, or rubber pads
Instructions:
Purchase tiles of any shape or size to fit your decor. Purchase packs of cork, or rubber self sticking pads. Put the pads on the bottom of the tile and you have instant trivets/hotpads.
There are so many tiles out there now you can match any decor. This is also usually much cheaper than buying trivets or hotpads.
The first picture is my hotpad made out of a slate tile. This is the underside of the slate tile that has the pads glued on them. The second is the top side.
By Susan from Mulberry, FL
Read More

Comments
I have one lonely 12x12 ceramic tile that I found the other day. It's beautiful and I don't want to throw it out. Does anyone have any ideas for a craft that I could use to display this beautiful tile with that doesn't require a lot of other items?
I thought about making a notepad holder somehow by adding a small pad and pen but I've run out of ideas. I'd like to make something with it and have it on my counter.
Any ideas would be appreciated.
Thank you,
Yvonne from Ontario
Answers
By Miss Meg (Guest Post)
January 10, 2006
0

found this helpful
How about a triviet? You could get little "legs" and glue on each corner -- glass buttons maybe? MM
By LadyLeonesse (Guest Post)
January 10, 2006
0

found this helpful
You can make a trivet out of it by sticking 4 little rubber dots on the back. You can get them at the hardware store. Craft stores also carry them.
By BJ from Ky (Guest Post)
January 10, 2006
0

found this helpful
You probably wouldn't have a lot of these laying around on your countertop but you could always make trivets out of them.They make really cute gifts too.My grandaughter gave me one for Christmas that she had painted at a birthday party she went to.She painted an angel on it because I collect them.I love the one she made me.I use it every day & it makes her so happy when she sees it being used!!

Vi Johnson
Silver Post Medal for All Time! 288 Posts
January 10, 2006
0

found this helpful
My sister gave me a smaller tile/triviet some years ago. It had a small frame around it and I hung it in my kitchen.
When ever I look at it I am reminded how much we loved each other. Great granny hugs,Vi
By Terri (Guest Post)
January 11, 2006
0

found this helpful
crack into small pieces and make a family name plate with the pieces and hang o
n the wall in an entry way or elsewhere
By Cadensnana (Guest Post)
January 11, 2006
0

found this helpful
A few years ago when we did a bathroom makeover, we had a couple of 12x12 tiles leftover. We put rubber feet on them and now use them side-by-side on the kitchen counter as a counter saver. They work very well and easy to clean as well as keeping the laminate countertop from staining.

Holly
Silver Post Medal for All Time! 364 Posts
January 11, 2006
0

found this helpful
Frame it and hang on wall in place of a picture.

January 11, 2006
0

found this helpful
I have a beautiful deep blue tile that has felt on the back. The felt protects my favorite wood table from scratches, the tile protects the wood from my hot coffee cup. It works better than any coaster I've found.
Love & Prayers,
Linda

January 11, 2006
0

found this helpful
I love all the idea's. Now I just have to decide lol. Ughh decisions, decisions.
Thank you very much everyone!
Read More

Answers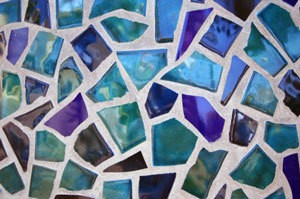 Here are some crafty ideas for using leftover ceramic tiles. Post your own below.
Coasters, Trivets and Other Craft Ideas
I have a home daycare and we have used tiles to make coasters for the living room, a base for another project, glued a picture on one and sealed it, make a trivet, and I think that's all. You could let the kids make their own photo collage on a couple and hang them with pretty ribbon, rafia, or rope. The coasters we put felt on the bottom so they would not scrath the furniture. Good luck!
By Suzi Homemaker
Mosaic Table Top
I am planning a project that uses tiles. My sister's glass patio table top is broken, and she gave me the frame. We are cutting plywood to fit the opening. Then we are breaking up my white tile, grouting the plywood, and making a mosaic table top. I want to purchase a few blue tiles, also, as my home is blue and white. There are colored grouts, also.
Let Kids Decorate Tiles
My grandaughter went to a birthday party last summer and one of the activities was decorating ceramic tiles and using them to set hot dishes that were to hot to set directly on the table. I collect angels so she painted an angel on mine and gave it to me for Christmas last year. When I opened it I got all teary eyed. It was My favorite gift and I use it every night!
By BJ, Ky
Photo Christmas Ornaments
You could use them as Christmas ornaments with the kids pictures on them. You could use a copy of the picture if you didn't want to use the original. Just glue the picture onto the tile with school glue watered down. Then seal it with several coats of the school glue once the picture had dried. Hot glue a hanger or ribbon on the back and it will be ready for the tree. You could also get them to just decorate the tiles any way they like and use contact paper over that and sit them around.
By Michele
Use Glass Paint
You use glass paint on tiles. Then let them dry over night. Next day you bake the tiles in the oven following manufacturing directions. Let cool completely and then take out. You are ready to decorate now.
By Sandy in Vermont
Mosaic Tips
I enjoy mosaics and have made everything from candleholders (broken colored glass is my favorite material for the candleholders) to tabletops. Just make sure your plywood is thick enough that there is no bend or give and be sure to seal it before you begin glueing. You can use broken china on your table also. Find it cheap at dollar stores or garage sales. There really are no rules, you can use almost any material to mosaic.
By Rachel
Answers

March 22, 2007
0

found this helpful
When you say to seal the plywood, what do you use to seal it?
Thanks, Trish in CT

Cyinda
Bronze Post Medal for All Time! 213 Posts
March 22, 2007
0

found this helpful
To paint on ceramic tiles use "GLOSSIES" paints by "Liquitex" The paint is so good that after painting some juice glasses for my son, they looked brand new after 9 months of repeated washing in the dishwasher. To increase the durability of "Glossies" paints, bake your glass or ceramic project in the oven. You can buy Glossies at your local craft supply. The paint is a bit darker when it dries. Glossies also workes on glass & cleans up (before drying) with water or alcohol (when partly dry). Do not thin Glossies paint with very much water. To paint tiles ALREADY INSTALLED on wall, use Glossies, then heat set tiles with a blow-dryer.
more information about GLOSSIES paint by Liquitex:
www.liquitex.com/.../paintglossies1.cfm
---> To seal plywood (before applying mosaics) use any kind of acrylic or latex paint or primer.
---> To seal grout when mosaics are compleated, use a grout sealer.
By luseall (Guest Post)
April 1, 2007
0

found this helpful
Do you know where I can find a "copper strip" or any type of metal banding to line the edge of a mosaic on plywood table? I have searching online for many , many hours!

November 15, 2007
0

found this helpful
Does anyone have any ideas for a Christmas craft using small 4x4 mirror tiles?
Read More

Answers