Decoupaging ceramic tiles is fun and easy. Although smooth, white tiles work the best, choosing tiles of pale shades and different textures gives you more options for interesting effects. The thinner the paper you choose to use, the better and don't forget to varnish. These are decorative tiles, not hot plates.
By Lisa from Thessaloniki, Greece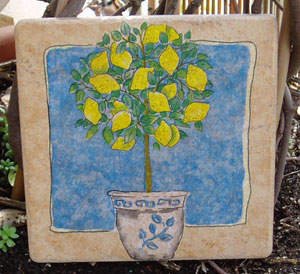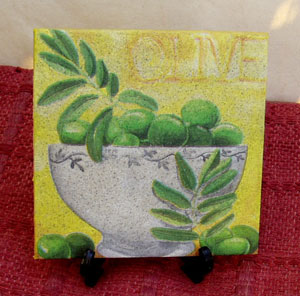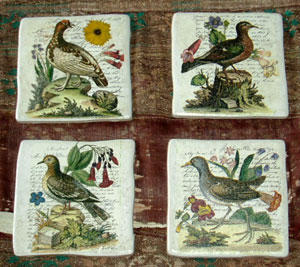 Answers:
Decoupaging Ceramic Tiles
Much more interesting than I expected, very nice. (08/06/2007)

Decoupaging Ceramic Tiles
Hi Lisa,
These are really nice! I would even like to try this.
I used to decoupage years ago on wood. I have never thought of tile.
Thank you for showing the pictures of your work.

Love and hugs,
Marcia in California (08/06/2007)
By Marcia
Decoupaging Ceramic Tiles
Wow, you are very talented! Thanks for sharing with us the beautiful tiles you've made, and God bless you!
(08/07/2007)

By Pat Giles
Decoupaging Ceramic Tiles
Excellent work! Thanks for sharing. (08/09/2008)

By badwater
Decoupaging Ceramic Tiles
My wife decoupages tiles also (among other items) and sells them on a crafting site called etsy. I even had to create a finish that was durable enough for these tiles to be used in building or renovating projects. The ones listed here are very nice and decorative. She would really love to know someone else appreciates decoupaged tiles. Everyone thought she was crazy for doing tiles but what better canvas to decorate?
She's always tearing images out of mail order catalogs, newspapers, gathering old wrapping papers, calendars, napkins, almost any decorative paper image that catches her eye she will put it away for a future decoupage project. The tiles don't have to be new. Old homes which are being torn down are a gold mine of free tiles, some with odd shapes. (08/19/2008)
By Max