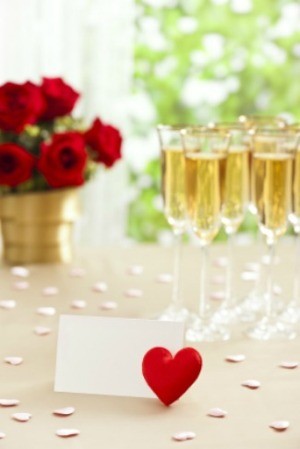 A 50th anniversary is a very special event, so you will want to plan a memorable party. This is a guide about 50th wedding anniversary party ideas.
Ad
---
Questions
Here are questions related to 50th Wedding Anniversary Party Ideas.
My parents will be celebrating their 50th wedding anniversary. I'm an only child and my mom's large family is expecting a party. I'm looking for ideas that won't break the bank (since I have no one to share expenses with) and satisfy everyone. Please help!
By Jody from Midwest
AnswerWas this interesting? Yes No
Ad
---
---
Most Recent Answer
By Colleen Stuchal 6 76 06/21/20100 people found this helpful
For a family reunion we did this-one family provided the chicken, one the pasta, one a large meat tray, one buns, etc. Pass around a list and divided into categories, and ask everyone to choose what they want to bring. Or in the invitations put in it please bring a dessert of your choice in a few of them, salads in a few, etc. We had a great response to them all.
---
We're having a fairly low-key 50th wedding anniversary Open House for my parents. About 40 people will be attending. I am looking for fun ideas as people mill around.
Thanks!
By Jen from Los Angeles
AnswerWas this interesting? Yes No
Ad
---
---
Most Recent Answer
By Pam Griffis 10 102 02/25/20110 people found this helpful
How about a party memory book? This could be done ahead of time or as the guest arrive. Have everyone send or bring photos of themselves with the guests of honor (or separate pictures of each couple). Along with the picture(s) have them write a heartwarming or amusing story about the couple and themselves.If you like, some of these could be read aloud by the donor(s).
---
My husband and I will celebrate 50 years of marriage next December 18, 2016, and we are considering renewing our vows. We are both retired and on a fixed income. Would it be possible in today's economy to do everything for $300? We'd like to keep it simple; we are both avid hunters and would like a camouflage theme.
I'd love to find a camouflage semi-formal maybe. And my husband could wear a camouflage vest and tie. Maybe with boots! I have 2 grown granddaughters. One is a culinary arts graduate and the other is a very creative and talented homemaker; both have agreed to help. They just need some ideas on food and decor on a "shoe string" budget! Any suggestions?
AnswerWas this interesting? Yes No
---
Most Recent Answer
By Sandi/Poor But Proud 452 2,086 11/02/20150 people found this helpful
In 2002 I brought my sisters' revow in for 300.00. I was a one woman wedding planner. I made almost all the decorations, food and even sang. In looking back, here are some things you might like to try:
1. Get some camo scrap booking paper and draw some hearts on the back. Make them the shape that allows you to put them up and down for efficient use of the paper. Have someone cut them out for table scatter.
2. If you can find an arch to rent, you can cover it with camo colored leaves and put two rifles on the top, securing very well of course.
3. I did a guest book with lace and ribbon, but you could cover it with camo duct tape. They have it now, albeit in smaller rolls, at the dollar trees.
4. Here is a website where you can make all kinds of candy for the hunters in your family. When you load up the site, click on images. If you find something you like, just click on the image and the webpage will come up and you just click on "visit page".
https://www.google.com/webhp?source ... -8#q=candy%20shaped%20like%20bullets
5. For the best food choices, I would stick with things that hunters eat...venison, corned beef hash, some great potato dishes, etc. No self respecting hunter is going to serve finger sandwiches and tofu!!
I hope those get you started. PBP
I am planning a 50th anniversary party at a church, in the afternoon. We will be serving appetizers. Should we have punch, or tea, coffee, and lemonade.
By Bobbie from Belleville, IL
AnswerWas this interesting? Yes No
---
Most Recent Answer
By April 187 451 01/11/20150 people found this helpful
I would serve either punch or lemonade, tea and coffee. Also, I would have ice water on hand as well. If you have diabetics in attendance, they will want the tea, coffee or water. Kids and non diabetics will probably prefer the punch or lemonade.
We are celebrating our 50th wedding anniversary. We would like to give our 150 guests a gift. We need some ideas.
By Leo C.
AnswerWas this interesting? Yes No
---
Most Recent Answer
By Elgie 5 144 07/21/20140 people found this helpful
For our 40th anniversary we purchased candle tapers and attached a card with ribbon, thanking them for how they had added light to our years. Since this was 15 years ago I can't remember exactly what we said but you can get an idea from this. If I mange to remember the phrases we used I will send it later. Since it was our ruby anniversary we chose that color. We later heard how many used them for their Christmas candles (our anniversary is the end of November). It was easy to have a basket full to hand out.
My cousin and I (the granddaughters) were chosen to help plan the party. It is going to be a surprise. We are 13 years old. What should we do?
By Laurel D.
AnswerWas this interesting? Yes No
---
Most Recent Answer
By Lilac 20 1,332 07/18/20130 people found this helpful
Help plan or help with? You are both too young to decide much because you probably have not been to many of these parties. First you can find out the couple's favorite colors and food. Then you can see what they might need in the way of presents. All this must be done very secretively. Let the older people decide the part that requires budgeting.
We are having an anniversary party at a buffet. We will not be paying for the meals. We have the room so we can all be together. What is the best way to word this on the invitation?

By Yvonne Shaffer
Solutions: 50th Wedding Anniversary Party Ideas
Do you have knowledge about this guide topic? Feel free to share a solution!
Archives
Thrifty Fun has been around so long that many of our pages have been reset several times. Archives are older versions of the page and the comments that were provided then.
My parents are getting ready to celebrate their 50th wedding anniversary in a few short months. While my siblings and I would like to have a party for them, we're all strapped for cash.