Here's a great idea that costs nothing and is a great conversation piece for a 50th wedding anniversary party. Make a montage display of the wedding. Include your Mom's wedding dress, treasured original wedding gifts, music from that year, and even a bulletin board that you help them put together of their special milestones.
By kwbren from Yucxaipa, CA
My husband and I will celebrate 50 years of marriage next December 18, 2016, and we are considering renewing our vows. We are both retired and on a fixed income. Would it be possible in today's economy to do everything for $300? We'd like to keep it simple; we are both avid hunters and would like a camouflage theme.
I'd love to find a camouflage semi-formal maybe. And my husband could wear a camouflage vest and tie. Maybe with boots! I have 2 grown granddaughters. One is a culinary arts graduate and the other is a very creative and talented homemaker; both have agreed to help. They just need some ideas on food and decor on a "shoe string" budget! Any suggestions?
November 2, 2015
0

found this helpful
In 2002 I brought my sisters' revow in for 300.00. I was a one woman wedding planner. I made almost all the decorations, food and even sang. In looking back, here are some things you might like to try:
1. Get some camo scrap booking paper and draw some hearts on the back. Make them the shape that allows you to put them up and down for efficient use of the paper. Have someone cut them out for table scatter.
2. If you can find an arch to rent, you can cover it with camo colored leaves and put two rifles on the top, securing very well of course.
3. I did a guest book with lace and ribbon, but you could cover it with camo duct tape. They have it now, albeit in smaller rolls, at the dollar trees.
4. Here is a website where you can make all kinds of candy for the hunters in your family. When you load up the site, click on images. If you find something you like, just click on the image and the webpage will come up and you just click on "visit page".
https://www.google.com/webhp?source ... -8#q=candy%20shaped%20like%20bullets
5. For the best food choices, I would stick with things that hunters eat...venison, corned beef hash, some great potato dishes, etc. No self respecting hunter is going to serve finger sandwiches and tofu!!
I hope those get you started. PBP
My parents will be celebrating their 50th wedding anniversary. I'm an only child and my mom's large family is expecting a party. I'm looking for ideas that won't break the bank (since I have no one to share expenses with) and satisfy everyone. Please help!
By Jody from Midwest
June 18, 2010
0

found this helpful
Here is a side view of the brandy glass.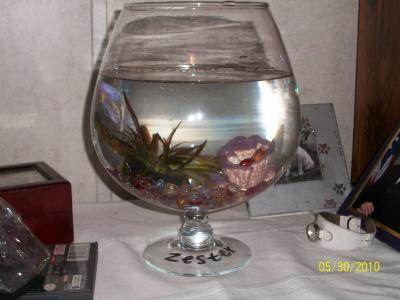 June 21, 2010
0

found this helpful
For a family reunion we did this-one family provided the chicken, one the pasta, one a large meat tray, one buns, etc. Pass around a list and divided into categories, and ask everyone to choose what they want to bring. Or in the invitations put in it please bring a dessert of your choice in a few of them, salads in a few, etc. We had a great response to them all.
January 18, 2016
0

found this helpful
I'm also doing a 50th anniversary, but it is for my husband and myself. We are doing the main course and requesting a side dish to go with it. We are having it at a park, which is my favorite place to be in the summer time.
We're having a fairly low-key 50th wedding anniversary Open House for my parents. About 40 people will be attending. I am looking for fun ideas as people mill around.
Thanks!
By Jen from Los Angeles
February 24, 2011
0

found this helpful
Instead of the common guest book: look at your local bookstore to see if they have a coffee table book that has something significant to your parents. Maybe something that celebrates the 1960's? That would be something that they could display and enjoy all the time.
Rent a popular movie from "their year" (or an old tv series on DVD) and have it alive on the tv screen, but muted.
Food? Look up what things were popular in their year for entertaining.(we had a 1940's cocktail party styled wedding and had great hors d'oeuvres from that era. The fare from days of old is much less $$, too!) OMG...jello molds and Pineapple upside down cake!
decorate with crepe paper....that's pretty inexpensive and was the usual back in the '60's. Copy and blowup some Life magazine covers and frame them for your buffet table. And, of course, photos of your parents from their day!
Music....make a couple of dvd's of the popular music of that era and have that playing, but LOW.
redhatterb is right about wanting people to visit with each other, so keep the tunes as background only.
and, if you want a game or two to have just in case...charades and password were so popular then.
It sounds like a lot to do, but it's really simple. Keep it streamlined and then just enjoy!
February 25, 2011
1

found this helpful
Hi Jen, First allow me to send congratulations for your parents! A 50th is called "golden" because it was an ancient tradition for a husband to give his wife a golden wreath, garland or necklace. It's a celebration of a life spent together and great things accomplished with love and commitment.
The flower for a 50th is violet. Maybe a small vase with a violet (purchase a small plant maybe from garden center at WalMart). Put gold stones (Dollar Tree) at bottom with water for table decor. Before you purchase any decorations and such, check out stores like Dollar Tree. They have a wonderful party section along with other things. You can save a lot of money that way This doesn't have to be expensive for you. The idea is that friends and family gather together for a nice time and celebrate this great event with your parents. Here's a few ideas: Go out in your yard and find a branch with several offsprings. Spray paint it gold and put it in a vase with marbles or glass stones (dollar tree)
Hang photos of your parents (maybe major events in their life).
Ask guests if giving gift to do things like lottery tickets, gift certificates, travelers checks, etc. These can be put in envelopes, wrapped in gold ribbon and hung on your branch tree. Have a photo of them (maybe one of their wedding) enlarged. Put it in a wide white mat and display it on a table for all your guests to sign on the mat. Use a gold pen. We did this for mine and it was a treasured gift for them. How about a poem written in gold and framed? Or make a CD with songs from the era of their marriage?Ask guests to contribute a picture of themselves for your parents to remember their wonderful event?You can even find gold paper plates and cups.
If you don't want to deal with a lot of food, have it during a time of day such as early evening and provide little finger snacks. Folks will eat their dinner before coming and you will be all set! Wishing you a successful event. Just think "thrifty" but chic and you'll do just fine!
February 25, 2011
0

found this helpful
How about a party memory book? This could be done ahead of time or as the guest arrive. Have everyone send or bring photos of themselves with the guests of honor (or separate pictures of each couple). Along with the picture(s) have them write a heartwarming or amusing story about the couple and themselves.If you like, some of these could be read aloud by the donor(s).
I am planning a 50th anniversary party at a church, in the afternoon. We will be serving appetizers. Should we have punch, or tea, coffee, and lemonade.
By Bobbie from Belleville, IL
January 11, 2015
0

found this helpful
I would serve either punch or lemonade, tea and coffee. Also, I would have ice water on hand as well. If you have diabetics in attendance, they will want the tea, coffee or water. Kids and non diabetics will probably prefer the punch or lemonade.
I am trying to make a program for our celebration. We are renewing our vows and having dinner and a few other things. Is it better to eat first or renew vows or? What is the order of a program for our 50th wedding anniversary celebration?
By Yvonne from St. Louis, MO
July 22, 2010
0

found this helpful
What would you like to do first? It's your day! Congratulations on your milestone! (PS your guests will be just happy to be included on your most special day!)
July 24, 2010
0

found this helpful
I agree w/both previous posts, but tend to lean towards vows first and dinner party after, unless you know of an important guest who cannot be there "early" and would really want to be there for the renewal of vows! And, congratulations!
July 24, 2010
0

found this helpful
Why not make it the "special event" between dinner and dessert? It could make the dessert course (if you are having one) the highlight of your night. Let me know what you think! And again, as other say - CONGRATULATIONS!!!!!
We are celebrating our 50th wedding anniversary. We would like to give our 150 guests a gift. We need some ideas.
By Leo C.
July 21, 2014
0

found this helpful
For our 40th anniversary we purchased candle tapers and attached a card with ribbon, thanking them for how they had added light to our years. Since this was 15 years ago I can't remember exactly what we said but you can get an idea from this. If I mange to remember the phrases we used I will send it later. Since it was our ruby anniversary we chose that color. We later heard how many used them for their Christmas candles (our anniversary is the end of November). It was easy to have a basket full to hand out.