June 15, 2010
0

found this helpful
A picnic, a pot luck party (people bring food), backyard party, comes to mind. People don't mind "helping out" these days, they know things are expensive.
Pictures of them make nice decorations and aren't terribly expensive to use as decorations, especially if you just use ones they already have. Pictures from all through the years is nice.
Flowers from someone's garden or yards are free. Borrow pot plants or use pot plants you have. A grouping of potted plants looks great.
You can get inspiration as well as actual "party" goods at thrift stores, garage sales, etc. (and it's fun to "hunt and find"). A grouping of small candles, or tea lights in cheap, small, pretty glasses, jars or vintage saucers (mix & match looks great).....make great decorations. Look around your house, their or friends... for things already possessed...nice table cloths, fake flowers, glasses, urns, punch bowls, serving dishes, to borrow. We tend to think you have to go out and buy everything "new" and perfectly matched, but you don't.
If you buy the food, do it yourself. Make your own dips and veggie trays. Catering is terribly expensive. You can come out way cheaper making the food yourself. You can "borrow" friends refrigerators, your church, maybe. Heck, even a couple of coolers and some dry ice might do the trick to store to food until party time! If you serve liquor, keep it to punch bowl type or one or two types of drinks only and don't think everybody has to have 6 drinks total, you can help them with moderation by just providing minimal liquor.
Check your own music stash for music to play. (A CD player hidden works just fine). You can borrow music from others or the library. If you know someone who plays guitar or can sing, maybe they can provide a couple of songs for entertainment.
We played games at my Dad's 80th BD party. People got a real bang out of it. One of the games I came up with was questions ---"info" about him. What is his favorite pie? What was his childhood nickname? (try to think of some questions that are challenging.) We gave prizes (gift cards mainly), but they don't have to be much, or you could find small (new) gifts at thrift stores, or not even give gifts at all (offer a "dance" with Dad or something).
I gave a baby shower at my house once in which I used mostly items I already had (including the grouped candle thing with fake pot plants on the serving table). A very wealthy woman (boss of the baby's father) came to the party and told me as she left that it was the nicest baby shower she had ever been to.. and I am sure with her wealth and socializing, she'd been to plenty, so it's not all about "cost"-- it is more about making it festive, filled with love, creative, that counts the most towards having a really fabulous and memorable party.
June 17, 2010
0

found this helpful
First, make sure your parents actually want a big party. It's their anniversary, and it should be up to them as to how they want to celebrate it.
And as for those family members "expecting" a big party, have them help!
June 17, 2010
0

found this helpful
Tell those family members to plan and pay for the party and you'll chip in, but not the other way around! No way!
June 17, 2010
0

found this helpful
You could make it an open house and just serve hors d'ouvoures like small finger sandwiches, relishes, etc.
You could have it be an afternoon thing from 2-4pm so no one should be expecting a meal. Just serve cake and bar cookies and beverages.
You could ask your parents to pitch in, say like for all beverages. You could plan a picnic or potluck and ask relatives to bring a salad, you provide the meat choice and buns, and cake.
I don't suggest asking relatives to just bring anything or else you might end up with a lot of chips and dessert and little else. I just held a farewell picnic where we furnished meat and buns and chips. Boy were the rest of the attendees skimpy about what they brought , except for the lady who made the cake. So tell people what you would like them to bring.
June 18, 2010
1

found this helpful
If they have been together that long, they are bound to have long time social connections; church, Sunday School class,senior citizens' center group,etc. Contact these people and let them get involved . They will love it!
Then get a few cans of high quality gold metallic spray paint,odds and ends from yard sales,and spray away!
A cute centerpiece would be some of the huge" brandy glass bowls", with gold taper candles heated and stuck to the bottom securely, then pretty gold glass rocks,then a gold flower or two,add water and two goldfish per bowl!
(Keep the waterline well below the candle, of course.) Add a few flowers and rocks scattered on the table at the base of the brandy glass vase. Total cost for a centerpiece,probably less than 15 dollars,and one stop at a Walmart Supercenter. They have the huge brandy glasses for ten dollars. I just bought one. The glass shiny rocks are about 1.50 a bag,and goldfish are about 35 cents!
This is what it looks like, but this is a male beta fish (also available at walmart, about 3.00). Just imagine this with lots of the gold rocks, gold lame' silk flowers, and a lit candle in the center!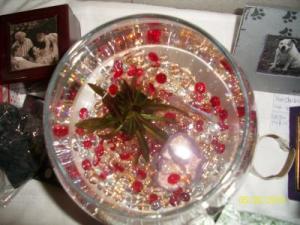 February 20, 2017
0

found this helpful
What happens to the living fish after your party?
January 15, 2020
0

found this helpful
Do not use live animals as decoration. It is just cruel.
June 18, 2010
0

found this helpful
Here is a side view of the brandy glass.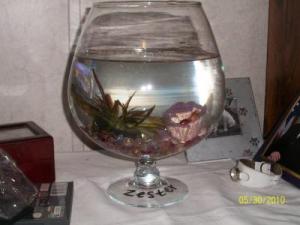 June 21, 2010
0

found this helpful
For a family reunion we did this-one family provided the chicken, one the pasta, one a large meat tray, one buns, etc. Pass around a list and divided into categories, and ask everyone to choose what they want to bring. Or in the invitations put in it please bring a dessert of your choice in a few of them, salads in a few, etc. We had a great response to them all.