I need some ideas on a 50th surprise birthday party for my husband. There is a catch, it is on 31 December, and he is a pastor so our church service for New Year's eve will start at 22h00. Please help I want to make it special. I can have it on the 30th though.
By Elna from Johannesburg, RSA
Answers
December 26, 2010
2

found this helpful
Here's my take on a 50th Surprise Birthday Party: Invite the party boy or girl to your house. Using garden stakes, create a timeline along the path to your front door noting 10 (1 for every 5 years) special moments in his or her life. The timeline will give the person a sense that something is up, but won't give them enough time to bolt.
When you answer the knock at the door, be sure to hold up the last garden stake with the date and "So and so's Surprise Birthday Party!" written on it. It's fun to keep the garden stakes, and even use them in the garden.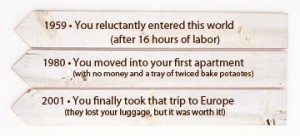 Answer

this Question

...
October 26, 2009
1

found this helpful
I am going to be throwing my mom a surprise 50th birthday party and need some ideas for food, favors, and games. Any suggestions?

By Jennifer Terry from New Holland, PA
Answers:
Surprise 50th Birthday Party
Don't forget to print some of her school pictures and hang them all over the place. Try to find some old clothes like she would have worn in her day and put those out for all to see. Play her favorite old time songs. Buy stuff like for old people: Depends, Icy Hot, big size panties, Vicks Vapor Rub, Preparation H, and those slippers like the people in the nursing home wear.) At mine, everybody wore those sponge rollers in their hair and the guys wore rolled up jeans and t-shirts and slick hair. (09/03/2009)

Surprise 50th Birthday Party
We did a 50th anniversary party a few years ago and I am sure you can incorporate some of the ideas for a birthday. When I sent out the invites I asked people to either mail or email me some stories about my parents or pictures they had never seen, We did make a scrapbook of them over the years and had that out for people to look at. Included the stories in there and had blank pages for people to add to at the party. We had it in a very elegant place, but still had fun passing out candies and toys for the era when they got married, paddle balls, jacks, fortune telling fish, etc. We had old fashioned candies sprinkled around on the tables.
Mom and dad even had friends from grammar school come, so I went through her old pictures and had old pictures of everyone invited. I just scanned away and then we had an ongoing Power Point running the whole time with past and present pictures including the ones her friends sent. Everyone loved seeing themselves at a younger time and remembering old friends too. It brought a lot of tears to the eye. We gave out little wedding party favors with their wedding picture on it and it was also on their invitation. Although we had to consult mom and dad over the guest list we didn't let them know who was coming so there was the element of surprise. they cried the whole party. I am sure yours will be a blast. (09/04/2009)

By gaylem
Surprise 50th Birthday Party
Google "fake newspapers" and you will find a wealth of information on printing out what was happening when they were born. Just remember to order two, since they may want to hang up both sides of the paper when they are done getting a wonderful laugh out of the happenings during their first year of life. It's a hoot. (09/06/2009)

Surprise 50th Birthday Party
For food, check with older relatives to see what was popular back then. Not sure how old these recipes are, but it gives you an idea what to look for: green bean casserole, tomato soup cake, jello poke cake.
What was one of her favorite dishes when she was growing up?
Decorations, what were her favorite games? If a board game, set one up on the main table. (09/06/2009)

Surprise 50th Birthday Party
A sign with the 50 and the 0 crossed out makes us feel young. Make all gifts and food for a 5 year old. Favorite candy, dolls etc. Gifts can be donated to Toys for Tots after the fun. Most of us don't want to feel older and enjoy being a kid again. Sharon (09/06/2009)

By Paul Wilson
Surprise 50th Birthday Party
I organized a 50th for my husband a few years ago, with a 1960/70 theme, because that's when he was a youngster. Everyone dressed as hippies, punks etc. The cake had a hippy on it. All the music and dancing was 60/70s, with first lines of songs taped around the room. The highlight was burning a bra (they did a lot of that in the 60s) on a stick, out on the patio. Good times. (09/10/2009)

October 11, 2010
0

found this helpful
I am throwing a surprise 50th birthday party for my husband, who recently retired from the Air Force. The party is this coming weekend and I need ideas for party favors for the guests. I am really crafty, but I need "quick, inexpensive" ideas for the guests.
They will be mainly former military employee's of my husband. Help. I just want to have something for them to take home. My colors are black, white, and dark lime green. It's his first party, ever!

By Ramona Worley from Charlotte, NC

Answers:
Surprise 50th Birthday Party
My idea is to have die cast model planes as a token or party favor. They cost around ten dollars each on this website, but they are Air Force models. Other sites I've checked run higher. Maybe they will ship next day for you if you're interested.

futureflyersclub.com (10/26/2009)

By Myrna
Surprise 50th Birthday Party
Does your husband's former unit or department (fill in correct term) have a saying that is preferably an "in" phrase or a joke that they all recognize. Go to your local small printer (may be called "offset" printing) and see what it would cost to get notepads made up with a slogan or shield or the unit's name. 5x8 is a good size, color maybe. This is the most inexpensive guy thing I can come up with. Good luck and have a wonderful time. (10/29/2009)

September 3, 2009
0

found this helpful
I need some ideas for a theme for my mother's 50th Surprise birthday party. I don't want to use the same old sayings. Her name is April.

Angela_lynn25 from Grand Rapids, MI

Answers:
Surprise 50th Birthday Party
Request:
My family is throwing my mom a surprise party for her 50th Birthday. We have rented out our local Country Club and have everything planned and organizes. ALL we have left is figuring out how to get her there? Any suggestions would be greatly appreciated.

Brooke from TN

Answers:
Surprise 50th Birthday Party
Well, if you've decided on having it on the day of her party, she's going to suspect every place you take her to will have a surprise party just waiting for her. You could have it the day before, you know, so she's least suspecting. You could say that you met some new friends and they invited you and the family to play golf, (or whatever they do there) and she's invited as well. Then take her there and surprise her. Anyway, hope this helps.
Steven S.

Post by lorac456

Surprise 50th Birthday Party
On my 50th, my daughter simply asked if she could take me to lunch at a wonderful Mexican food restaurant and I said, "sure". We had a wonderful time and, although my party was in my own home, I was totally shocked and surprised.
I have to admit, I didn't suspect a thing although I should have when I wanted to stop at a craft store and she "just had to go to the bathroom too bad to stop". Invite her to lunch or dinner, depending on the time of day the party is scheduled or some special time together.

Post by Luvyabye

Surprise 50th Birthday Party
For my mother's 80th Birthday I told her that we were going to a surprise birthday party for the mother of a friend of mine (who my Mother had met and really enjoyed her company). When we arrived my friend was standing outside and told us we had to hurry in because her mother would be there very soon and she was going to bring her in. She also said everyone was waiting with the lights out already so she rushed both of us into the party room. The rest is history.

By guest

Surprise 50th Birthday Party
Well April rhymes with thrill, grill, till, nil, bill. When I had my husbands 50th I had all the guests write a memory of him from years ago or about an attribute. My daughter read them at the party and the birthday boy had to guess who wrote each item. It was loads of laughs and still he likes to read them and reminisce about the good ol days.
(03/22/2006)

By Edie
Surprise 50th Birthday Party
For my mom's 50th party we got her down there by making a fake invitation from one of my dad's friends. We slipped it into the mail box and when she saw it, we convinced her to go. When she got there she was so surprised. (12/10/2006)

By Emma
Surprise 50th Birthday Party
I am planning a surprise 50th birthday party for my mother in March and I am planning on putting a photo album together of pictures throughout her life with little captions. I have also asked each guest to bring a photo they like of my mom and be prepared to write a caption on a note card to place in the photo album.

Also, I am putting together all the events such as top movies, books and TV shows as well as news events. I have found most of this information online. I will then type this information on some sort of quality paper to put in a book of some kind for her. I may even add it to the photo album.
Good luck. (02/05/2007)

Surprise 50th Birthday Party
I am throwing my sister a "hot mama" theme for her 50th and we are serving all kinds of Mexican food and the guests will dress like senoritas, cowgirls, cowboys, banditos, etc. We ordered Mexican decorations and 50th birthday decorations, too. The cake is strawberry margarita cheesecake. We'll play salsa music. (03/07/2008)

By Arlene
Surprise 50th Birthday Party
My brother is turning 50 in 2 weeks. My sister-in-law has rented a party bus that will hold 25 people. We're all getting in the bus and taking him on a trip down memory lane, sort of like a "rolling" roast, so to speak. We're having a blast just planning this. Can't wait for the party. (06/16/2008)

By BJ