Puppy With Blood in its Stool
There are a number of reasons your puppy may have blood in its stool, some more serious than others. This is a guide about a puppy with blood in its stool.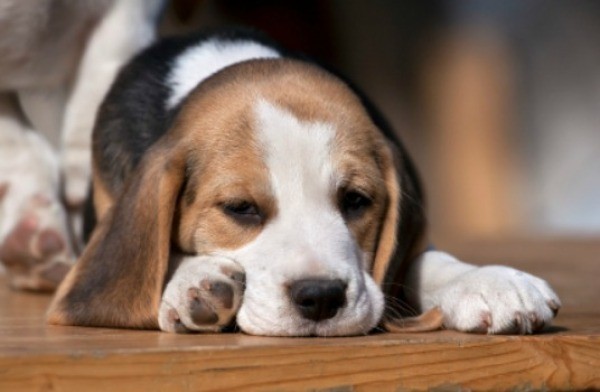 Filter

: All Articles
Sort

: Relevance
I recently got this 2 month old puppy who got her parvovirus vaccine and canine distemper andenovirus Type 2 parainfluenza vaccine and she's had kind of watery poop. This morning she had a little bit of blood in her poop. Is this normal? She's acting fine and active. I recently switched her food suddenly because she ran out so I had to run to the store.
June 15, 2016
0

found this helpful
My 14 week old puppy has very soft and mostly runny stools with quite a bit of blood at times. I water down her Royal canin junior and sometimes put bits of chicken in it to encourage her to eat. She is a very lively Pomeranian and eats a lot of grass and bits when off if the lead.
July 28, 2016
0

found this helpful
This is exactly happening to us in the moment it began after he got dewormed he's 10 weeks and has watery yet sometimes mucus/blood Is your pet fine? Because we're very worried
September 18, 2016
0

found this helpful
A little pappy hase little blood in stool is this normal?
My puppy just went to the vet and got his vaccinations and got wormed. He had runny poo for a awhile. Now he has hard poo, with blood in it. What does it mean?
November 10, 2015
0

found this helpful
Best Answer
Suggest you immediately contact your vet re this new condition; your puppy may need help now.
I have a 6 week old Staffy x American Bull dog. She had her first set of shots and worming the day I got her. It has been 3 days since then and I had been noticing a little bit of blood that comes out of her bum, but only after a poo (a really runny one). I took her to the vet and they said it's not parvo which was relieving, but they said I have to change her diet and only feed her dry biscuits and water. The problem is she won't eat the food the vet gave me. She hasn't eaten all day and I am getting worried. She is still playing and is full of energy. I just want her to eat something. Does anyone know of something else I can give her that will stop blood coming out? The vets aren't open all weekend and I need help know. Please.
I've never heard of a vet recommending dry food to a six week old. Of course she won't eat it. Six week old pups are not yet weaned. Please purchase some puppy replacement formula (try a pet food store or a feed store) to give your pup. Reintroduce soft food at eight weeks.
And switch vets.
By the way, if your puppy seems really hungry you can start supplementing with a little high quality soft food. But wait until the diarrhea clears up. A puppy's main food at this age is its mother's milk.
And I shouldn't rant here, but will- this is indicative of the "puppy mill" style of puppy breeding. The pups are introduced to soft food as early as 3 weeks of age, are on nothing but cheap puppy chow by six weeks of age. At six weeks of age they are considered "weaned" and sold, even if the puppies have to be forcibly removed from the mom who still has milk. The breeders do this because they make their profit faster if the pups are out the door quicker.
Puppies naturally don't even start eating soft food (the mom controls this) until about six weeks, so there's no doubt that feeding cheap processed puppy chow from 3 weeks on can lead to digestive problems.
Here is a good article on why you should leave a puppy with its mom longer: http://www.snowdog.guru/true-cost-early-removal-puppy-mother-litter-mates/
My 16 week old puppy is having bloddy mucus after she poops the last 24 hours. What's going on?
October 27, 2015
0

found this helpful
Could be many possibilities. Please take your puppy to your vet ASAP to identify and treat the problem. The longer you wait, the more expensive the problem may become and the more your puppy suffers.
October 29, 2015
0

found this helpful
DCA is absolutely right. This should never be left.
October 29, 2015
0

found this helpful
You need to see a Vet to eliminate Parvo virus. If it is parvo, treatment must begin immediately for your pup to have a chance to make it.
Why is my 2 week old puppy pooping blood?
By Bryce
February 17, 2014
0

found this helpful
Best Answer
It could be worms, or more devastatingly, parvo. Take your puppy to a vet immediately!
February 17, 2014
0

found this helpful
Get it to the vet ASAP!
I have just got a 2 1/2 month old Teddy Bear puppy, she is a cross between a Bichon Frise and a Shih Tzu. Since she arrived she has had really runny stools and there is blood in it, is this normal?
September 8, 2015
0

found this helpful
Obviously something is wrong! Please take her to your vet as she may have an internal infection which needs medical treatment that you cannot provide.
September 10, 2015
0

found this helpful
Blood in the stool may indicate hookworms.
September 10, 2015
0

found this helpful
Of course, you should take the wee dog to a vet to get a correct opinion but firstly a question. Do you feed the dog fresh or dried liver? This food breaks down to make very dark stools. I no longer feed my dogs this meat. But please - start your dogs life in a loving , caring way by taking it to an expert. Good luck.
I have a 6 week old Pit Bull mix puppy. She was the biggest of the litter and is huge compared to her sister. Since yesterday I have found blood in and around her stool when she goes to the bathroom.
Read More...
Related
© 1997-2016 by Cumuli, Inc. All Rights Reserved. Published by
ThriftyFun
.
Page
generated on September 22, 2016 at 10:33:48 PM on 10.0.2.19 in 4 seconds. Use of this web site constitutes acceptance of ThriftyFun's
Disclaimer
and
Privacy Policy
. If you have any problems or suggestions feel free to
Contact Us
.