I recently got this 2 month old puppy who got her parvovirus vaccine and canine distemper andenovirus Type 2 parainfluenza vaccine and she's had kind of watery poop. This morning she had a little bit of blood in her poop. Is this normal? She's acting fine and active. I recently switched her food suddenly because she ran out so I had to run to the store.
June 6, 2016
0

found this helpful
This came from switching the food. If it was the vaccines she'd be running a temperature and showing other signs like shaking or lethargy.
Now you know you need to stick with this food. Try buying a lot of it and switching it to airtight containers.
June 15, 2016
0

found this helpful
My 14 week old puppy has very soft and mostly runny stools with quite a bit of blood at times. I water down her Royal canin junior and sometimes put bits of chicken in it to encourage her to eat. She is a very lively Pomeranian and eats a lot of grass and bits when off if the lead.
I have a 6 week old Staffy x American Bull dog. She had her first set of shots and worming the day I got her. It has been 3 days since then and I had been noticing a little bit of blood that comes out of her bum, but only after a poo (a really runny one). I took her to the vet and they said it's not parvo which was relieving, but they said I have to change her diet and only feed her dry biscuits and water. The problem is she won't eat the food the vet gave me. She hasn't eaten all day and I am getting worried. She is still playing and is full of energy. I just want her to eat something. Does anyone know of something else I can give her that will stop blood coming out? The vets aren't open all weekend and I need help know. Please.
January 31, 2016
0

found this helpful
By the way, if your puppy seems really hungry you can start supplementing with a little high quality soft food. But wait until the diarrhea clears up. A puppy's main food at this age is its mother's milk.
January 31, 2016
0

found this helpful
And I shouldn't rant here, but will- this is indicative of the "puppy mill" style of puppy breeding. The pups are introduced to soft food as early as 3 weeks of age, are on nothing but cheap puppy chow by six weeks of age. At six weeks of age they are considered "weaned" and sold, even if the puppies have to be forcibly removed from the mom who still has milk. The breeders do this because they make their profit faster if the pups are out the door quicker.
Puppies naturally don't even start eating soft food (the mom controls this) until about six weeks, so there's no doubt that feeding cheap processed puppy chow from 3 weeks on can lead to digestive problems.
Here is a good article on why you should leave a puppy with its mom longer: http://www.snowdog.guru/true-cost-early-removal-puppy-mother-litter-mates/
Read More Answers...
I'm out of town on vacation and decided to make a split second decision on getting a new puppy. She is a 9 week old black Lab mixed with a Cattle dog. Her first stool was normal and hard, but the next 2 have been bloody mucousy diarrhea.
The lady who I purchased her from said she has not had her puppy shots yet, but she has had 1 round of deworming done. I changed her from Pedigree Puppy to Puppy Chow because that is all that the store had late last night. She is acting fine has energy and is playing well still. I am just curious on what I can do for her. I can't get her to a vet till I get back home in one week. The other puppies from the litter are fine though and are having no problems. Could she just be home sick or stressed from the long car ride?
October 23, 2015
0

found this helpful
The safest way to be sure if the dog is ok is to see a vet. A wee dog like this may go down hill quickly. Also do your home work on what quality food that you should be feeding it as this can make all the difference to what sort of poo it is passing.
November 3, 2015
0

found this helpful
First of all, you switched foods from one junk brand to another. Second, the dog's whole life just suddenly changed, so stress could certainly be an issue.
As long as she is playing and active she's probably ok for now, but make the vet appointment by phone before you actually arrive home.
If she starts to act lethargic, staggers, seizures or her condition worsens you will need to find an emergency vet in the area you are vacationing.
I have a 6 week old Pit Bull mix puppy. She was the biggest of the litter and is huge compared to her sister. Since yesterday I have found blood in and around her stool when she goes to the bathroom. She is still energetic and playful. Shes eating and drinking OK. What could be causing this and how can I make her better? She is my daughter's puppy and it will destroy her if she comes home and it's dead. Please help.
By Crystal
December 10, 2012
0

found this helpful
What is CS? It would be more helpful to spell out this item, rather than leave people wondering! I can't figure it out, and it's possible the person you're trying to help can't either! I do agree that the puppy should see the vet immediately! I can't understand why people waste time asking questions online, when the animal's life may be in danger! Would you do that with your child?
December 11, 2012
0

found this helpful
Are you feeding it red meat or dried liver? - as this could be the cause - a vet would be the best option.
Read More Answers...
I have a 10 week old Maltipoo puppy. I noticed on Friday (could of been there before that, but that was the 1st time I saw it) that she had blood in her stool. Her stools have been loose, somewhat watery. Not all the way runny diarrhea, but not hard easy to clean up poos either. The blood is not a lot, yet it is still there and scaring me!
I got her 2 weeks ago and she was eating Royal Canine puppy food. The breeder gave me a little baggie of it. I got her some Nutro puppy food and mixed them. She didn't want it (more than once she wasn't going for it.) I took the Nutro back and got Science Diet puppy food.
So at this point I had 3 kinds of food mixed together and have for probably the last week got her on just the Science Diet. She does not seem to care much for it still. I have been also putting a minimal amount (heaping teaspoon maybe) of some wet food in it to get her to eat it. She does like my adult dog's dry food though!
So she does have an appetite, she is definitely "not" lethargic, and she can be megaplayful at times during the day. She is drinking water too.
Oh yeah, also, she had her 1st round of shots almost 2 weeks ago and her 2nd deworming.
I don't have the money for a vet! Please help.
By Lori from CA
February 19, 2011
0

found this helpful
I just got a puppy shes 8 1/2 weeks old. I had her since Thursday Feb. 17 2010. The lady was feeding her her own brand of dog food, never gave us any to bring home. She wanted us to pay 18 bucks for a bag that had corn wheat, hay in it all the stuff dogs aren't supposed to have. I brought her home no problems and then yesterday night she started with the diarrhea, wasn't bad and then it got worse. Now it's really running and very very loose. Then I noticed she had blood in her stool and then the throwing up started.
Now, no vets are open here until Tuesday so I tried Pepto Bismol. A small does didn't work. then I tried to bump the dose up a bit, didn't work. Then I tried Imodium that didn't work, and then Gravol childrens for the throwing up. Didn't help. I tried a little bit of cheese that didn't seem to help. Shes not lethargic and is drinking lots anyone know what I can do until Tuesday? I am really worried. Please help. She did have her 1st set of shots and her de-worming Feb. 8th and I got her Feb. 17 can it be from the de-worming or from the long car ride and stress?
I am feeding her blue buffalo Dog food supposed to be all natural with no corn, wheat all the other crap that dogs aren't supposed to have.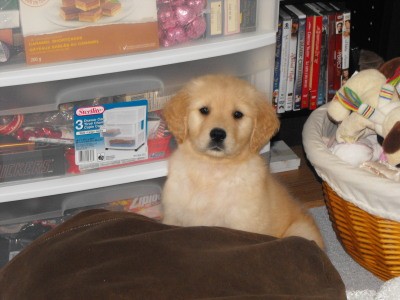 October 15, 2015
0

found this helpful
Switching dog food can give a dog diaharia so maybe try to keep her on a certain one for a while se if it helps if not go get her checked out
Read More Answers...
My 6 month old puppy has had blood in his runny stool after 5-6 times eating some pan fried pork with his dry food (not sure if related).
Because he is as playful and energetic as ever, I'm not worried that he is seriously sick. Also I'm not worried about Parvo as he has been vaccinated for it.
I fried the ground pork after I noticed him throwing up every bit of raw ground pork he eats, but now I notice blood in his stool.
Any ideas what could be the cause of this "bloody diarrhea"?
By Ken
January 3, 2015
0

found this helpful
First of all, don't feed any animal raw pork. Raw pork has parasites known as "pork worm" that need to be killed by cooking. This may be the source of your problem. Take the puppy to the vet for a stool sample culture which will no doubt identify your problem.
May 8, 2016
0

found this helpful
Has he had all 4 booster shots at 2 weeks apart?
Read More Answers...