February 7, 2011
1

found this helpful
Hi Lori, I understand that you may feel you don't have enough money for a vet, but blood in the stool is not something to gamble with. If it continues, please find a way to get your pup to a vet.
As far as the food goes, it may sound a bit mean, but stop giving the puppy so many, frequently different options: unintentionally, you might be training her to be a picky, finicky eater! Stick with any food combination for at least a week. If she is healthy, she will eat when she is hungry. If she likes your older dog's adult food, why not try mixing a portion of that with the puppy food (Royal Canine puppy) the breeder sent you home with? Over the next several weeks, start adding a little bit more of the adult food and a little less of the puppy food as you approach the recommended oldest age for the puppy food.
You might want to call or e-mail your breeder as well and ask more questions about the puppy's eating habits while still part of the litter. Maybe she wasn't a huge eater in the first place and seriously does not need the number of options you are giving her; i.e., giving her the opportunity to be a picky eater! :)
From your comments, she sounds healthy and normal with the exception of the bloody stool. It's not uncommon to have loose stools as puppies are adjusting to a new diet and a new environment, but if the bloody stools continue, again, please at least call a vet clinic for advice. Good luck and wishing you two many happy years together!
February 8, 2011
0

found this helpful
Lori, you mention that you are talking to your "breeder" about this puppy. If you didn't have money to be able to afford vet visits, why did you buy a puppy? Sorry to sound harsh, but come on! Part of being a responsible pet owner is being able to provide basic vet care for your animals. Blood in your puppy's stool is serious and needs to be addressed right away by a vet. Ask your vet if they will accept payments for service. Most will.
February 8, 2011
0

found this helpful
Likely the vaccines caused an auto-immune reaction. Parvo vaccine often gives parvo. Food should not contain corn especially, but also no wheat or soy. Easy to cook for. Check ingredients in specialty foods and duplicate. Things like brown rice, veggies (raw are best) ground turkey, raw flax oil, cooked sweet potato, lentils, fish (not too much tuna because of mercury) fresh farm eggs, oatmeal, a combination of cooked and as much raw as you can will build immune system. Check science diet, first ingredient is corn. Throw it out. Vets are taught to sell it, same as they are taught to vaccinate.
No grocery store animal food. Google ingredients and you will find they are even using euthanized pets in prepared food. The sodium pentobarbitol does not cook out. Check vaccine ingredients on vaclib.org or any vaccine liberation site, anti vaccine site. You will never use vaccines again. Required by law, only vaccine is rabies and you can lessen danger with Thuja (please google). Good food, common sense,love and devotion make a pet a family member. Pets are absolute devotion.
February 8, 2011
0

found this helpful
Did you consider your financial life time responsibility before puppy arrived? Any "registered" breeder would have given you detailed food menu progressing through the animals ages. You "never ever" keep changing the diet unless on veterinarian advise, "blood" internally is serious.
February 8, 2011
0

found this helpful
I had this problem with my dog. Turns out she has a swollen colon. If not treated it can be deadly, call your Vet, ask to speak to the vet directly, not the person answering the phone. Explain your problem with money and your puppy's problem to the vet and not to the person answering the phone, and ask if he/she will take time payments. The person who answers the phone will say no, so don't even ask them. Ask for the vet to call you, tell the person who answers the phone that you are looking for a vet and need to ask him/her a few questions before you decide on a vet for your new puppy. If they won't get the vet to call you, call a different one, until you find one you can speak to in person. Front staff are told to screen out callers, so you may have to call several. Good luck.
February 8, 2011
0

found this helpful
Diarrhea itself (for whatever cause) can cause blood in the stool. My dog got diarrhea and when I saw the blood it scared me to death. And it was more than a little blood. The vet gave me something for the diarrhea and I put my dog on a bland diet for a few days. I thought a dog with parvo showed other symptoms in addition to diarrhea. I'm not trying to make light of this but diarrhea and blood in the stool of dogs is not uncommon and a lot of times it's from the food they eat. Stress can also cause it. Those are not my words; they are words from my vet. I' not says don't take the dog to the vet; I'm just saying calm down and don't let the other posts scare you to death. I would not be changing food brands and would not be giving any treats. They this and it it continues I would definately see a vet.
February 8, 2011
0

found this helpful
Thank you so much to everybody who answered my question!! It was all helpful to know. I want to let you all know that I did end up taking the puppy and a fecal sample to the vet to get tested (yesterday). They called today and told me the pup tested positive for the parasite Giardia. I got more dewormers and some antibiotics to give to her. They will retest another sample in 2 weeks to see if it's gone.
I called the breeder and told her as the vet also said that all her litter mates will have it too. That it would of been something that was passed down from the mother or father. It's been over the 16 day limit of putting the expense back onto the breeder. That sucks. But I love my puppy and will do what's best for her. Am glad I got her to the vet.
February 9, 2011
0

found this helpful
So glad you got her to a vet! Thank you!
February 16, 2011
0

found this helpful
I hope your puppy is doing well by now. What kind of a breeder doesn't guarantee a healthy pet for more than a few weeks? The best way to choose a pet vs a breeder is go to a shelter. There are many rescue groups which do only a certain breed if that is your choice. Consider adoption before buying. Good luck.
February 16, 2011
0

found this helpful
Thanks Elsablue, my puppy is definitely doing better. She's almost done with the antibiotics the vet prescribed. Also just to tell you, I went to the shelter 4 times (more than one) and looked for a pet that way 1st. The vast majority of dogs there were chihuahuas and pit bulls. Not what I was looking for. Maybe I will check out the rescue groups next time around.
February 19, 2011
0

found this helpful
I just got a puppy shes 8 1/2 weeks old. I had her since Thursday Feb. 17 2010. The lady was feeding her her own brand of dog food, never gave us any to bring home. She wanted us to pay 18 bucks for a bag that had corn wheat, hay in it all the stuff dogs aren't supposed to have. I brought her home no problems and then yesterday night she started with the diarrhea, wasn't bad and then it got worse. Now it's really running and very very loose. Then I noticed she had blood in her stool and then the throwing up started.
Now, no vets are open here until Tuesday so I tried Pepto Bismol. A small does didn't work. then I tried to bump the dose up a bit, didn't work. Then I tried Imodium that didn't work, and then Gravol childrens for the throwing up. Didn't help. I tried a little bit of cheese that didn't seem to help. Shes not lethargic and is drinking lots anyone know what I can do until Tuesday? I am really worried. Please help. She did have her 1st set of shots and her de-worming Feb. 8th and I got her Feb. 17 can it be from the de-worming or from the long car ride and stress?
I am feeding her blue buffalo Dog food supposed to be all natural with no corn, wheat all the other crap that dogs aren't supposed to have.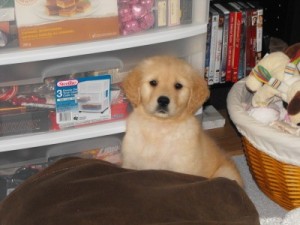 December 28, 2015
0

found this helpful
If your really worried pay the 18 dollars. But the dog may get used to the new diet if you let it.And if your REALLY worried find another vet.It is probably fine though
February 14, 2016
0

found this helpful
Hiya Lori. Why have you changed your pups diet from what the breeder was feeding it??? This infuriates me. As a breeder i tell my new owners to keep the puppy on my food (Eukanuba) for at least a month. I also give them a puppy pack. Or the puppy will get the runs. Not only has it a new enviroment to deal with & being away from its siblings you have also changed its diet. Please put it back on the food the breeder had it on & dont change for a month & then only gradually mixing both 50/50 for 2 weeks. Have you contacted the breeder?